Vanilla Bean Ice Cream and Salted Caramel Sauce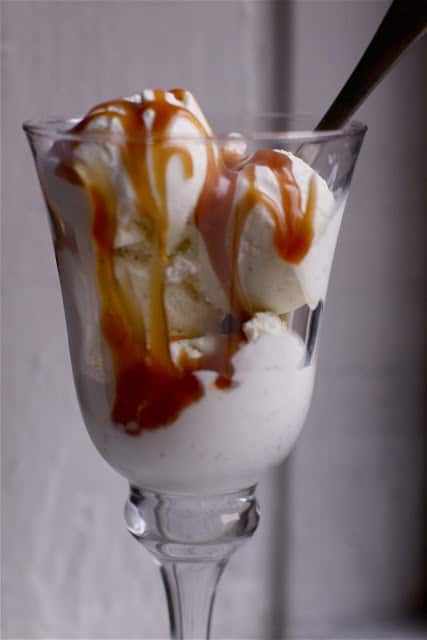 This past Sunday I left for Maine for a month. I know I've mentioned this in a few previous posts, but I figure it's time to tell you that my blog may be slightly different for a few weeks. I've been preparing for a while trying to have a nice "back log" of recipes so that my blog stays alive, and I also have 4 outstanding guest posts planned! I feel so grateful that my fellow bloggers are so giving and willing to help out.
The Theatre that I am working for houses us in an apartment with a full kitchen, but I didn't know what supplies would be in it, or how much time I'd even have to be baking. Now that I'm here, I can report that there are a few old measuring cups and a hand mixer, but I am glad I didn't come here needing to bake every day. The last thing I feel like doing is trying to find lighting, ingredients and inspiration while I'm also in 8 hours of rehearsal a day and adjusting to a new city. (I will probably end up baking at some point this month though, as two of my cast mates have birthdays while we're here and I can't resist giving b-day treats!)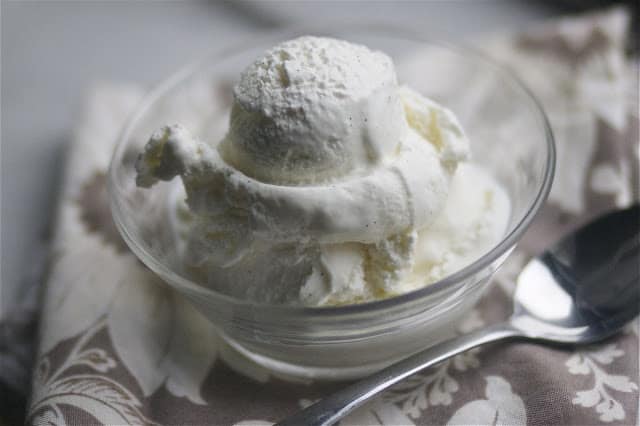 Anyway- my first "on the road" post is a recipe from the "Frugal Feast" dinner party I had over the weekend. It consists of creamy and fluffy Vanilla Bean Ice Cream with a perfectly salted Caramel Sauce. Now I know we maybe be transitioning out of Ice Cream season, but this was too good not to share. (Also it was 80 and humid the day I made it. )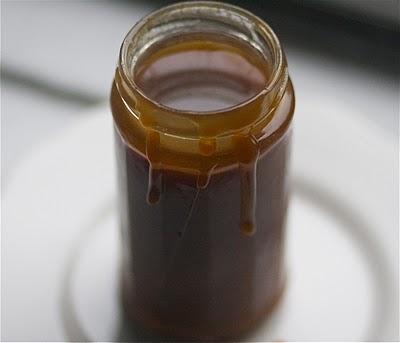 This may be the first Ice Cream recipe I've actually made correctly. See for once in my life I showed some patience. I'm really not a patient person, (working on it I swear!) Usually when I have my mind on a flavor of Ice Cream, I want to be eating it right away. The thought of letting the mixture chill overnight and having to wait until the next day to make it seems unbearably long. But this time I did it! I was so busy packing for Maine that I didn't even remember I had the mixture in the fridge. By the time I started churning it in my Ice Cream maker, I could already tell a huge difference. It got so thick and creamy that I could actually eat it right out of the machine!
The Caramel sauce is pretty standard and my absolute favorite. The use of salted butter and a sprinkling of sea salt adds the perfect amount of saltiness. The sauce is thick and rich and perfect for this classic flavor. Enjoy! And more from Maine very soon….
Ingredients
3 cups heavy cream, or 2 cups heavy cream and 1 cup whole milk
¾ cup sugar
Pinch of salt
1 vanilla bean, split in half lengthwise
¾ teaspoon vanilla extract
Instructions
Pour 1 cup of the cream into a medium saucepan and add the sugar and salt. Scrape the seeds from the vanilla bean into the saucepan and add the pod to the pot. Warm over medium heat, stirring, until the sugar is dissolved.
Remove from the heat and add the remaining 2 cups cream (or the remaining 1 cup cream and the milk) and the vanilla extract.
Chill the mixture thoroughly in the refrigerator. (Overnight!) When ready to churn, remove the vanilla bean, rinsing and reserving it for another use (I stuck mine in my sugar container,) and then freeze the mixture in your ice cream maker according to the manufacturer's instructions.
Nutrition Information:
Serving Size:

1 grams
Amount Per Serving:
Unsaturated Fat:

0g