What to Eat With Potato Soup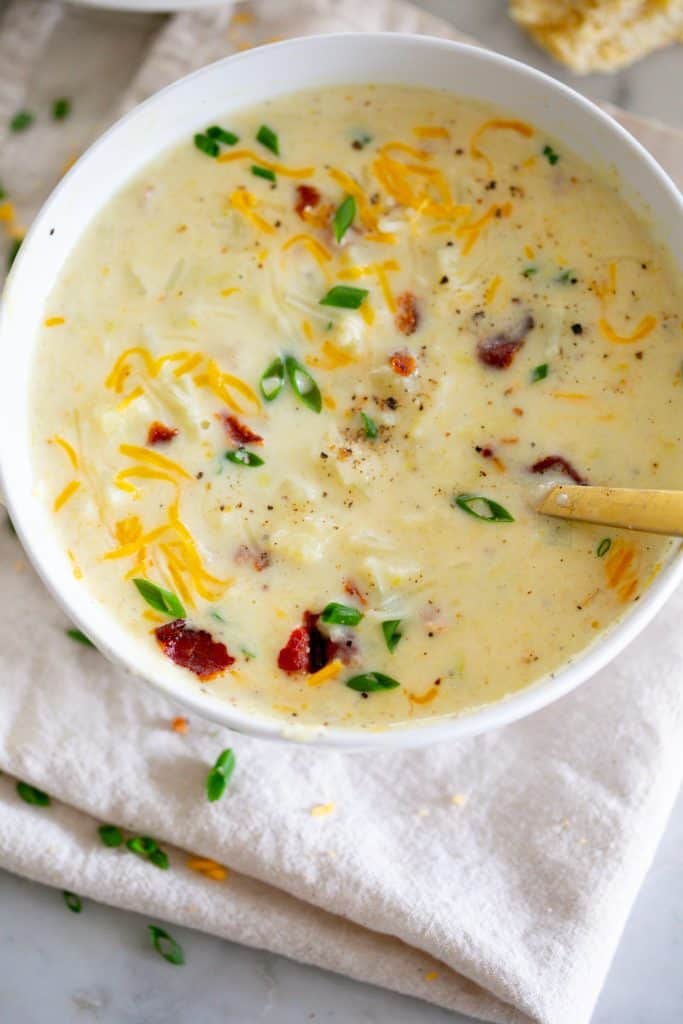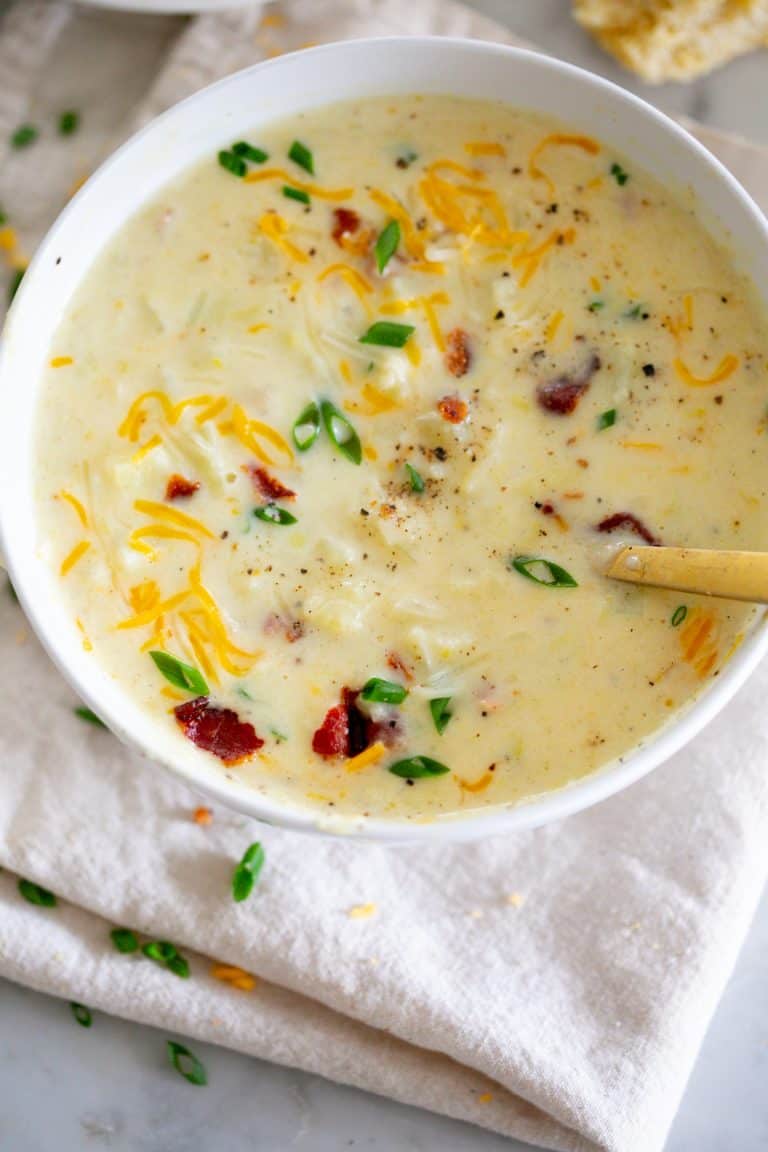 I love a warm bowl of creamy potato soup in the colder months. It's a classic comfort food, an easy meal, and my family always gets excited when I have a pot of potato soup simmering away.
My favorite Potato Soup Recipe couldn't be easier as it only has 4 ingredients, has a perfect creamy texture, and is a truly delicious bowl of creamy soup! It comes together quickly and the only supplies needed are a stock pot and an immersion blender for making the soup as creamy as you'd like.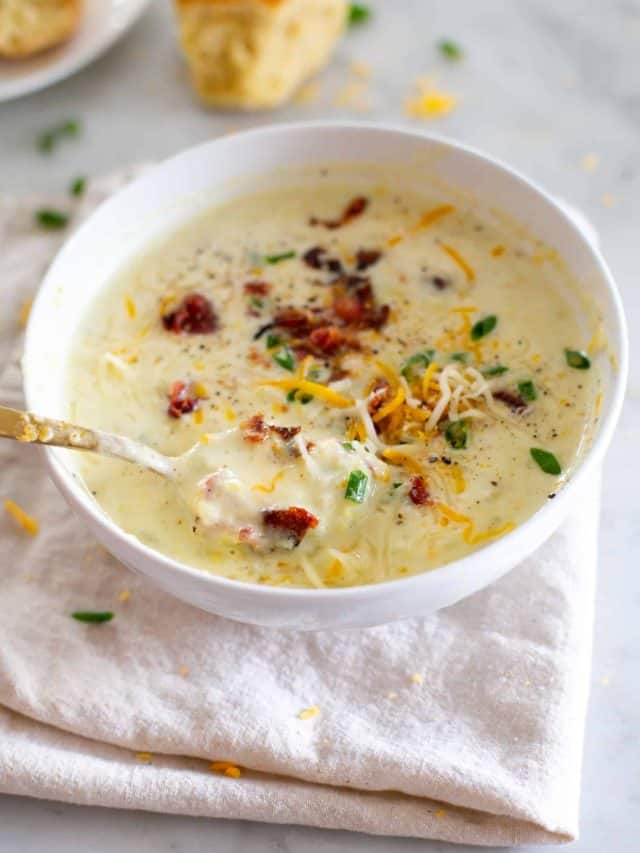 When I make it, we load it with tons of toppings and it feels like a complete meal. I always serve it with bread that we break into pieces and dip into the soup, and with the additions of bacon, cheese, and green onions, it always feels like a filling and hearty soup.
Potatoes (I like Russet Potatoes or Yukon Gold best)
Leeks or Onions
Chicken Stock or broth
Cream Cheese
If you are looking for the soup to be more of a side dish or if you need ideas for a fresh bread recipe to serve with your soup, I have ideas for lots of delicious sides and breads.
Fresh bread to serve with Potato Soup:

Crusty Bread:
My favorite sourdough bread has a perfectly crisp crust, a soft, chewy center and is perfect for dipping into a creamy soup. It's also wonderful for making croutons!

Dinner Rolls:
My favorite are these Perfect Parker house Rolls which are fluffy, buttery perfection. They would be delicious with this soup. ( I have an amazing Pumpkin Parker house Roll recipe too!)
Garlic Bread:
Slather a loaf of french bread with some salted butter and fresh garlic and broil for a few minutes and it will be to die for with potato soup! OR- add your favorite grated cheese on top and you've got Cheese Bread.
Easy Grilled Flatbread:
In the cold months I love making this easy flatbread in a cast iron skillet.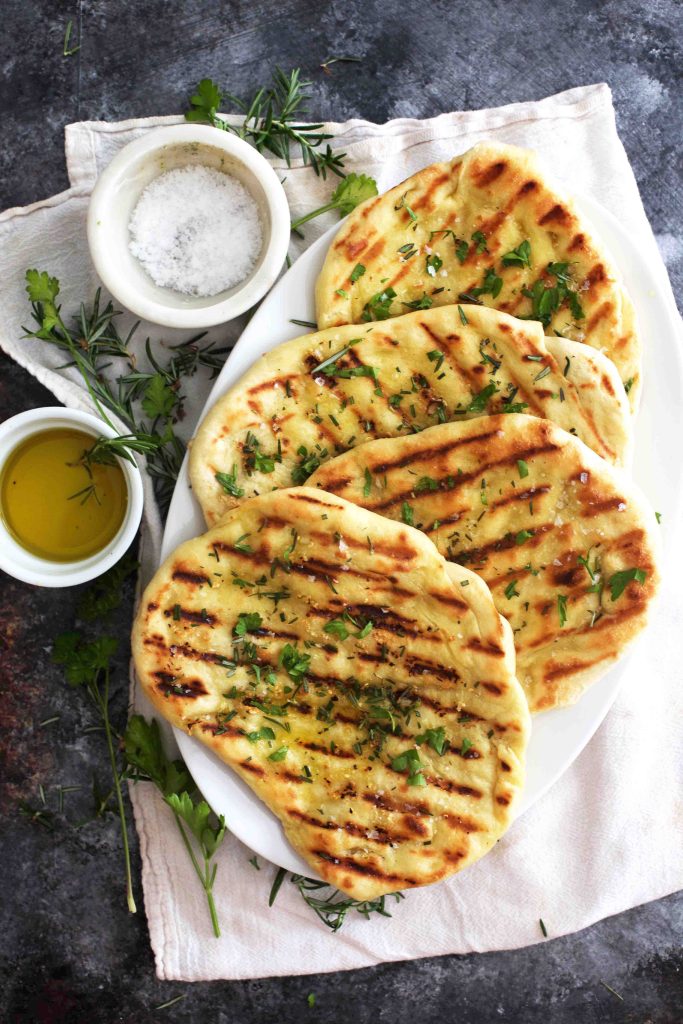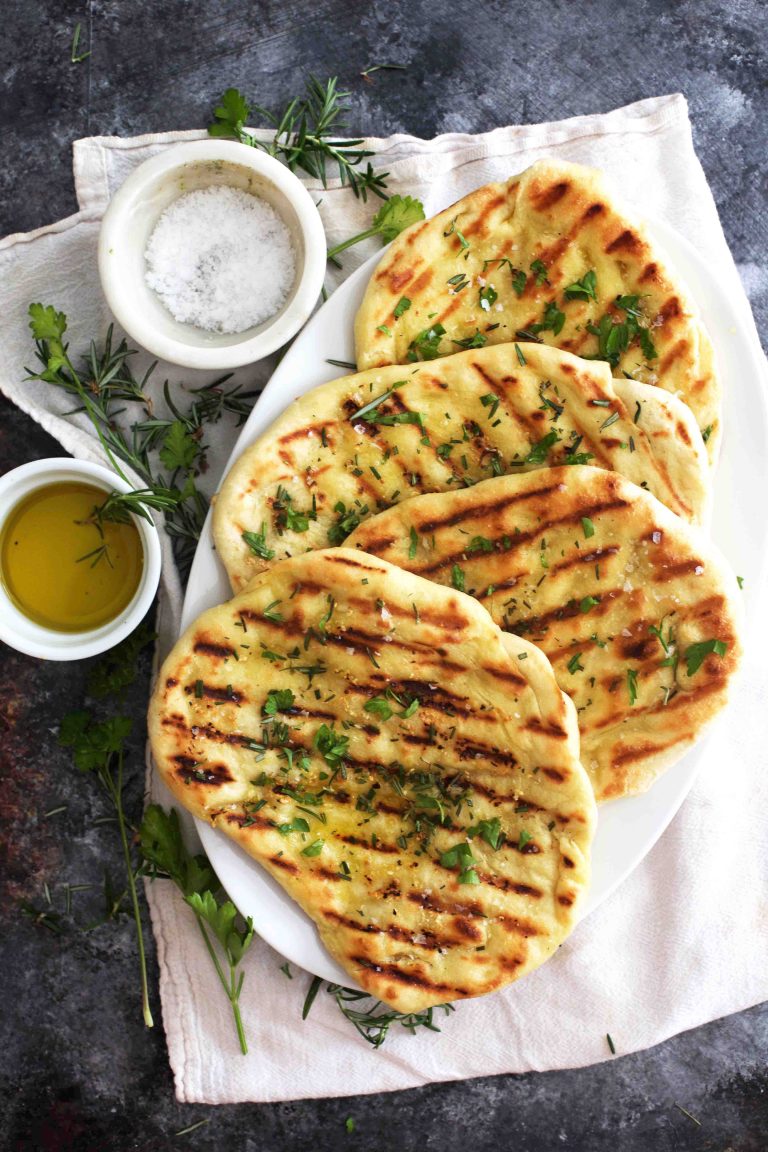 Grilled Cheese Sandwich:
A classic grilled cheese may normally be paired with tomato soup, but I'd love it with this recipe too. A ham sandwich would also be great!
Vegetable Dishes to serve with Potato Soup:
Broccoli Salad
I love a crunchy, fresh broccoli salad and this is a great recipe.
Roasted veggies:
Toss some brussels sprouts, carrots, cauliflower or any other veggies in some olive oil, salt & pepper and roast at 400F for 25 minutes, they would be an excellent accompaniment to the soup.
Salad:
If fresh vegetables are more your speed, I think a simple crisp salad goes with almost anything, and when has Soup and Salad not been a winning combo. I love a simple salad with lemon and olive oil dressing, but anything would work. A spinach salad or an arugula salad would also be delicious and be a nice contrast.
Roast Chicken Legs:
My Dad makes the world's best crispy-skinned chicken legs and they would be delicious with a bowl of soup. This recipe seems similar, and would be a great way to have a main course with potato soup as a perfect side dish.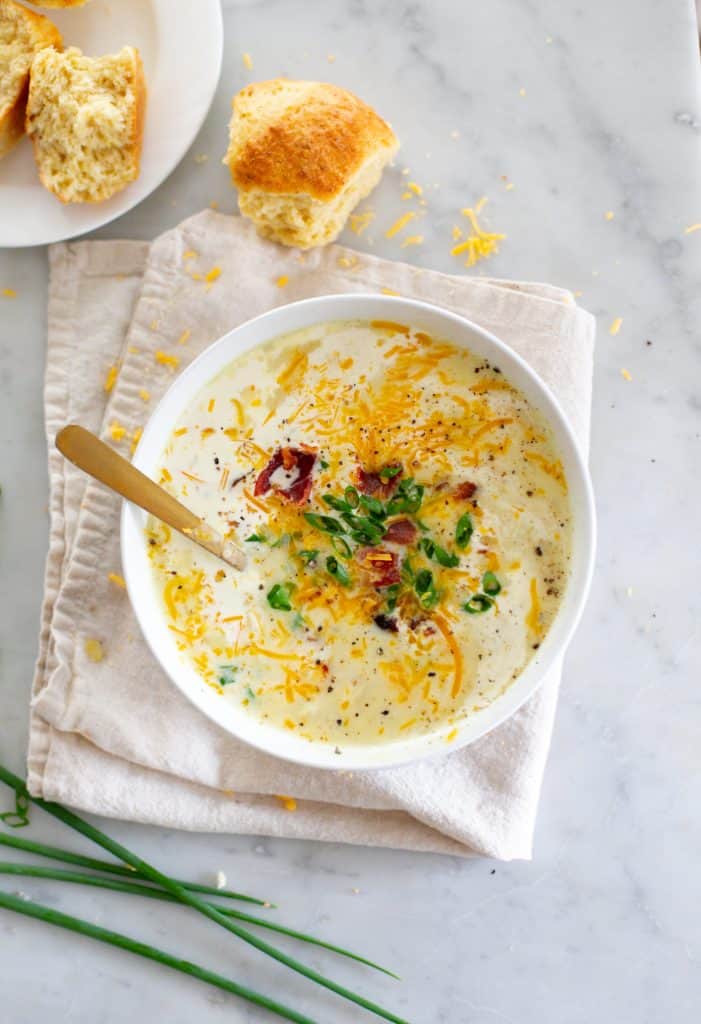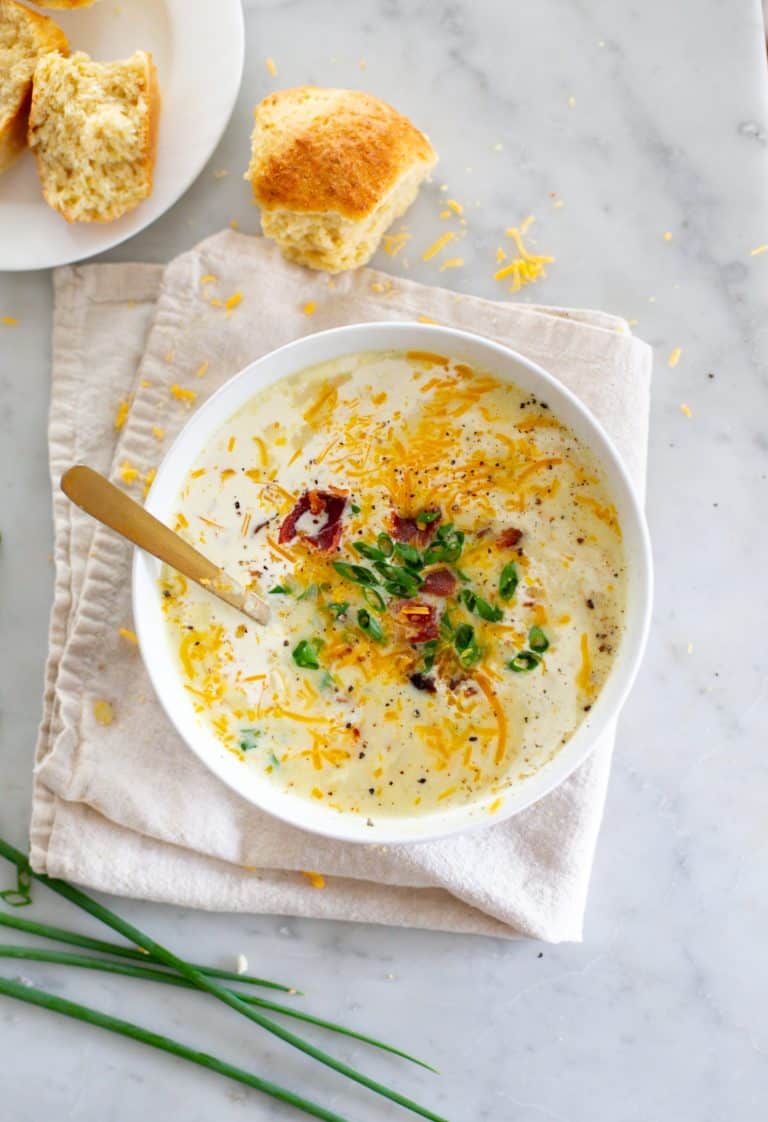 Toppings for Potato Soup to make it more filling:
Cheddar Cheese
Sour Cream
Green Onions
Bacon Bits
Croutons
To summarize- you can make my 4 Ingredient Potato soup a complete meal but topping it with lots of hearty things and serving it with bread, but if you want to make it more of a side dish there are all sorts of ideas in the post above. Enjoy!