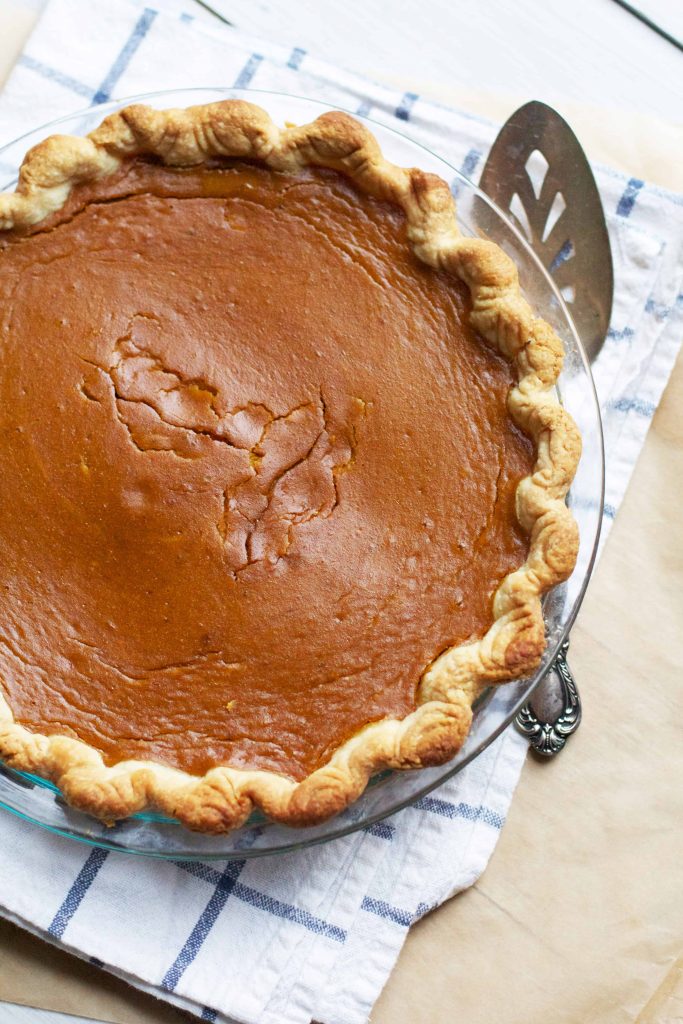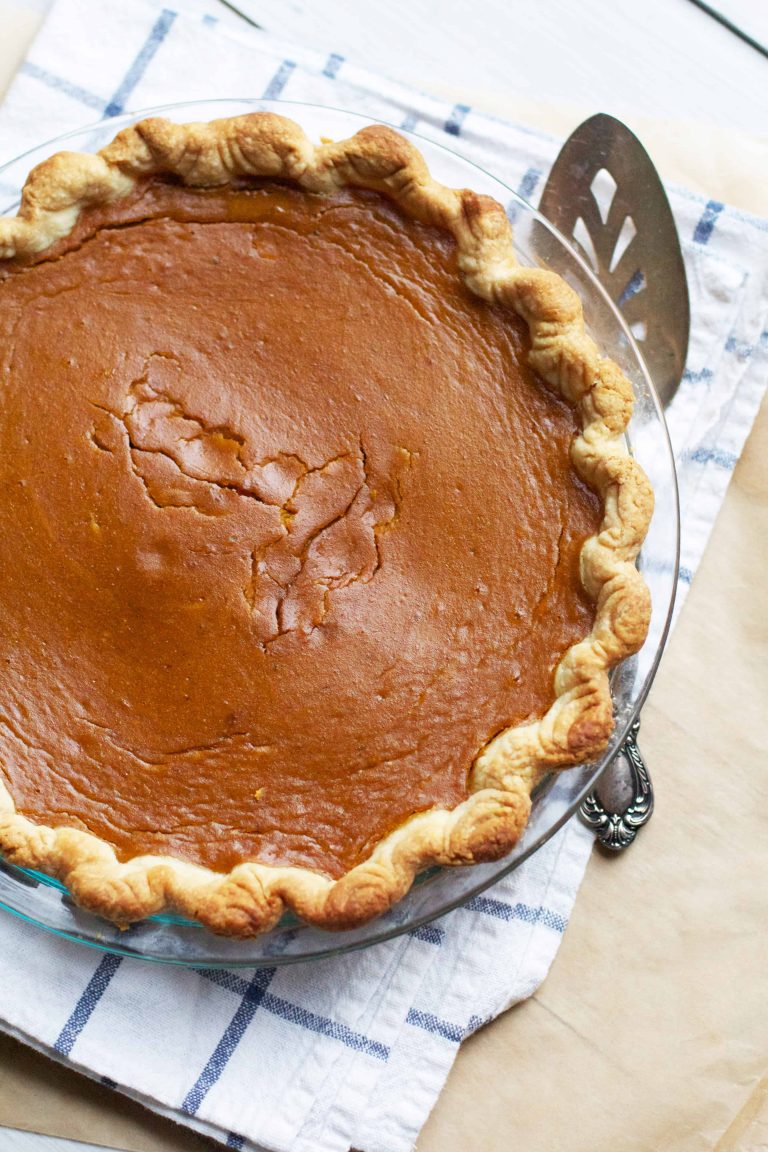 I like my pumpkin pie with cracks. Is that weird?
I like it to look homemade, a little rustic, and I don't know… homey? I thought about covering them up with some pie crust leaves or something, but decided to keep it real. I also want you to know its ok if your pie has cracks- I really do love it!
Anyway, this is the absolute best pumpkin pie. I know it's a classic, and maybe you're in the camp that just uses the recipe from the Libby's can, but maybe I can convince you to give this great recipe a try. It's nothing too different, but an extra step, some extra spices, and the use of brown sugar make a truly perfect pie.
My taste-testers agreed that this had a super silky texture and a truly wonderful flavor- spicy and a bit caramelized. The one thing that for me always makes pumpkin pie a little bit better is par-baking the crust. I didn't do it this time- mostly as an experiment, but I usually do and it makes a huge difference. I still love pumpkin pie with a softer crust, but for me I prefer it with a bit of crispiness to the crust. I'll leave instructions for that option below.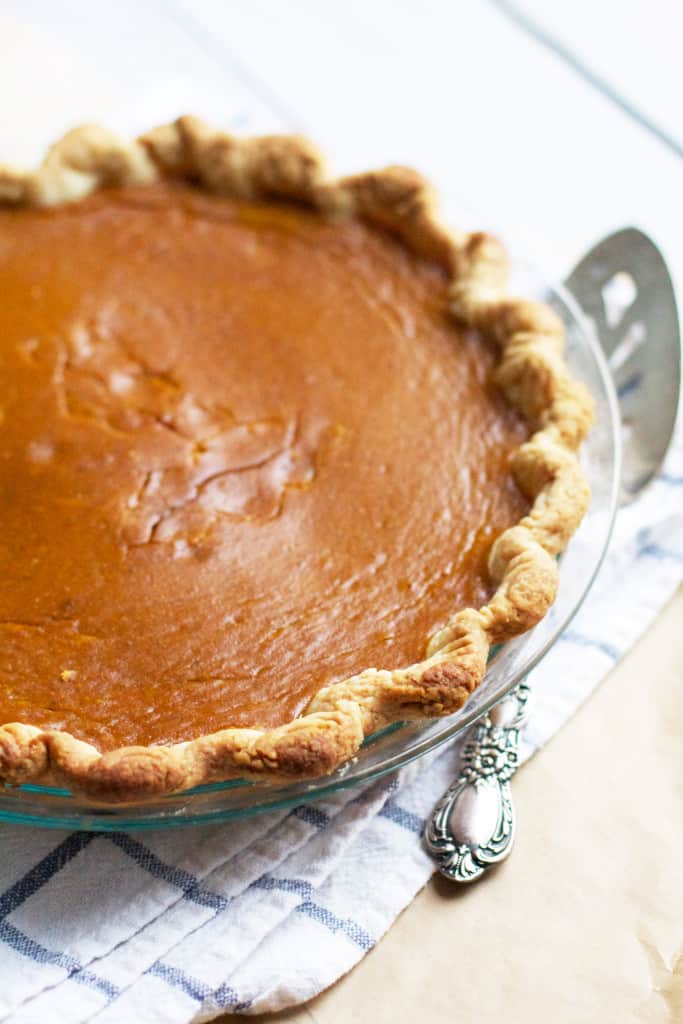 Ingredients needed for Brown Sugar Pumpkin Pie:
Pie Dough
Pumpkin Pureé
Light Brown Sugar
Salt
Ground cinnamon
Pumpkin Pie Spice
Heavy Cream
Eggs
Supplies needed for Brown Sugar Pumpkin Pie:
Pie Weights, or dried beans (see more info on this below.)
9-inch pie plate
Large bowl
Medium sized saucepan
Wire Rack for cooling
Food Processor for making your crust (if you'd like)
Baking sheet
Par-baking a crust:
For custard pies l always like to par bake or blind bake my crust so we have no soggy bottoms! To do so, roll your pie dough to an 12-inch circle on a lightly floured surface. Drape the dough into your pie dish, trim, and crimp edges. Place a piece of parchment paper or aluminum foil inside the crust and fill with pie weights or dried beans. I like to pop the whole thing in the freezer while the oven preheats to give it a little extra chill and help retain it's shape.
Bake at 375F for 10 minutes, then remove the foil/parchement and pie weights carefully and bake for another 10. The crust should be getting golden but not fully baked.
I covered that question in a seperate blog post here!
The Pie:
When your crust has cooled, start the pumpkin pie filling. In a saucepan, stir the pumpkin with the sugar and cook until caramelized and a deeper brown. Add the salt and spices, and then remove from the heat and add the cream and eggs. Mix until smooth and then pour into your crust and bake on a cookie sheet to avoid any spills. Cool until room temperature.
FAQ
Must I use homemade pie crust? Or can I use a store-bought pie crust or pie shell?
Listen, I think every home baker should give a homemade crust a try, but there is no shame in buying a store-bought crust if that isn't in the cards for you. I do recommend par baking a store-bought pie dough according to the instructions I gave above!
For the pumpkin filling can I use fresh pumpkin purée?
I have only ever used canned pumpkin for this recipe, but I have no doubt homemade pumpkin puree would be delicious too.
Can I sub evaporated milk for heavy cream?
Yes, although I think the heavy cream makes this filling extra rich and delicious!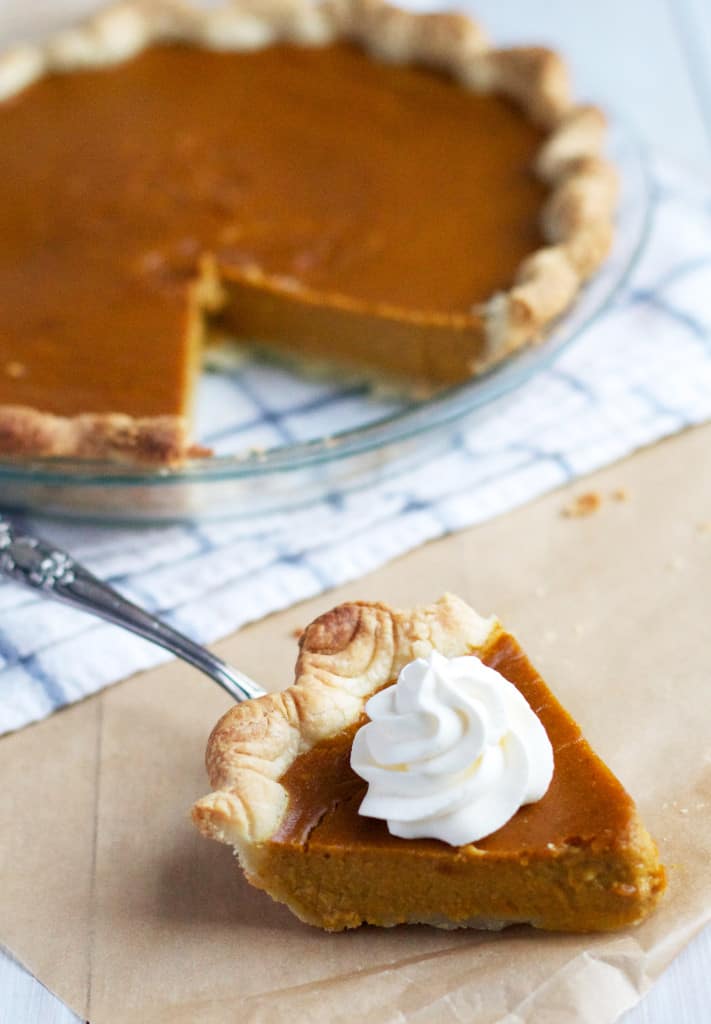 How to store leftover pie:
Wrap pie in plastic wrap tightly and store in the fridge for up to a week.
Can I sub something for the brown sugar?
I think the brown sugar is the star of this pie, but you could sub white sugar or even half maple syrup if you'd like. (I'd do half white sugar, half maple syrup in that instance.) I wouldn't sub something like coconut sugar as it may end up a bit grainy.
A few of my other favorite pies: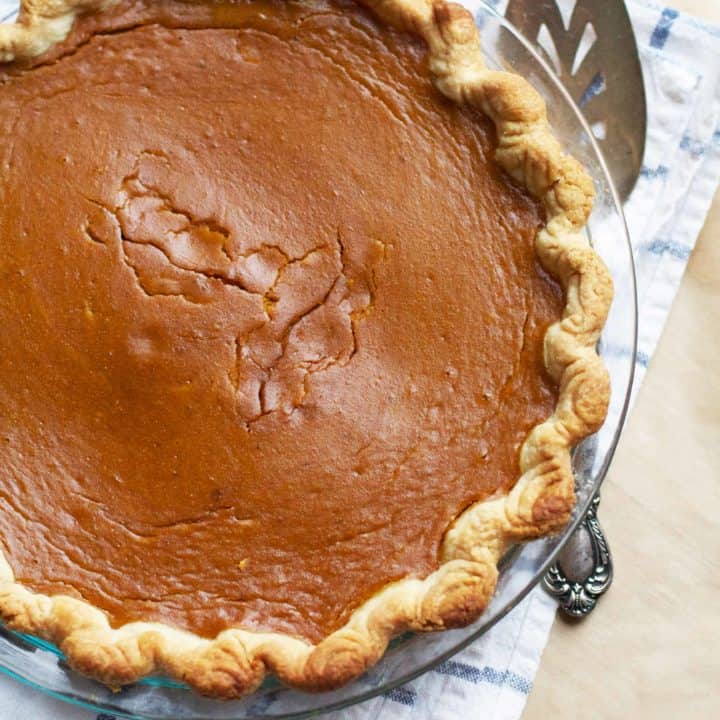 Brown Sugar Pumpkin Pie
Classic Pumpkin Pie with a brown sugary twist!
Ingredients
1 3/4 cups pumpkin puree
3/4 cup brown sugar
1/2 teaspoon salt
1 teaspoon ground cinnamon
1 teaspoon ground pumpkin pie spice
2 eggs, beaten
1 cup heavy whipping cream
Instructions
Preheat oven to 400 degrees F. Roll out your pie crust and trim/crimp it to the pie dish, pricking with a fork a few times.
If you want to par bake your crust, line the crust with foil and fill with pie weights or beans. Bake for about 10 minutes and then remove the foil and bake for another 5-10 minutes or until just slightly golden. (You only want it to be partially baked.) Set it aside while you prepare the filling.
In a saucepan, stir the pumpkin over medium-high heat for 15 minutes or until it begins to darken and caramelize.
Add the sugar, salt, cinnamon and pumpkin pie spice. Mix well for about 2 minutes.
Remove from the heat. Add the cream and finally the eggs. Mix until smooth and pour into the prepared crust.
Bake for 25 to 30 minutes or until crust is golden brown and the filling is set. Allow to cool completely on a wire rack.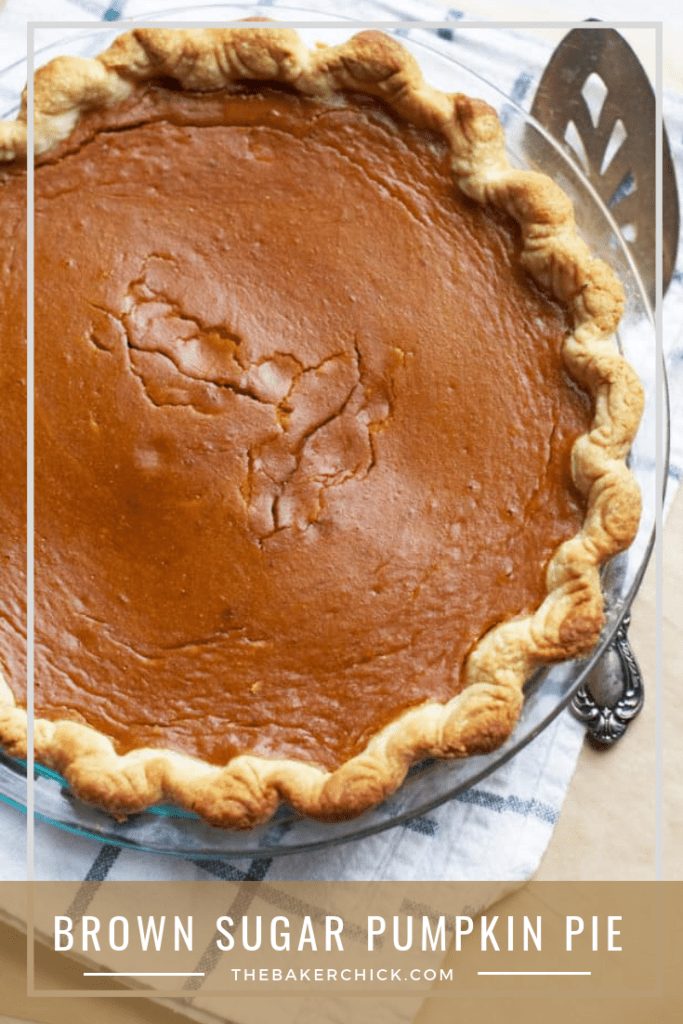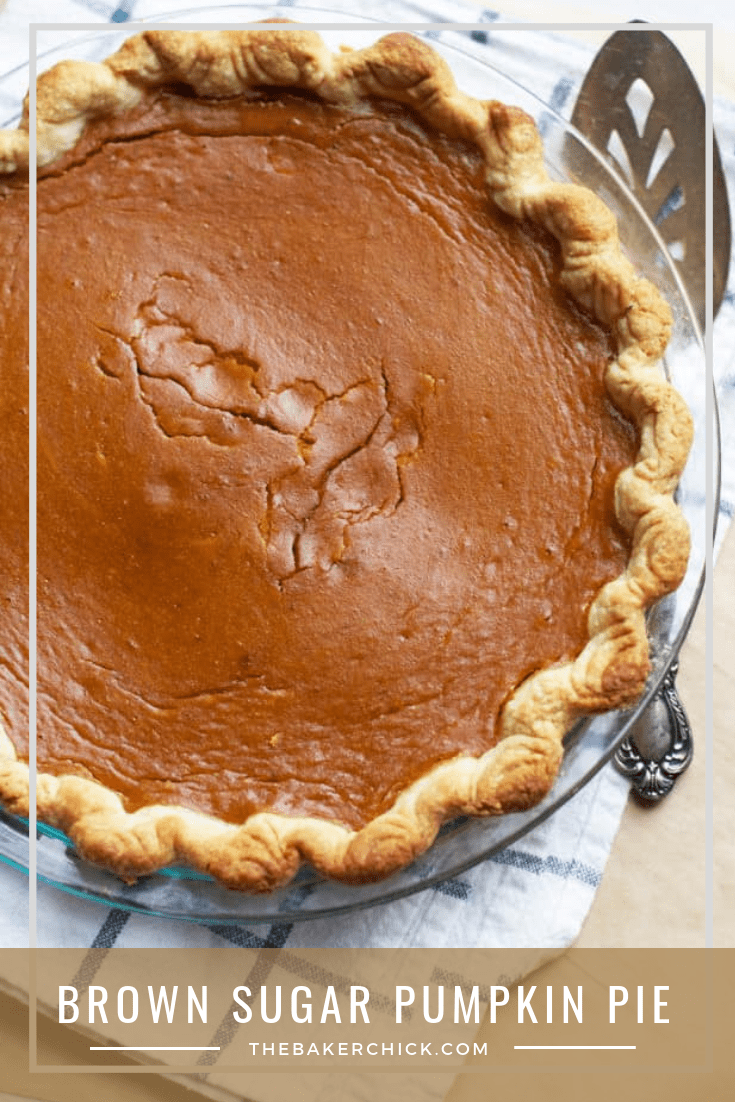 This post contains affiliate links