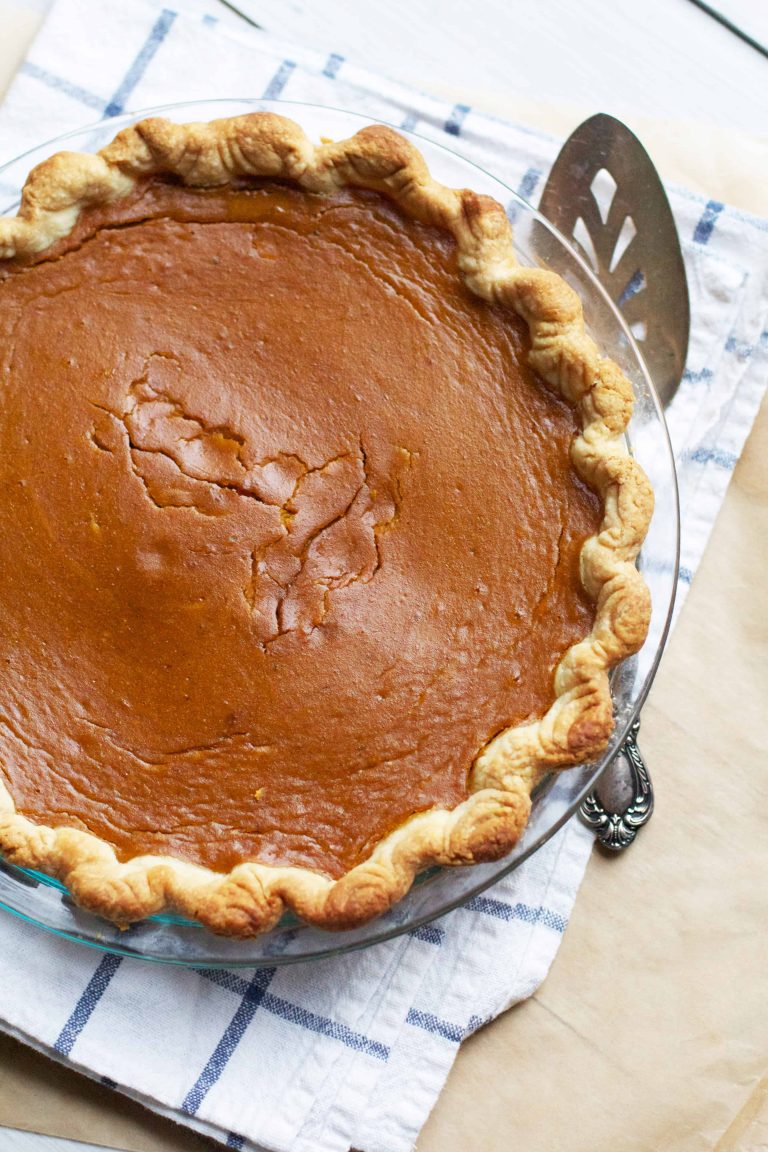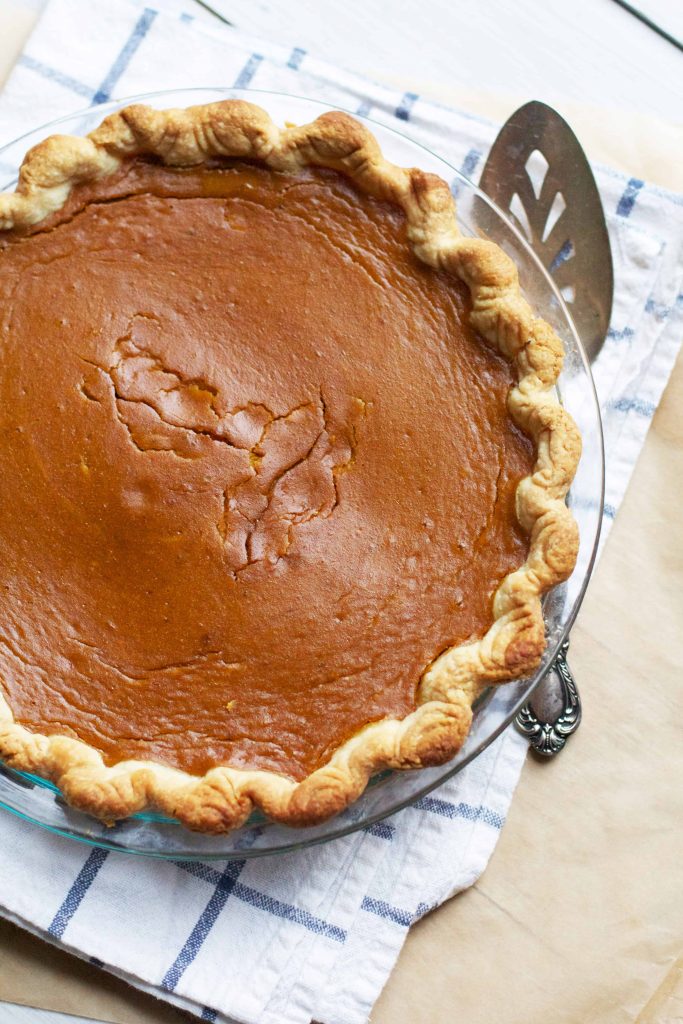 I like my pumpkin pie with cracks. Is that weird?
I like it to look homemade, a little rustic, and I don't know… homey? I thought about covering them up with some pie crust leaves or something, but decided to keep it real. I also want you to know its ok if your pie has cracks- I really do love it!
Anyway, this is the final new recipe I have for you to help with your Thanksgiving inspiration. I know it's a classic, and maybe you're in the camp that just uses the recipe from the Libby's can, but maybe I can convince you to give this great recipe a try. It's nothing too crazy different, but an extra step, some extra spice, and the use of brown sugar make a truly perfect pie.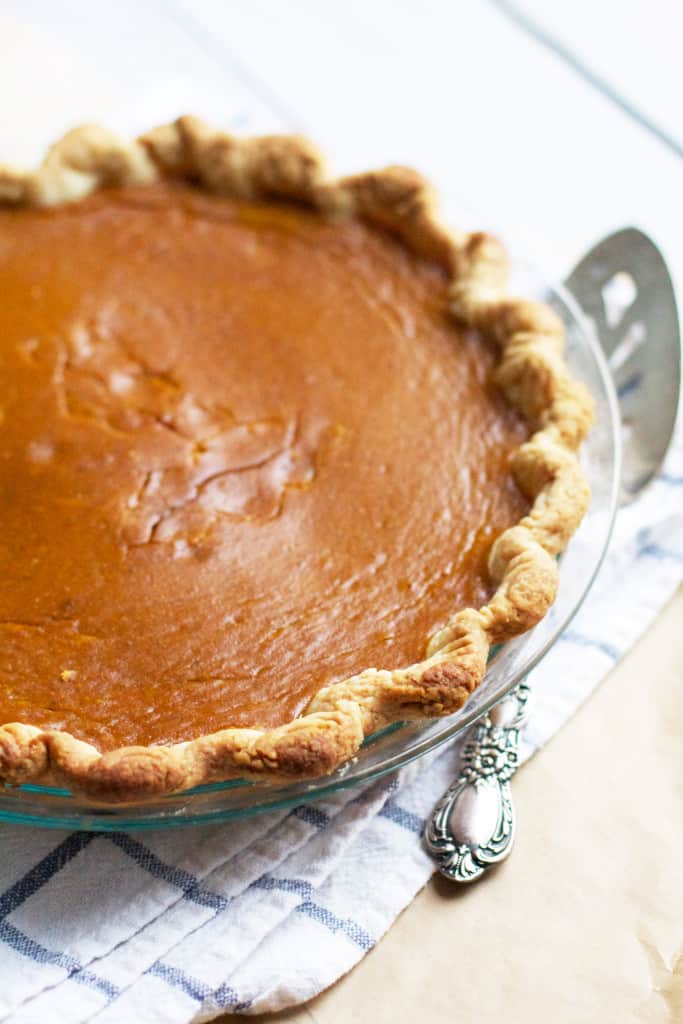 My taste-testers agreed that this had a super silky texture and a truly wonderful flavor- spicy and a bit caramelized. I can't have a pie shop without pumpkin right? I mean I'm assuming that come fall I'll be selling quite a few of these puppies don't you think? So it's good that I have my go to recipe down…
The one thing that for me always makes pumpkin pie a little bit better is par-baking the crust. I didn't do it this time- mostly as an experiment, but I usually do and it makes a huge difference. I still love pumpkin pie with a softer crust, but for me I prefer it with a bit of crispiness to the crust. I'll leave instructions for that option below!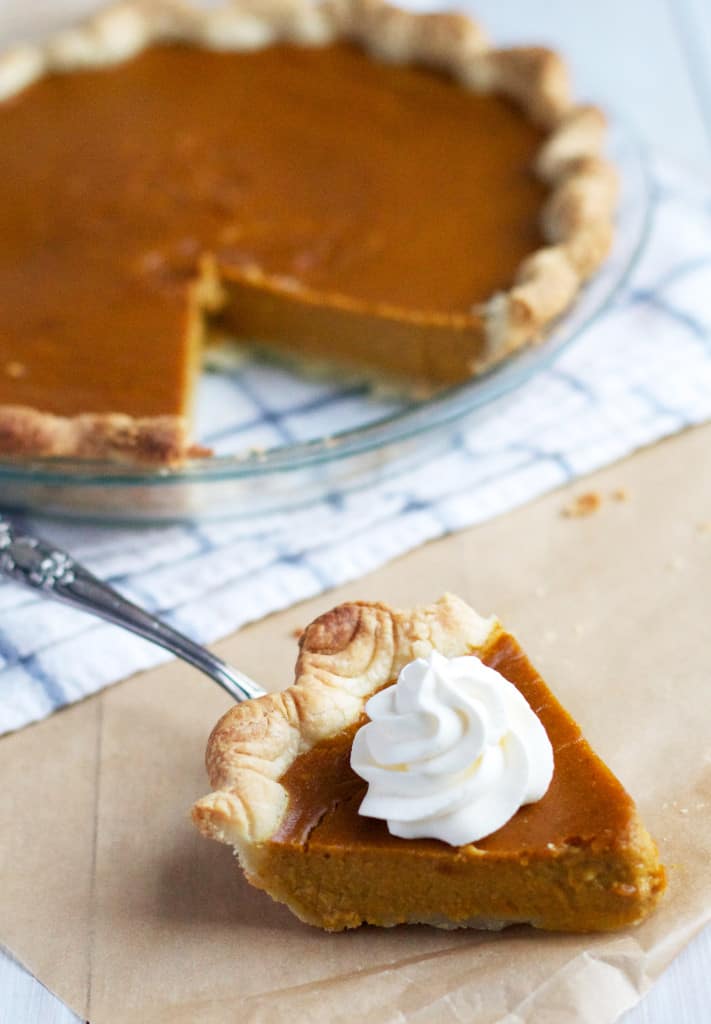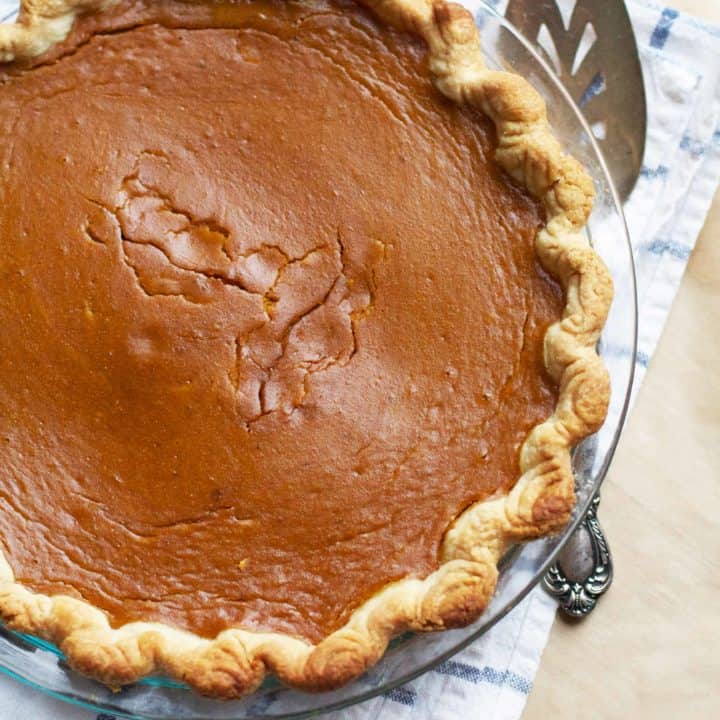 Brown Sugar Pumpkin Pie
Classic Pumpkin Pie with a brown sugary twist!
Ingredients
1 3/4 cups pumpkin puree
3/4 cup brown sugar
1/2 teaspoon salt
1 teaspoon ground cinnamon
1 teaspoon ground pumpkin pie spice
2 eggs, beaten
1 cup heavy whipping cream
Instructions
Preheat oven to 400 degrees F. Roll out your pie crust and trim/crimp it to the pie dish, pricking with a fork a few times.

If you want to par bake your crust, line the crust with foil and fill with pie weights or beans. Bake for about 10 minutes and then remove the foil and bake for another 5-10 minutes or until just slightly golden. (You only want it to be partially baked.) Set it aside while you prepare the filling.

In a saucepan, stir the pumpkin over medium-high heat for 15 minutes or until it begins to darken and caramelize.

Add the sugar, salt, cinnamon and pumpkin pie spice. Mix well for about 2 minutes.

Remove from the heat. Add the cream and finally the eggs. Mix until smooth and pour into the prepared crust.

Bake for 25 to 30 minutes or until crust is golden brown and the filling is set. Allow to cool completely on a wire rack.