Brown Sugar Banana Cream Pie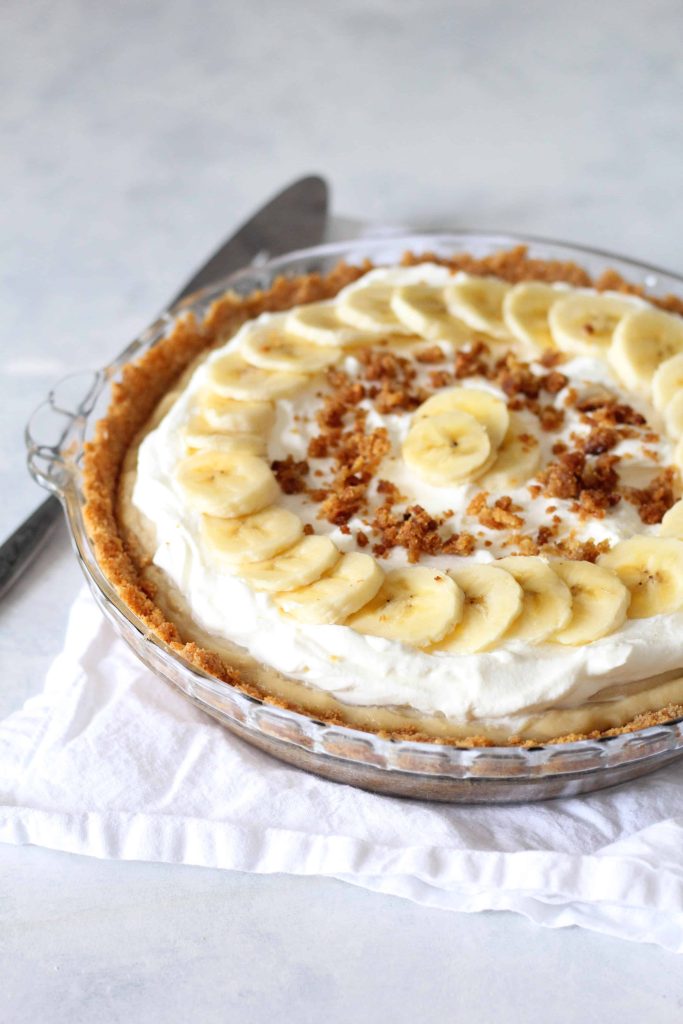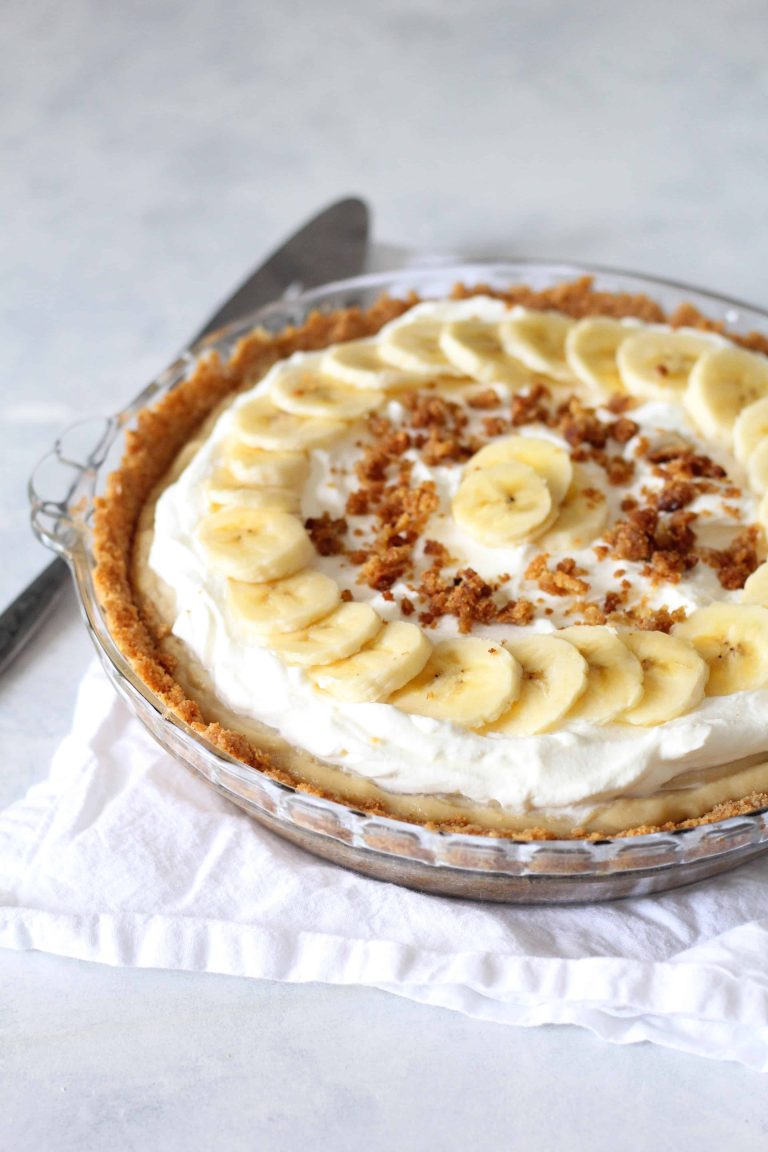 Ok, I love pie, that is known amongst these pages, BUT- it isn't every day that a pie brings me to the fridge with a fork trying to hide it from the other members of my family wanting to get in on it. Which reminds me, the other day out of nowhere Hugo (3.5,) said "Pie is LOVE!" HA! It is right? Yeah Hugo, pie is love. This pie in particular.
I made this for Andy's birthday last weekend, when the weather was a balmy 95 and humid. When I saw the forecast earlier in the week I felt myself groan internally because I knew I needed to make him a birthday treat but turning the AC on in that weather gave me pause. So I started thinking about no-bake desserts and icebox cakes and the like, and while browsing around I realized I've never actually posted a Banana Cream Pie recipe here. How is that possible? It's one of my absolute favorites. I made Chocolate Peanut Butter Banana Cream Pie a few years ago but never a true classic. This was a must considering it's also Andy's fave.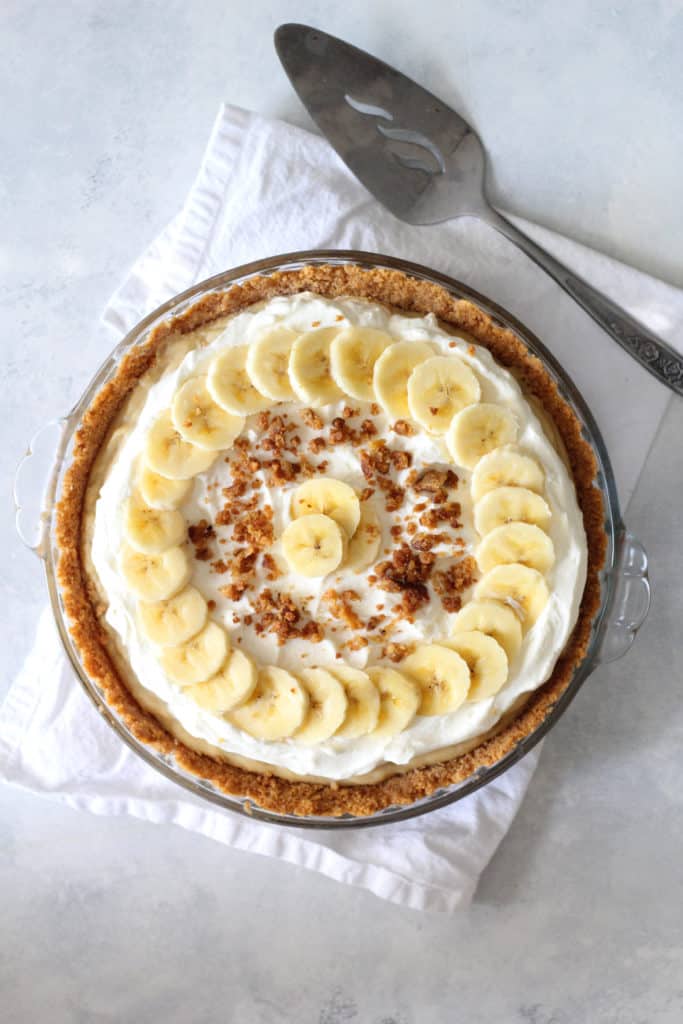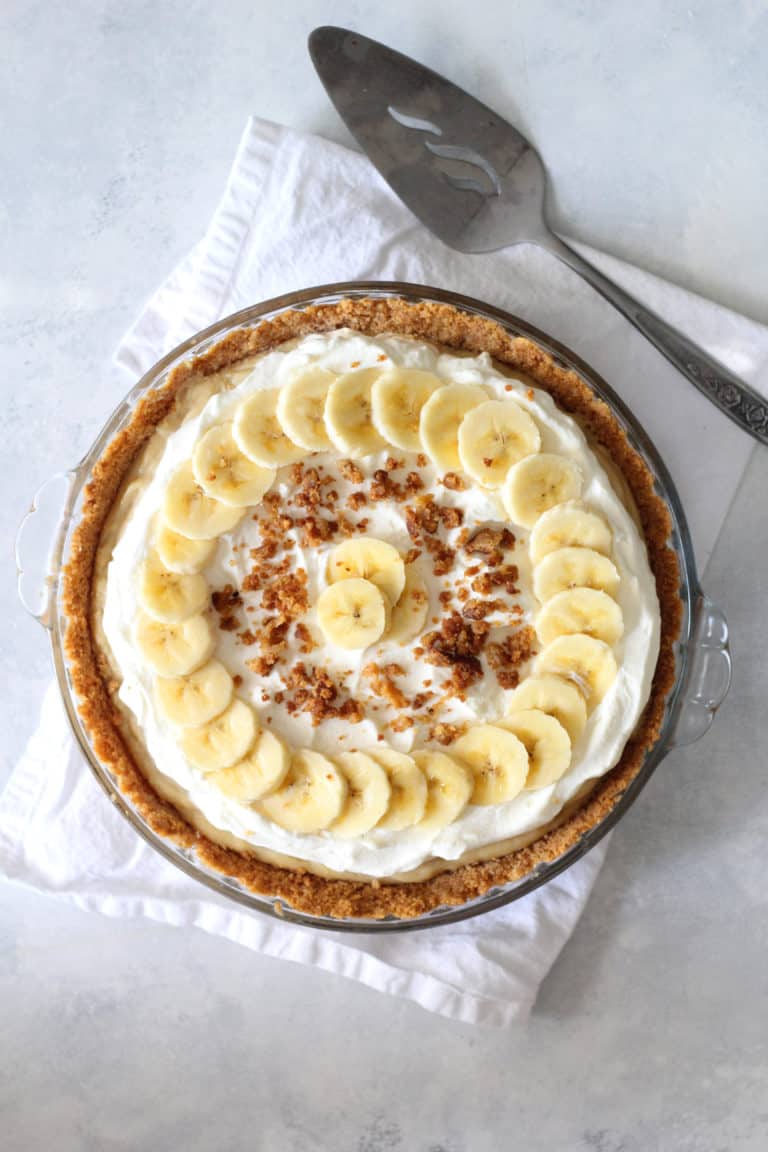 I've always made Banana Cream Pie with a classic butter crust, but due to the heat and the fact that Andy lives for a thick graham cracker crust, this is what I decided on. And man oh man did this crust steal the show. I added a heavy pinch of salt that gave it a perfect balance of that sweet & salty vibe which I'm crazy for.
The brown sugar addition to this beauty seemed like an obvious choice once I got going. Brown sugar and bananas seem like such a perfect pairing don't you think? Adding it to the custard layer gave it a wonderful, caramelized flavor and just added to this pie's perfection.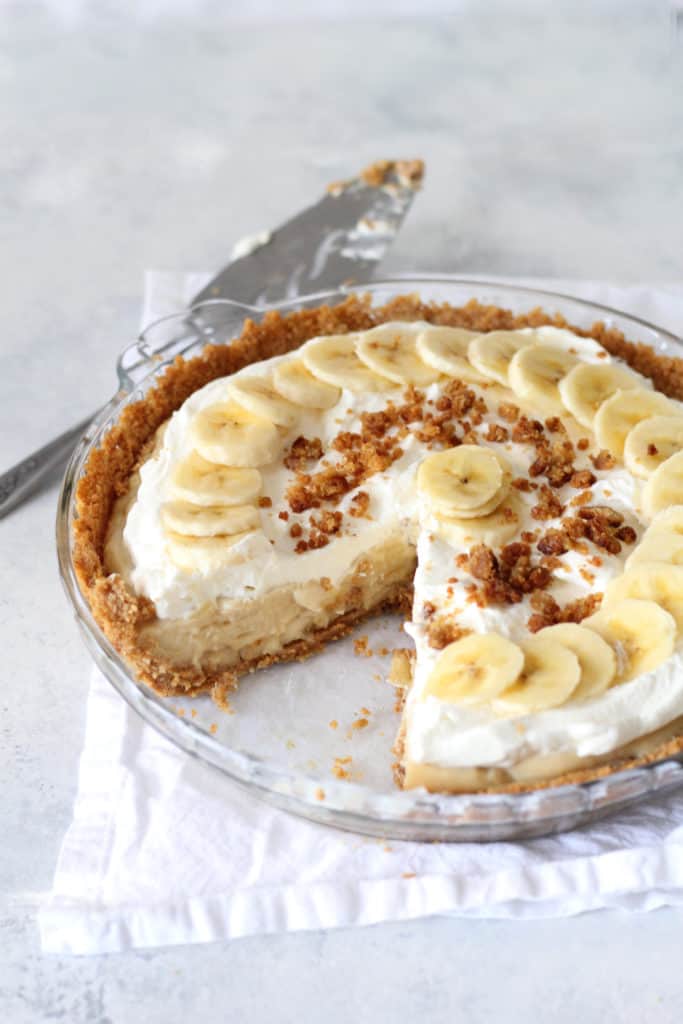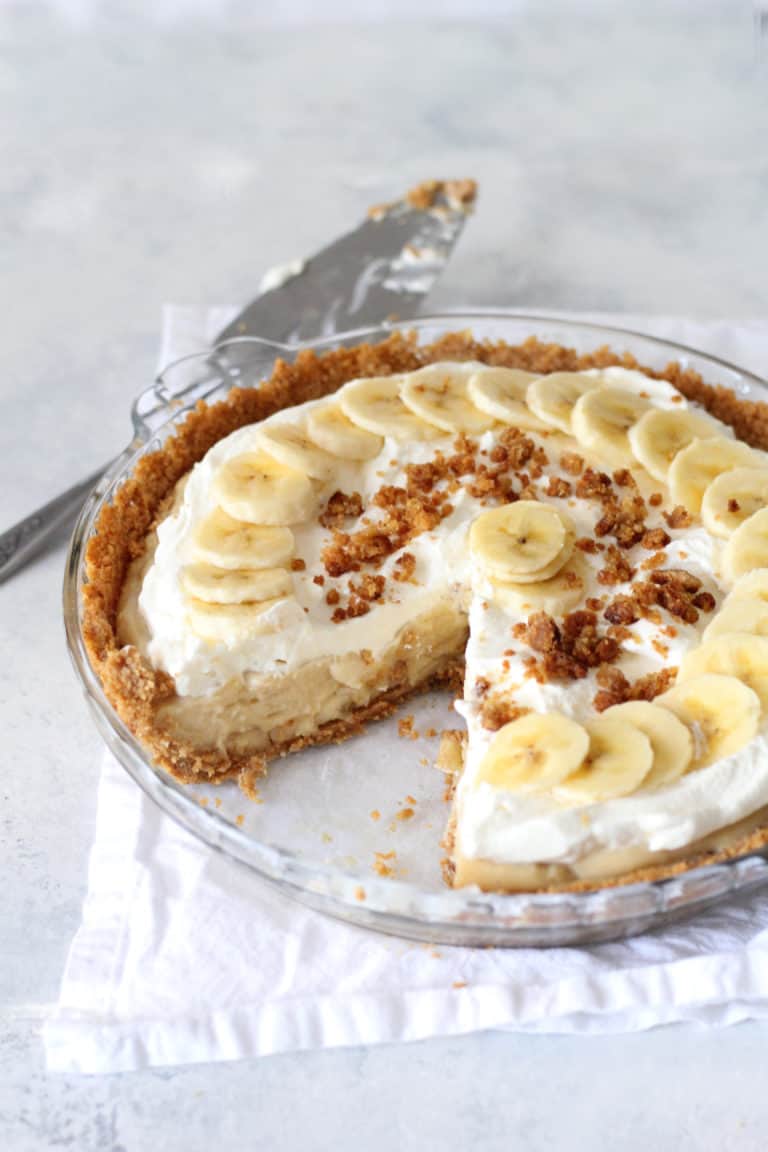 Note: this pie could be a true no-bake situation by just thoroughly chilling your crust before adding the fillings. BUT- I'm a sucker for a baked graham cracker crust so I did bake this for 7 minutes. Your call- I was willing to risk the added heat for a short time but it's not mandatory.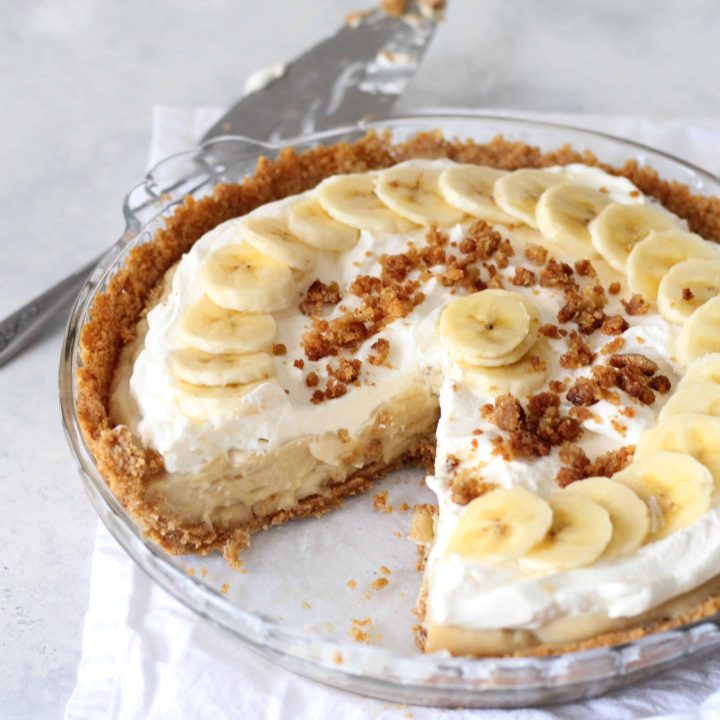 Brown Sugar Banana Cream Pie
Classic Banana Cream Pie with a toasty brown sugar twist!
Ingredients
For crust:
2 cups graham cracker crumbs
7 tablespoons melted butter
1 tablespoon brown sugar
1 teaspoon salt
For Filling:
2¼ cups whole milk
⅔ cup brown sugar
3 egg yolks
¼ cup cornstarch
1 teaspoon vanilla
1 tablespoon butter
3 ripe bananas, sliced
For topping:
1 cup heavy whipping cream
Instructions
For the crust:
In a 9 inch pie dish, combine the crust ingredients with a fork until well combined. Use your hand or a spoon to spread the crust into the dish, pressing it up the sides and onto the bottom.
If you choose to bake it, preheat oven to 375F and bake for about 7 minutes or until slightly brown. Otherwise chill for 1-2 hours before adding the filling.
For the Filling:
Combine milk and the brown sugar in a medium-sized saucepan over medium heat. Stir together and heat until simmering.
Whisk egg yolks and corn starch together in a medium sized bowl or glass measuring cup. Slowly pour about half of the milk mixture into it with one hand while whisking with the other until combined.
Pour the egg mixture back into the pot with the rest of milk.
Stir constantly until very thick and bubbling like lava.
Remove from heat and stir in the vanilla and butter.
Spread sliced bananas on the bottom of the crust. I put two bananas into the pie and then sliced one for the topping. You could do that or put them all inside.
Top with the pudding mixture and cover with plastic wrap.
Chill overnight or for several hours until set.
Whip cream to stiff peaks and spread on top of the chilled pudding. Garnish with banana slices and more graham cracker crumbs if desired.