3 Ingredient Key Lime Pie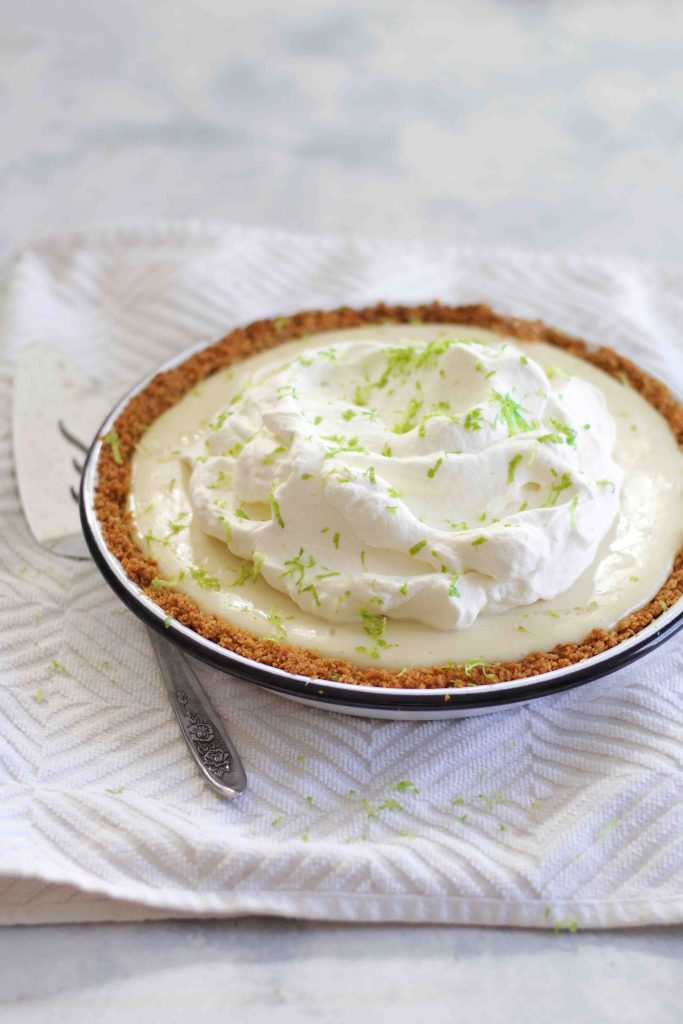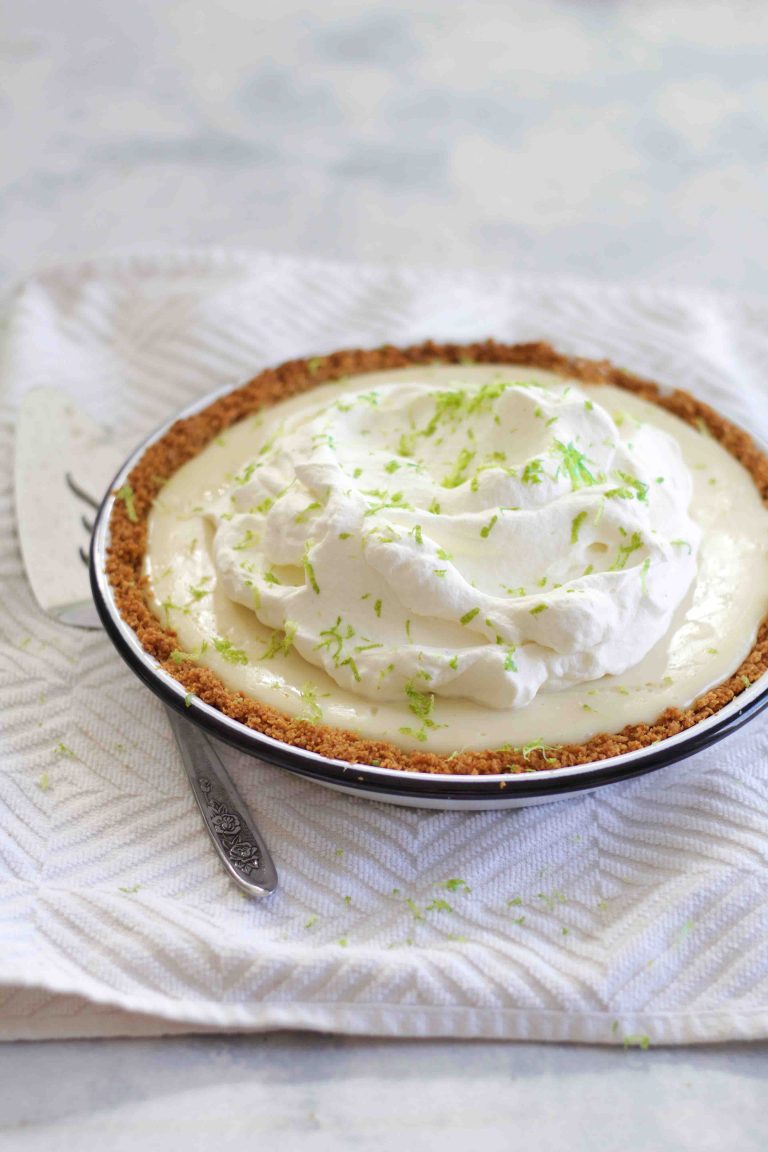 I am all about easy recipes using simple ingredients. This super Easy Key Lime Pie with only 3 ingredients and a super creamy filling is easy and delicious, and a new family favorite!
I first made this recipe in the dead of winter when citrus was plentiful and I dreamed about a tropical vacation. The sunny Florida Keys and a slice of tart and refreshing pie sounded super appealing and refreshing.
Now a classic Key Lime Pie typically makes a custard using egg yolks and heavy cream, but I have make both versions and I find this super simple one just as good if not better! It is truly a delicious key lime pie and I love adding it to my holiday pie spread for a tart and refreshing dessert. This gets rave reviews every year and is just SO easy it's hard to mess up- even for a novice baker.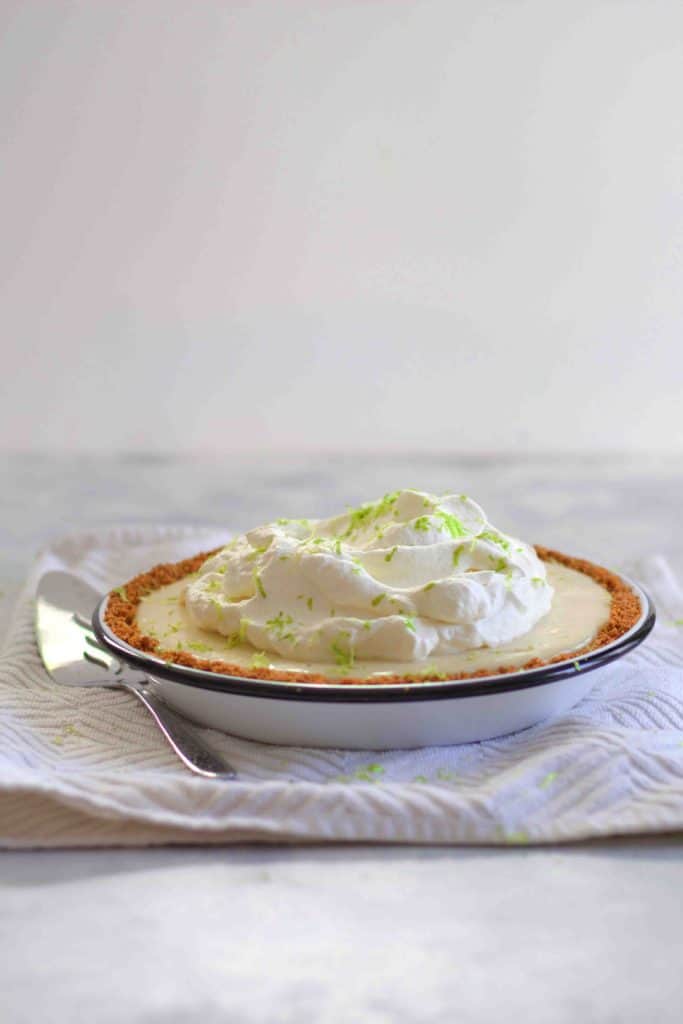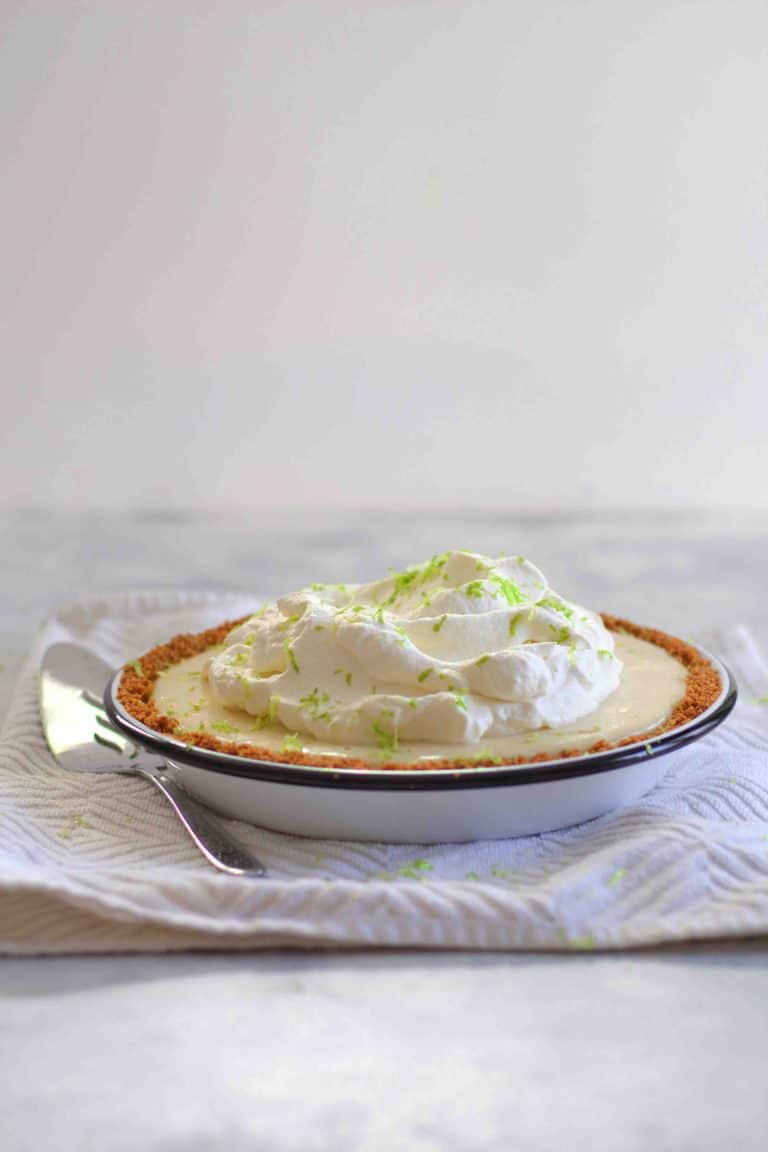 3 Ingredient Key Lime Pie- what's in the pie filling:
Key Lime Juice
Sweetened Condensed Milk
Sour Cream
Now you do need a crust, and for that I simply used graham cracker crumbs and salted butter. You could also buy a pre-made graham cracker crust if that's your preference! I like to top my pie with whipped cream made with heavy whipping cream but that's optional!
Supplies needed for this Easy Key Lime Pie Recipe:
Pie Pan
Medium sized bowl for crust
Large mixing bowl for filling
Whisk
Spatula
Plastic wrap for storing
The Process:
If making a homemade graham cracker crust, combine the graham crackers and the melted butter in a medium sized bowl and stir together. Press the crumb mixture into a pie dish and bake for a few minute. Let the crust cool while you mix together the filling ingredients. Pour the filling into the crust and bake. Let pie come to room temperature on a wire rack and then chill until ready to serve. If desired spread whipped cream on the top of the pie and garnish with lime slices or zest if desired.

I can't find fresh key limes anywhere- can I use regular limes?
Yes! Key Limes have a distinct flavor that I love when I can find them at the grocery store, but regular limes work in a pinch. (If you have the option, choose the smaller limes also known as Persian limes.) Also feel free to get bottled key lime juice- that will work well! ( Nellie & Joe's brand bottled juice has been recommended in the comments!)
I don't have sour cream what can I use instead?
4 oz of softened cream cheese will work as well
Can I use a store-bought graham cracker crust?
Yep! Just skip the step of pre-baking the crust and pour the filling right into your store-bought crust and then bake!
Can I make this recipe gluten-free?
Usually I shy away from suggesting gluten free subs since I'm not an expert, but I hear gluten-free graham crackers are great and subbing them in the crust would be an easy adaptation.
The secret ingredient that takes this pie from good to to die for is actually in the crust. Some recipes call for sugar to be added to crushed graham crackers for the crust, but I wasn't feeling that. Instead, I simply combined salted butter and graham crackers, (already sweet anyway,) and a pinch more of sea salt. The slightly salty crust combined with the sweet and tart filling is just a match made in heaven.
I hope you enjoy this simple recipe that truly makes the best key lime pie! I love it straight from the fridge on a hot summer day, as part of my holiday pie spread, or in winter when I dream of tropical treats. It's really an excellent recipe- just the best!
Want more Key Lime flavor? Check out my Key Lime Pie Layer Cake.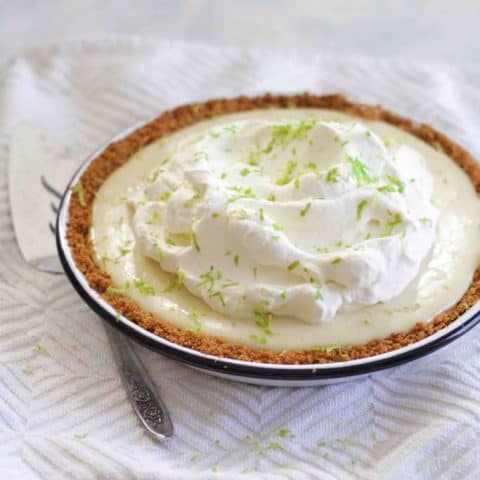 3 Ingredient Key Lime Pie
Ingredients
Crust:
11 whole graham crackers, crushed into crumbs
6 tablespoons salted butter
pinch of sea salt (optional)
Filling:
2 14 oz. cans sweetened condensed milk
1/2 cup sour cream
3/4 cup key lime juice*
Topping:
1 cup heavy whipping cream
2 tablespoons powdered sugar
Lime Zest to top (optional)
Instructions
Preheat oven to 350F.
In a medium sied bowl, combine graham cracker crumbs, melted butter, and the pinch of salt if used. Mix together with a spoon and press into the bottom and up the sides of a 9 inch pie plate.
Bake crust for 5-7 minutes or until toasty on the edges.
For the filling:
Mix together the sweetened condensed milk, sour cream, and lime juice. Pour into finished pie crust and bake for 10-12 minutes, or until little bubbles form on the surface of the pie and start to pop. (Don't let the pie get brown!)
Allow the pie to chill for a few hours/overnight.
To serve:
Beat heavy cream to stiff peaks and stir in the powdered sugar. Spoon over pie and top with lime zest.
Notes
*If you can't find fresh key limes, bottled key lime juice works great. I have also used fresh lime juice in a pinch.

Recipe adapted from All Recipes
This recipe contains affiliate links