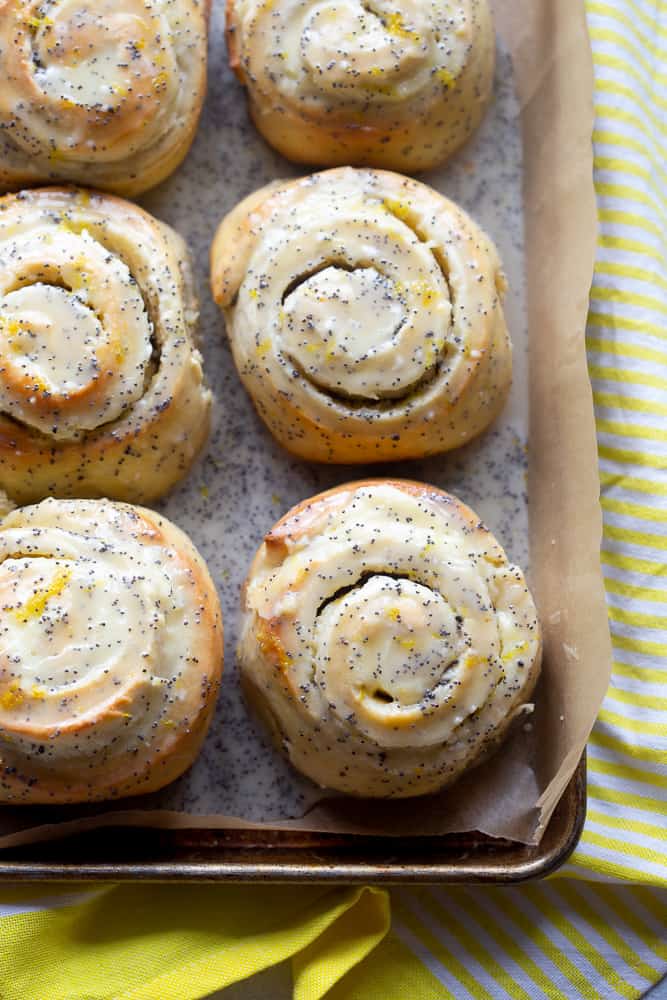 I consider myself to be a pretty good houseguest.
I keep my room nice and tidy, offer to do the dishes, and often get in the kitchen to cook a couple meals for the family I'm staying with.
My favorite thing to do when I'm visiting friends, however, is wake up early and get a batch of 90 Minute Brown Butter Cinnamon Rolls baking for a late brunch treat. Everyone loves them, the house smells amazing, and well, it's kinda become my signature thing.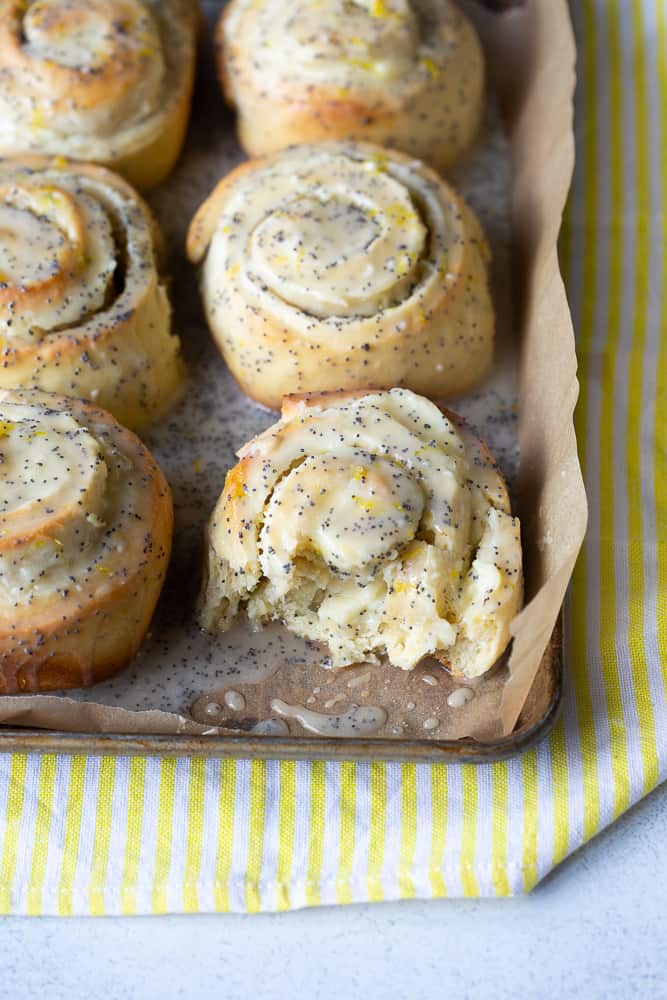 Earlier this summer, I was visiting friends over a hot and humid weekend, and cinnamon rolls just wouldn't do. They just felt a little too rich for 90 degrees and I needed to come up with another idea for a summer day.
Luckily I had just bookmarked a recipe in a new cookbook I have been loving called Sister Pie, recipes from the famous bakery in Detroit.
I've already made several recipes from the cookbook, including a Raspberry Rhubarb Pie that is my new favorite flavor combo, and Paprika Peanut Butter Cookies which are unique and amazing. I'd been waiting for a chance to make the famous Sister Pie Lemon Poppyseed Buns though, and this was my chance!
The rolls are puffy and amazing, with a soft, tender, lemony dough and a rich and gooey cream cheese filling. Arguably the best part is the glaze, full of bright fresh lemon and poppy seeds, adding the perfect sweet/tart balance.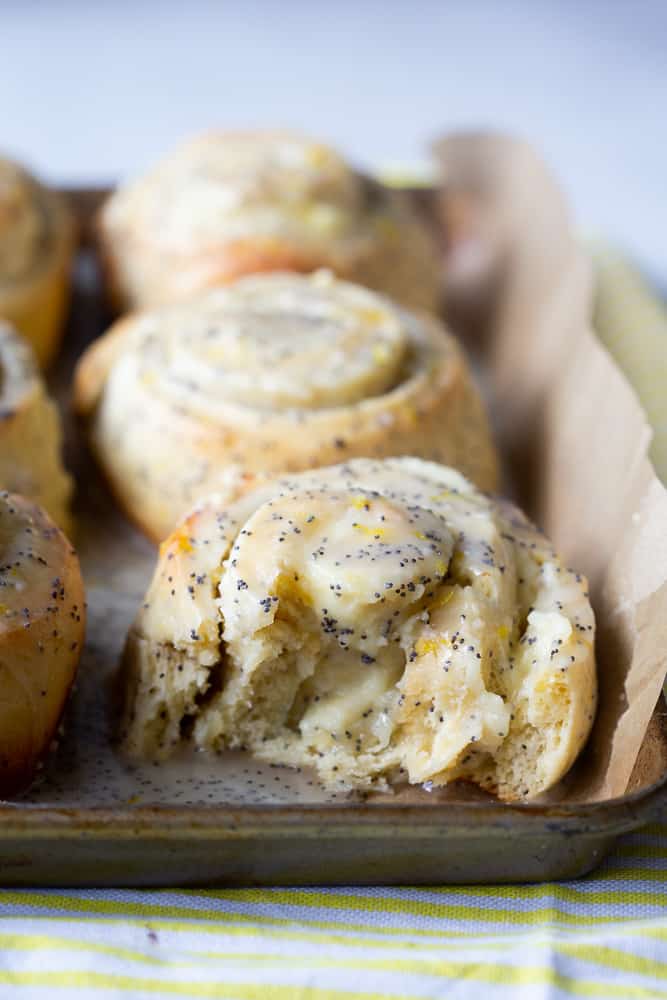 They aren't quite as fast to throw together as my cinnamon rolls, so if you want to bake them early Sunday morning, I'd suggest making the dough and assembling the buns the night before. Then the morning you want to bake, you just let the dough proof for an hour and you're good to go!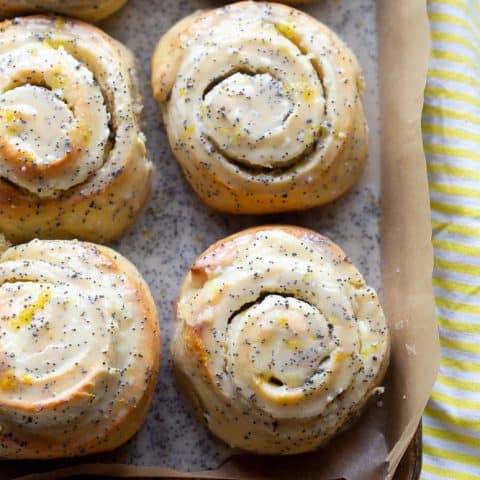 Lemon Poppy Buns
Yield: 6 large buns

Prep Time: 20 minutes

Cook Time: 30 minutes

Additional Time: 3 hours

Total Time: 3 hours 50 minutes
Ingredients
Dough:
3 tablespoons unsalted butter
1 cup buttermilk
1 large egg and 1 egg yolk, at room temperature
1/2 cup granulated sugar
3 1/2 cups all-purpose flour
1 tablespoon poppy seeds
2 1/4 teaspoons active dry yeast
1 teaspoon kosher salt
1/2 teaspoon packed grated lemon zest
Filling:
1/2 cup (1 stick) unsalted butter, at room temperature
8 ounces cream cheese, at room temperature
3 tablespoons granulated sugar
1/4 teaspoon kosher salt
Glaze:
1/2 cup heavy cream, at room temperature
1 1/2 tablespoons coconut oil, melted
3 tablespoons freshly squeezed lemon juice
3 cups powdered sugar
1 tablespoon poppy seeds
1/4 teaspoon kosher salt
Instructions
For the dough:
In a small saucepan over low heat, melt the butter. Add the buttermilk and warm until lukewarm.
Meanwhile, place the egg and the yolk in the bowl of a stand mixer. Add the sugar and whisk by hand until combined. Stream in the warmed buttermilk mixture slowly, whisking as you go.
Add 1/2 cup of the flour, the poppy seeds, yeast, salt, and lemon zest and whisk together, using the whisk to scrape down the sides if needed. Place the bowl onto the mixer fitted with the dough hook attachment and begin to mix on low speed.
Add the remaining 3 cups flour, 1/2 cup at a time, until it is completely absorbed. At this point, the dough will still feel sticky. Continue to knead on medium-low speed with the dough hook (or by hand on a lightly floured surface) until the dough is smooth and elastic, 5 to 7 minutes. (I had to add an additional 1/2 cup flour so the dough didn't stick to the bowl.)
Scrape the dough from the bowl and form into a ball. Lightly oil the mixing bowl. Place the dough inside and roll it around to coat it all over. Cover with a kitchen towel. Set aside to rise in a warm, draft-free place for 2 hours, until the dough has doubled in volume.
For the filling:
While the dough is rising, make the filling. In the bowl of a stand mixer, combine the butter, cream cheese, sugar and salt. Fit mixer with paddle attachment and cream the mixture on medium speed until smooth. Set aside.
To assemble:
Butter and lightly flour a 9x13 baking pan, tilting the pan to evenly coat with flour.
Turn the risen dough out onto a generously floured surface. Deflate it with your hands and shape it into a rectangle.
Using a rolling pin, gently roll the dough to a 10x14 inch rectangle that is about 1/2 inch thick.
Scrape all the filling into the center of the dough and use an offset spatula to evenly spread it to the edges.
Starting at the short end, position your hands on the left and right sides, then roll the dough up as tightly and evenly as possible, ending with the seam side down. (Dough log should be about 10 inches long.)
Using a sharp knife (I like a serrated bread knife,) mark the dough into 6 equal pieces and then slice.
Transfer the buns to the baking pan and cover with the kitchen cloth. Let proof for about 45 minutes, or until buns are about 1 1/2 times larger. If you press a finger onto the side of a bun and it slowly but easily bounces back when you remove your finer, it's time to bake.
Bake at 375F for 30-35 minutes, or until the buns are golden in color. Cool on a wire rack for at least 15 minutes before glazing.
For the glaze:
In a medium bowl, combine the cream, coconut oil, lemon juice, powdered sugar, poppy seeds and salt, and whisk until very smooth. It should be pourable and not too thick.
Carefully remove the buns from the baking dish, one at a time, and set them on a parchment-lined baking sheet. Pour a heaping 1/4 cup of the glaze evenly over the top of each bun- it should easily drip down the sides.
Allow the glaze to set before eating warm or room temp. Buns can be stored in the fridge in an airtight container for up to 2 days.