Clementine Olive Oil Cake
Clementine Olive Oil Cake is a quick and easy recipe and eating it is a great way to brighten up a gloomy winter day. Seasonal clementines are blended with olive oil to create a moist and flavorful cake!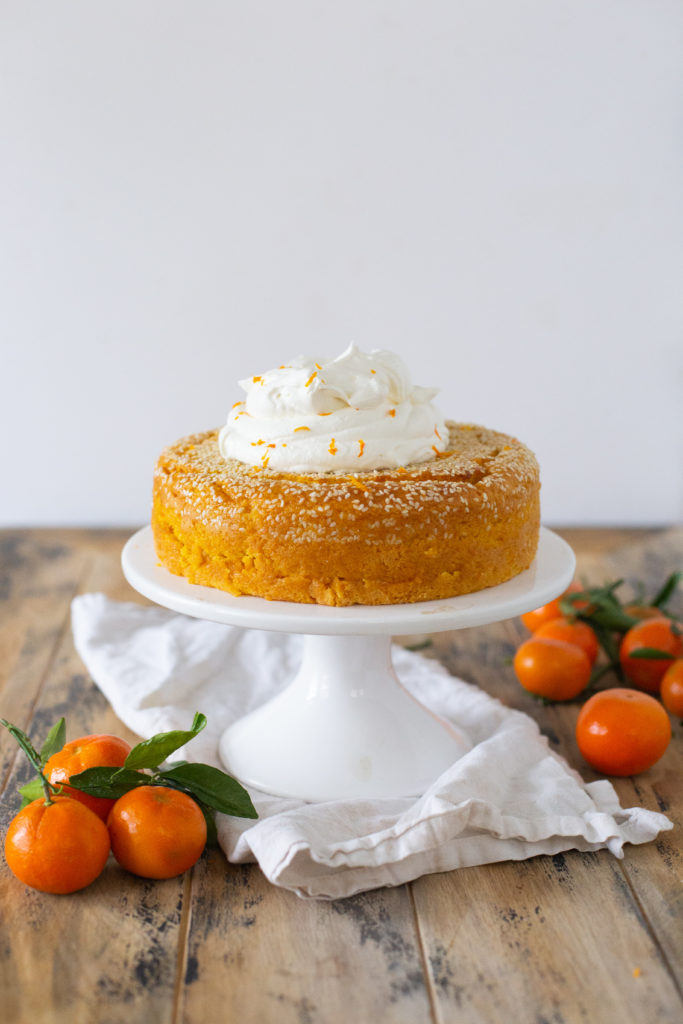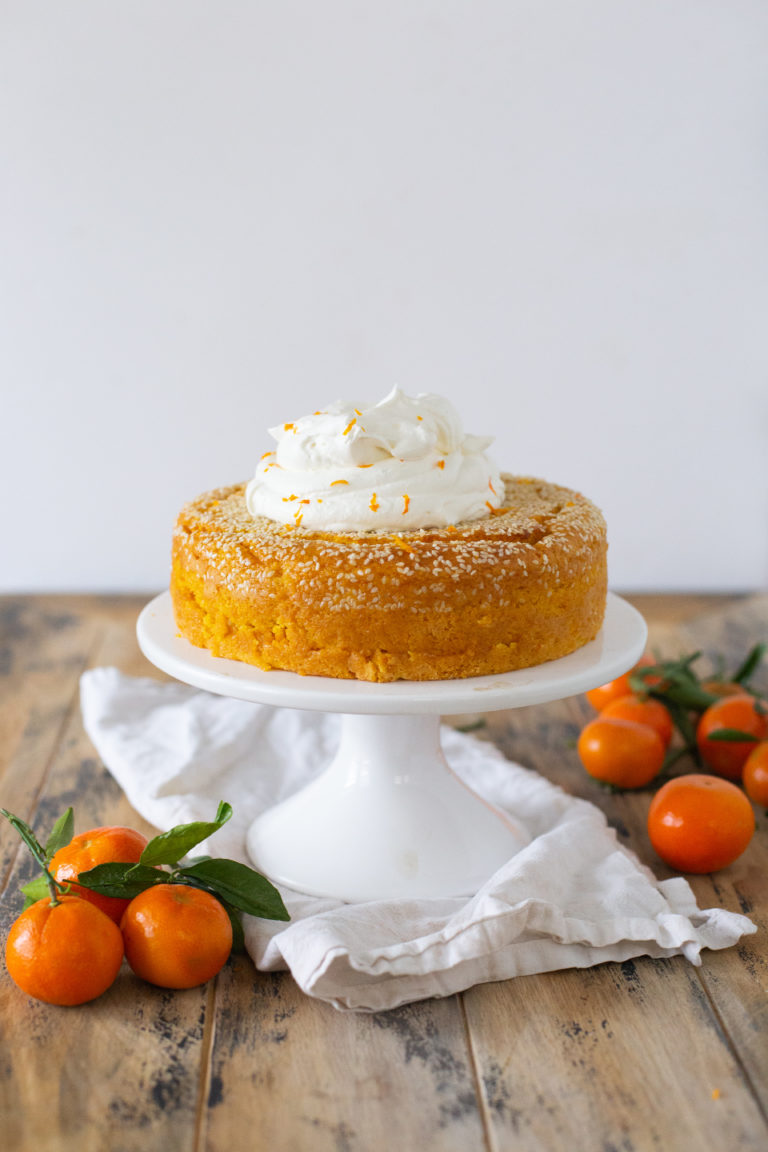 Ever come across a recipe that is so wonderful you make this 3x in one week? This Clementine Cake is the best way to brighten a gloomy day. It's citrus season and this is a super moist cake, full of bright citrus flavor and is easy to boot!
I had been searching for clementine recipes with a huge bag on my counter and discovering this recipe was just the thing to get me out of the winter doldrums.
Whole clementines are pureed (skin and all!) and mixed into the simple cake batter along with olive oil, and topped with crunchy sesame seeds. Using the entire fruit gives this cake the best texture and flavor. This really is the perfect cake!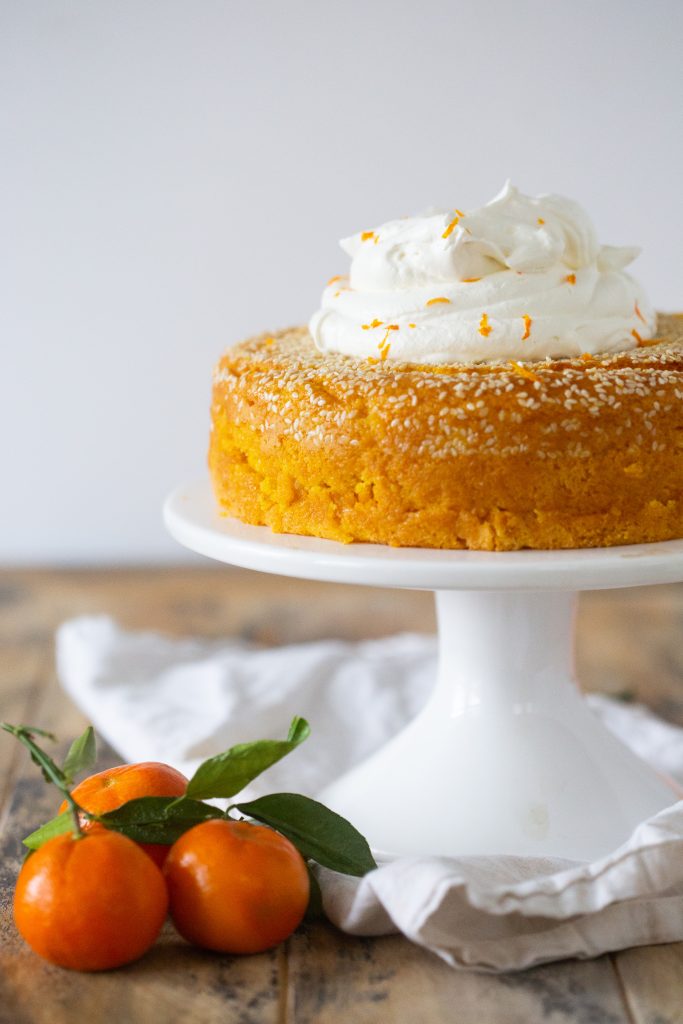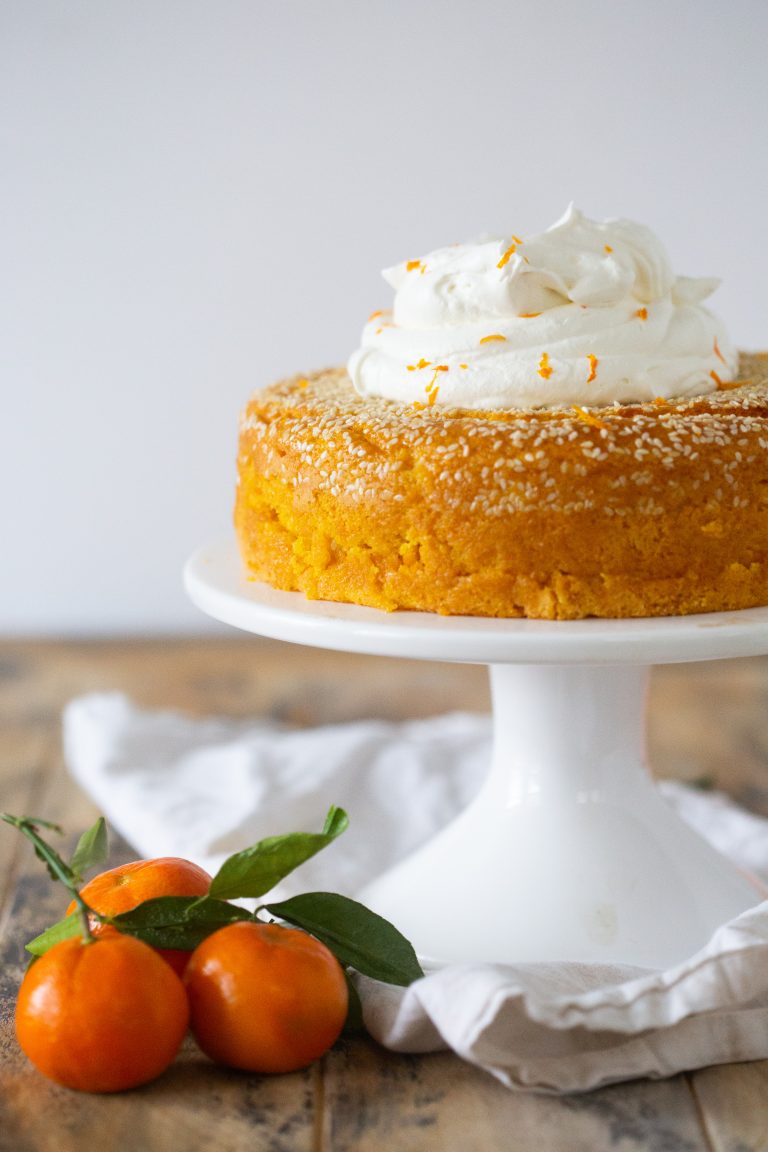 Using the whole fruit utilizes the clementine juice and clementine zest, giving the cake mixture so much bright citrus flavor without being over-powering. The olive oil keeps the cake super moist with a really subtle and delicate flavor.
A simple orange syrup is brushed over the cake as it cools, and then mixed into some fresh whipped cream which is dolloped on top.
Now I should note that the recipe I adapted this from didn't include the syrup or whipped cream but for me they are both a must. The cake is still not too sweet and just has the best texture of any cake I made. It melts in your mouth and left everyone raving.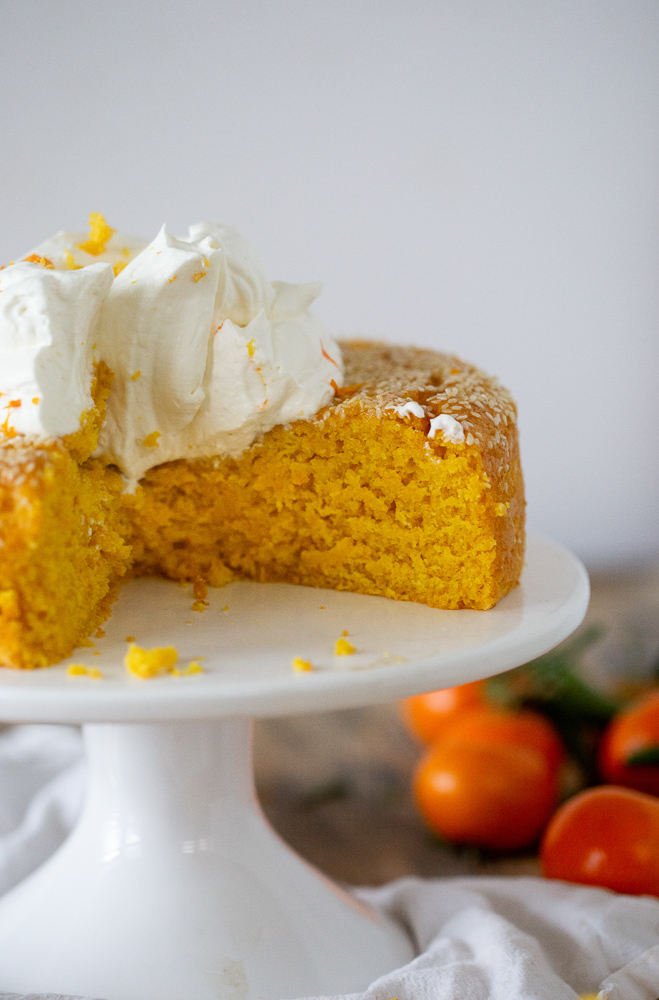 Ingredients in Clementine Olive Oil Cake:
Whole Clementines
Eggs (room temperature ideally)
Sugar
Olive Oil
All purpose Flour
Sesame Seeds (optional)
Baking Powder
Salt

Equipment used:
Springform Pan or 9 inch cake pan
Large Bowl
Small Bowl
Blender
Wire Rack
Small pan for glaze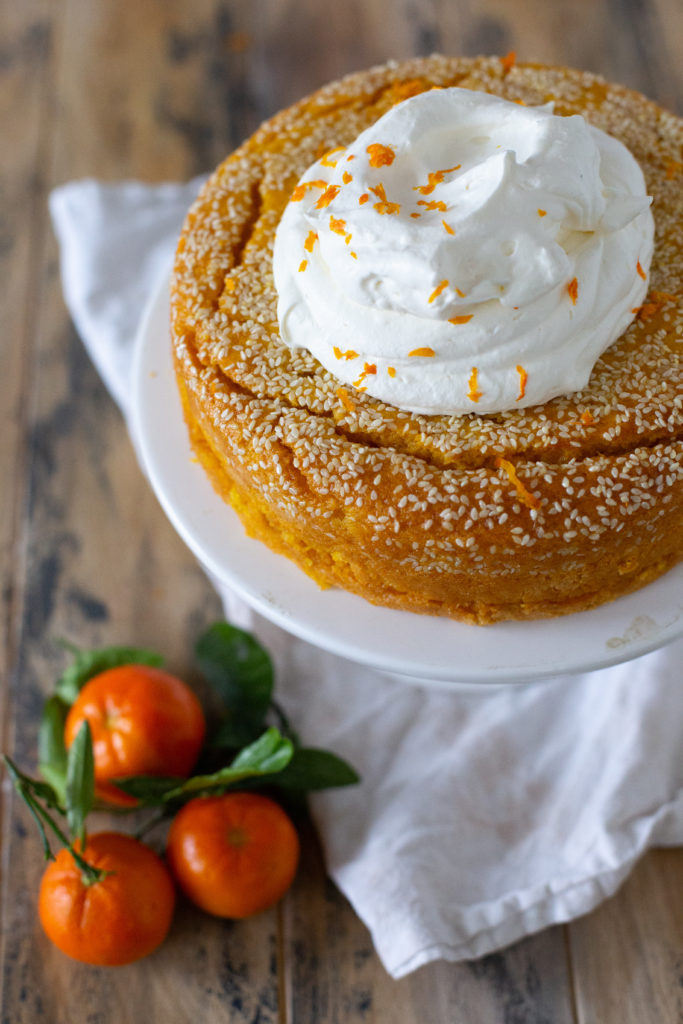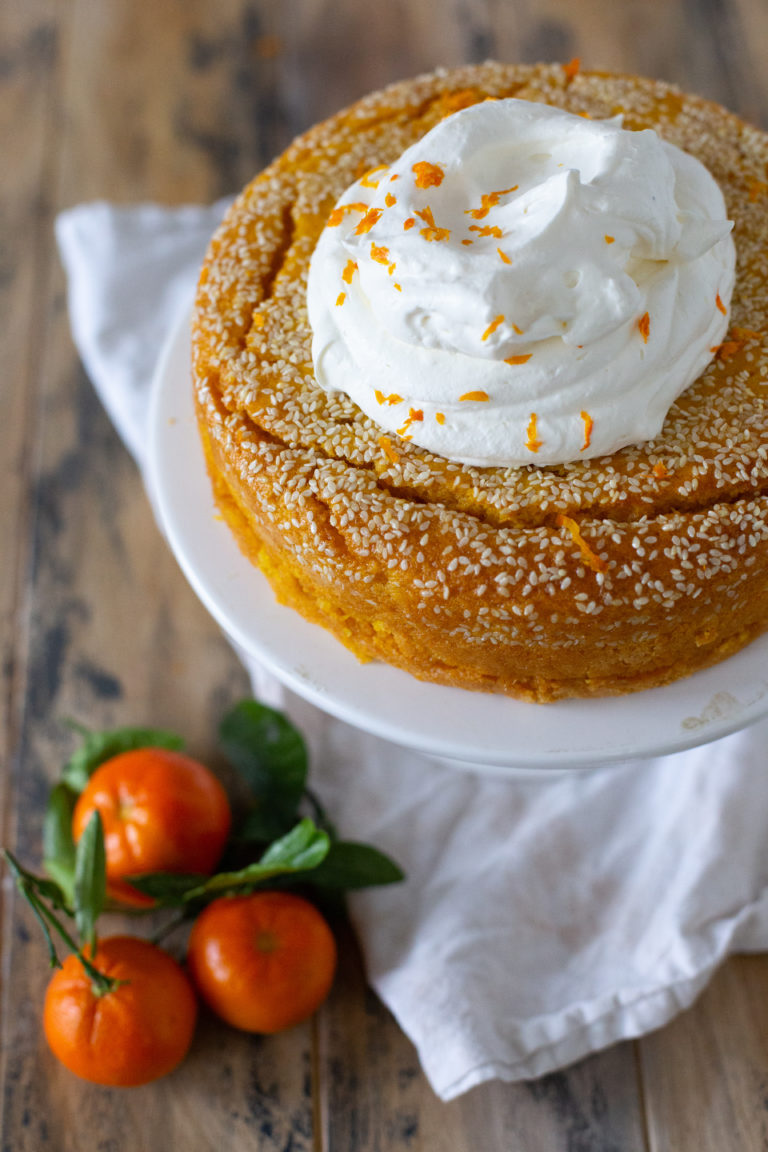 The process:
First step: Add the clementines to your blender or the bowl of your food processor. Give them a quick blitz and then puree until smooth.
Add the clementine puree into the rest of the wet ingredients and then fold in the dry ingredients. Spoon the batter into the prepared pan. Sprinkle sesame seeds onto the top of the cake and cake until a cake tester comes out clean. Brush the orange syrup onto the cooled cake and top with whipped cream (or ice cream!)

Questions:
1- I don't have any olive oil- can I sub something else?
Yes! I made this once with 1/2 olive oil 1/2 avocado oil and it was great. I think any other vegetable oil would work just fine.
2- I don't have a kitchen scale- how do I figure out how many clementines to use?
I included the weight because it's the only way to ensure consistency since all clementines or mandarins will be slightly different in size. BUT when in doubt- I'd use 5 assuming they are normal-sized.
3- I don't have fresh clementines but have mandarin oranges/ naval orange/ tangelo/ etc. Can I use that?
Yep! Just use the equal weight of oranges or other citrus. You ideally want a weight of around 320grams so the recipe isn't thrown off. In my experience mandarin oranges are a perfect substitute. You ideally want a thin-skinned fruit like clementines since the whole fruit is blended.
4- Are the sesame seeds necessary?
I think they add a nice crunch and flavor, but I have made it both ways and I'd say ultimately it's great either way.
5- I only have brown sugar- will that work for this recipe?
Yes! I have made it with brown sugar before and it works well.
6- Do I need a blender or food processor for this Clementine Cake Recipe?
Yes you do, the oranges are completely pulverized whole!
7- Is the the cake from The Secret Life of Walter Mitty?
I LOVE that movie. Have you seen it? In the movie Ben Stiller brings a Clementine Cake with a white glaze and clementine slices or maybe candied clementines on top. If you're also a fan of that flick make the cake, glaze it, but instead of the whipped cream add powdered sugar (icing sugar,) with some orange juice until it's a nice thick glaze. Drizzle it on top and top with the sliced clementines.
8- How should I store this cake if I want to make it in advance?
I'd wrap the cooled cake tightly in plastic wrap and then store in the fridge or freezer until ready to serve. When it is room temperature add the syrup and whipped cream.
So, to recap- trust me, make this easy and delicious cake, go get some juicy clementines that are plentiful at grocery stores right now and thank me later!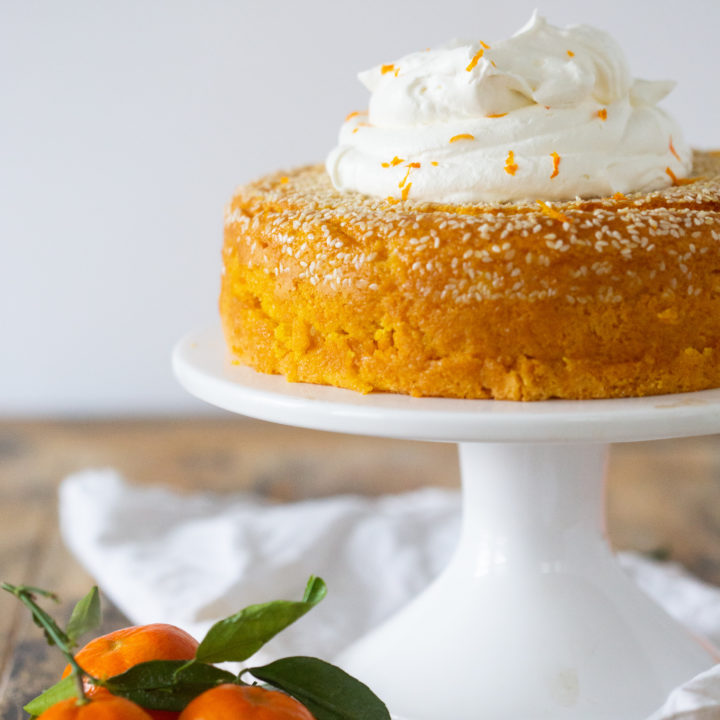 Clementime Olive Oil Cake
Ingredients
5 whole clementines equalling 320g
2 large eggs
1 cup sugar (200 g)
1/2 cup plus 1 tablespoon extra virgin olive oil (130 g)
2 cups plus 1 tablespoon all purpose flour (290g)
1 tablespoon baking powder
1/2 tsp salt
1 tablespoon sesame seeds (optional)
For the topping:
1/2 cup orange juice (115 g)
1/4 cup sugar (50g )
1 cup heavy whipping cream (238 g)
Instructions
Preheat oven to 350F. Grease or spray an 8 or 9 inch cake or springform pan
In the bowl of a blender or food processor, add the clementines and process until they are a smooth pulp.
Pour into a large bowl and whisk in the eggs, sugar, and oil.
Sprinkle the flour, baking powder, and salt on top of the wet ingredients. Whisk them together gently and then combine with the rest of the batter. Don't overmix, just combining until no streaks or flour bits.
Pour batter into the cake pan- sprinkle with sesame seeds if using.
Bake for 35-45 minutes, until a cake tester inserted into the center comes out clean. (Bake time will be longer if using 8 inch pan vs. 9 inch.)
!While cake is baking make the syrup:
In a small saucepan combine the orange juice and sugar. Stir until the sugar has dissolved it has reduced down a bit.
!To finish:
While cake is cooling, prick the top with a fork. Generously brush it with about half of the syrup.
Beat the whipped cream to medium peaks, add the rest of the syrup (no more than 1 tablespoon,) then continue to whip until a bit more firm.
Turn cooled cake out of pan and top with whipped cream. Enjoy room temperature or even cold! Lasts in the fridge for up to a week. (But trust me it won't!)
Notes
Recipe adapted from Zingerman's Bakehouse
*If you don't have clementines, other types of oranges will work- but keep the weight at 320g.