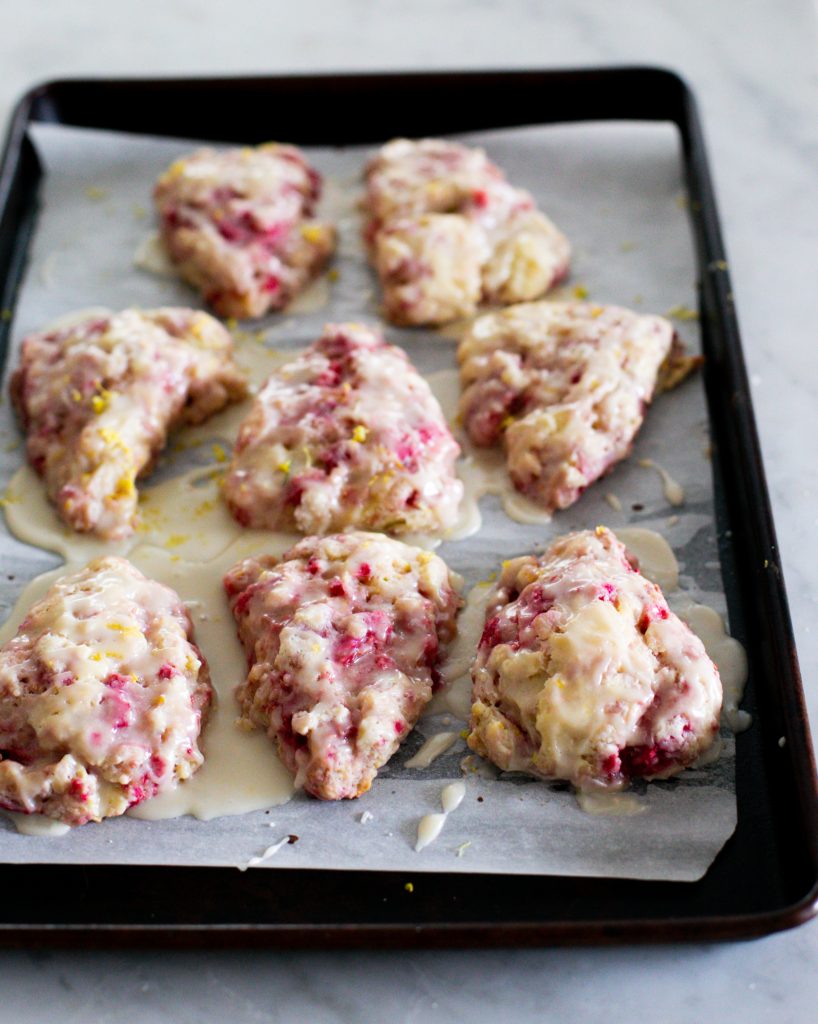 My favorite thing to enjoy on a quiet afternoon is a cup of tea and a pastry. Specifically, flaky scones, (they can't be hard or crumbly.) I love delicious scones that are fluffy and buttery, with crisp edges and a melt in your mouth soft texture on the inside.
These bright and fruity Lemon Raspberry Scones are perfect for Spring and would be a lovely addition to your Mother's Day or Easter brunch spread. They have just a touch of tartness from the lemon, the texture is perfect, and the bursts of juicy raspberries are beyond delicious.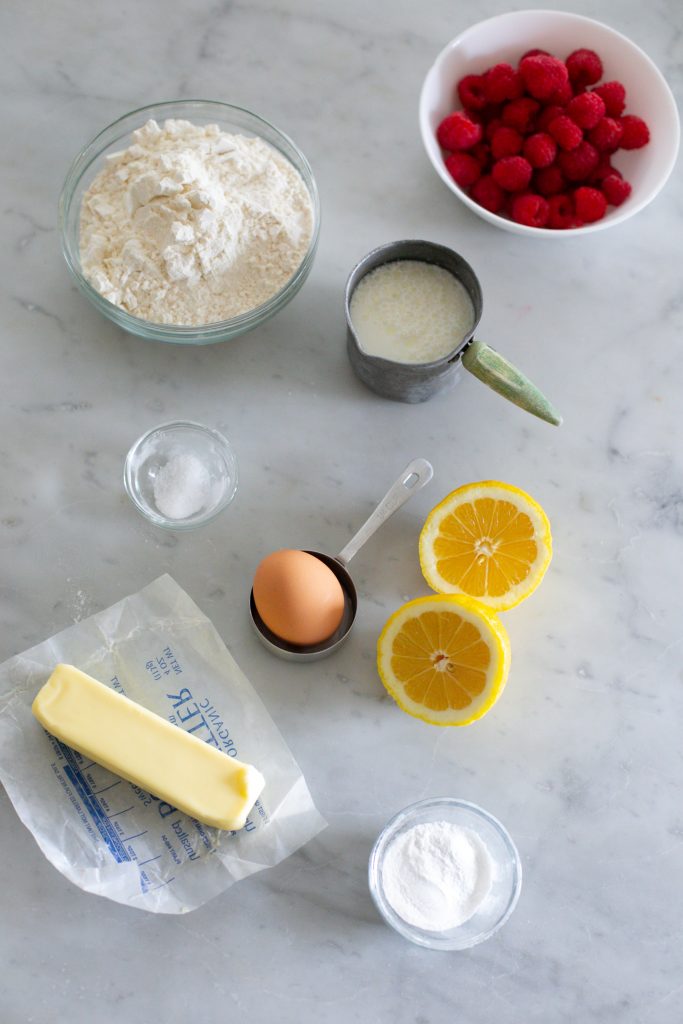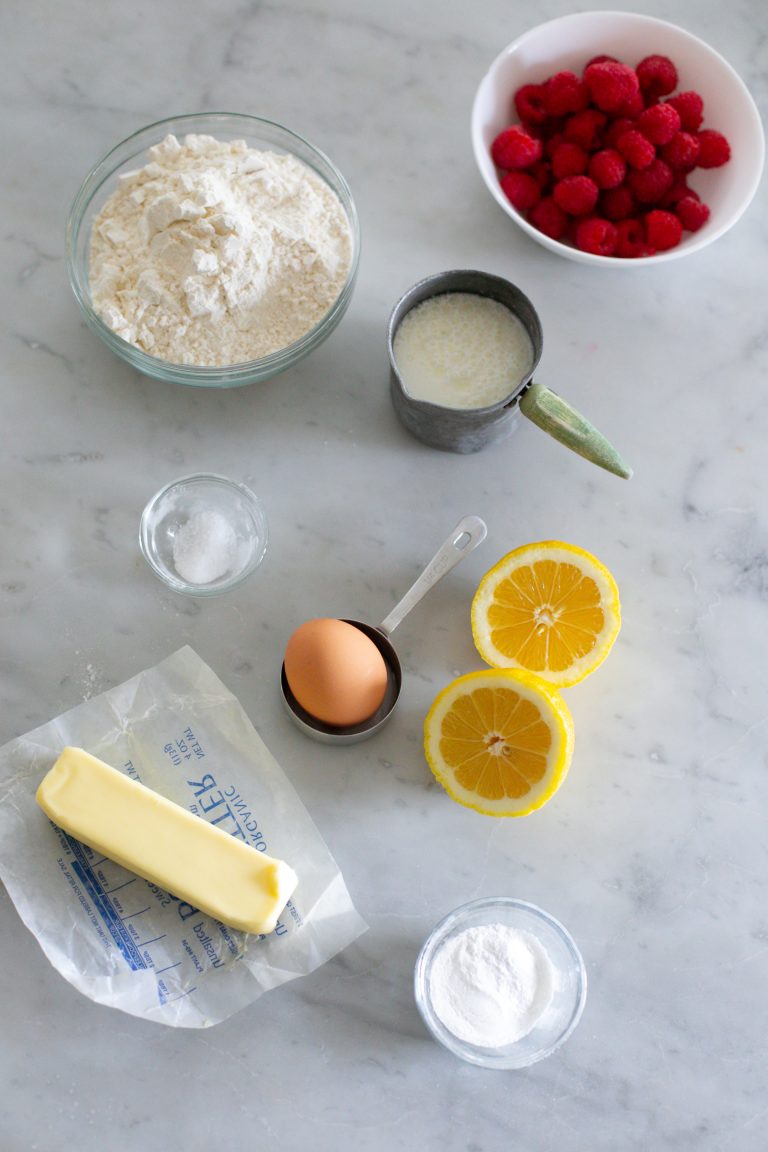 Ingredients needed for Raspberry Lemon Scones:
Fresh raspberries or frozen raspberries
Cold butter (unsalted, cut into chunks)
All purpose flour
Baking powder
Baking soda
Salt
Sugar
Egg
Fresh lemon juice
Lemon Zest
Buttermilk, Milk or Heavy Cream (you can make buttermilk by mixing milk or cream with lemon juice!)
Powdered sugar

Supplies needed for Homemade Lemon Raspberry Scones:
Large mixing bowl
Pastry Cutter (you can also use your hands)
Parchment Paper
Cookie sheet
Small bowl
Wire rack
Wooden Spoon

How to make Scone Dough:
In a large bowl mix the dry ingredients and lemon zest together with a whisk. Add the cold butter chunks to the flour mixture, flattening them and breaking them down into small pieces. (You can also use a pastry blender if you'd prefer.)
In a glass measuring cup combine the milk or cream with the lemon juice and let it sit for 5 minutes (this basically makes buttermilk!) Add in the egg yolk. Pour the milk mixture into the middle of the dry ingredients and use a spatula to gently stir and then use your hands to knead unto a shaggy ball. Turn dough onto a lightly floured surface and form a 6 inch disc. Use a knife, or pizza cutter to divide into 8 equal wedges. Brush tops of the scones with the egg white.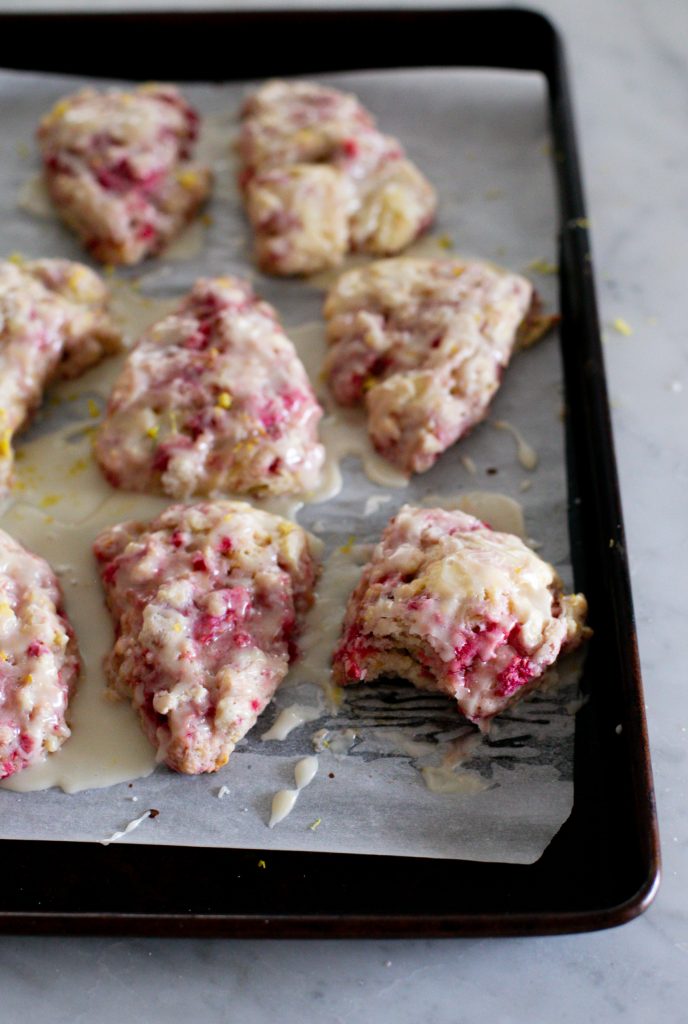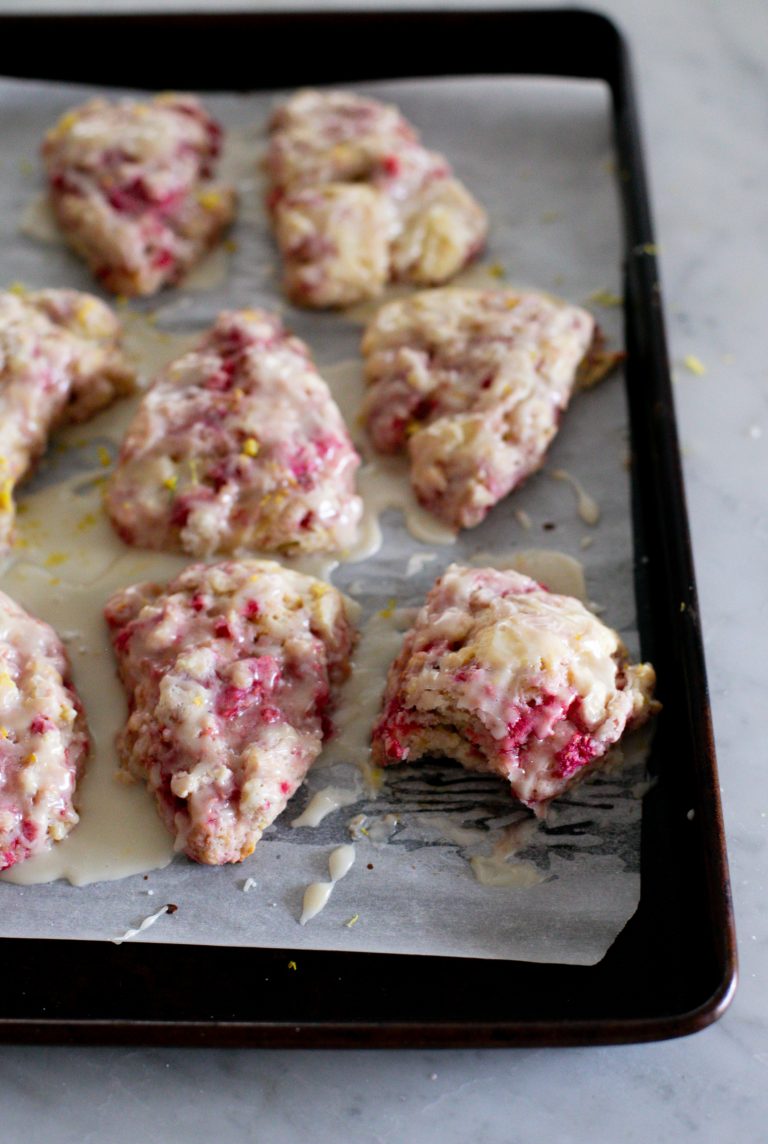 Bake on a prepared baking sheet at 350 for 15-20 minutes or until golden brown and then let sit on a cooling rack for 5-10 minutes before enjoying your fluffy scones.
For a sweet glaze that is also a bit tart, mix some powdered sugar with lemon juice. The tangy lemon flavor will be the perfect addition to these scones!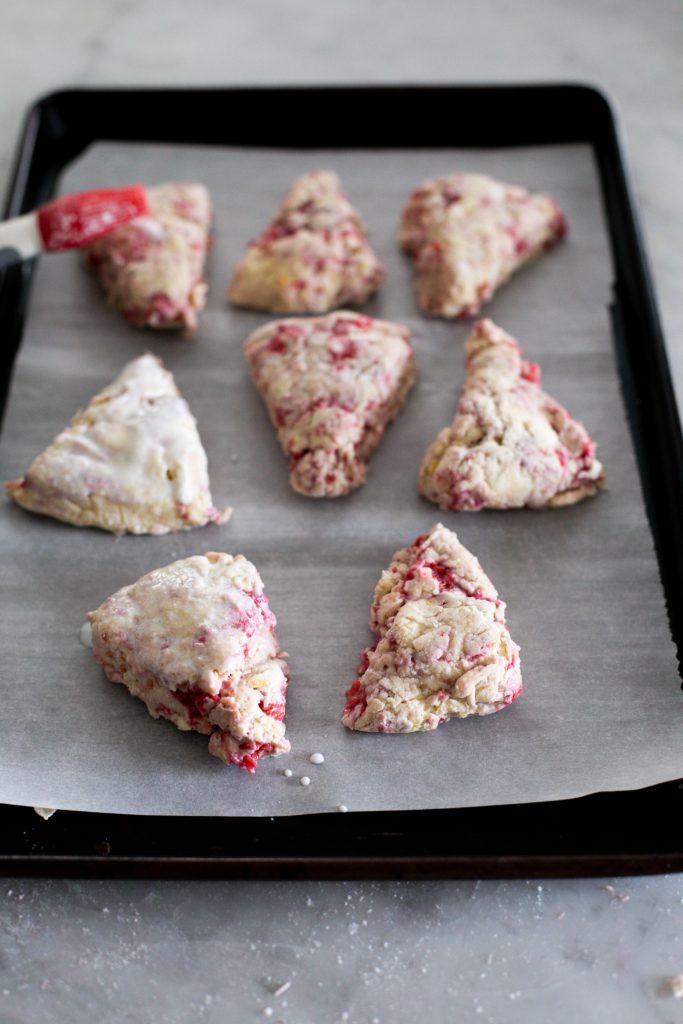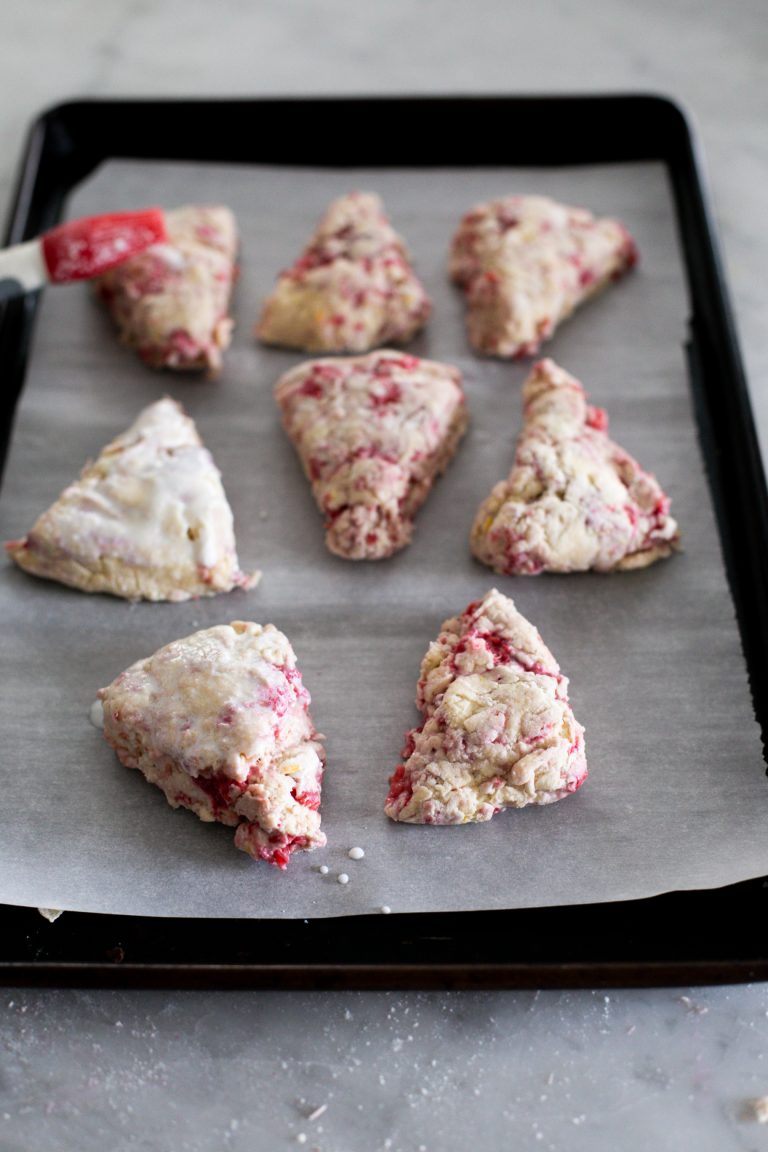 Can you Freeze Scones?
Yes! And I have a whole post about it here: "Can You Freeze Scones?" All you really need is a freezer bag!
Other favorite scone recipes: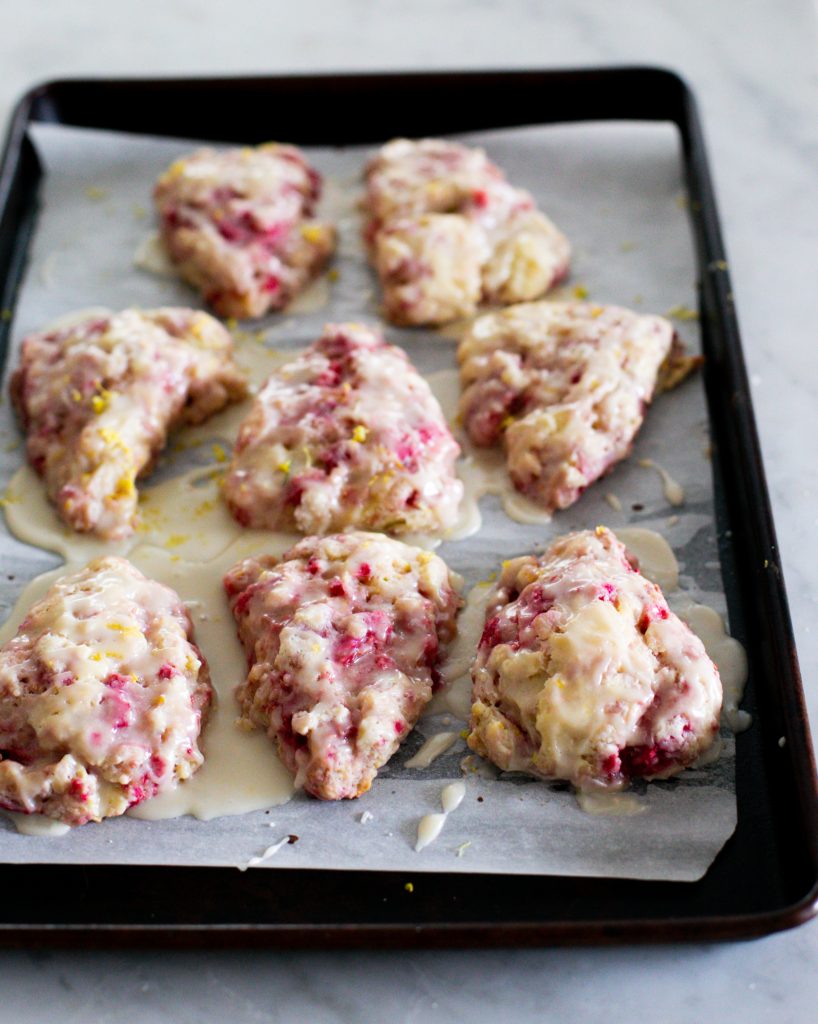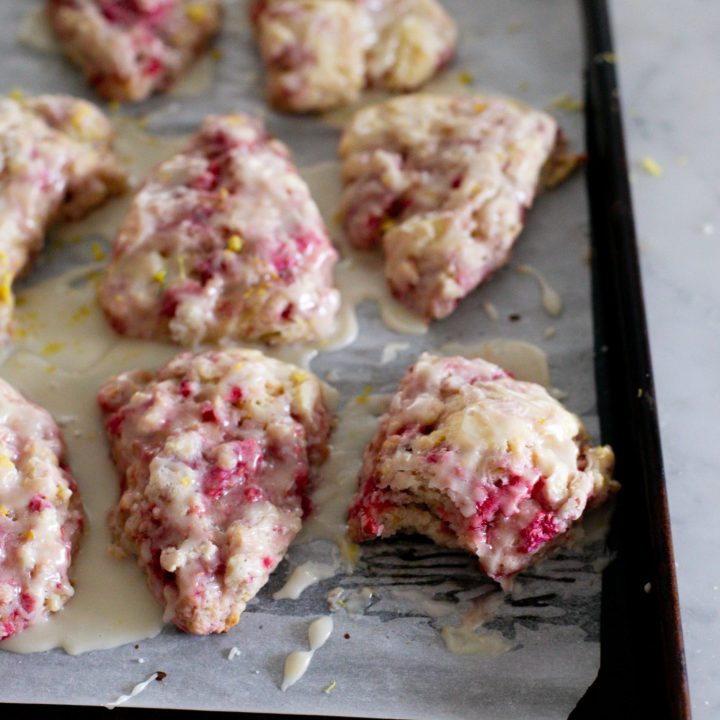 Raspberry Lemon Scones
Ingredients
2 cups or 8 oz flour, (whole wheat or all-purpose)
2 tablespoons sugar
2 teaspoons baking powder
Juice and zest of 1 lemon
1/2 teaspoon baking soda
1/2 teaspoon salt
1 stick of unsalted butter, chilled and cut into chunks
2/3 cup of fresh raspberries
1 egg, separated
3/4 cup buttermilk (or you can combine milk and lemon juice!)
For the glaze:
1/4 cup powdered sugar, more if needed
1-3 teaspoons lemon juice
Instructions
Preheat oven to 350F. Prepare a baking sheet with parchment paper or a silicone mat. Set aside.
In a large measuring cup combine milk and lemon juice to make homemade buttermilk if needed. Set aside
In a large bowl, combine the flour, salt, sugar, baking powder, baking soda, and lemon zest. Stir to combine.
Add the butter pieces and use your hands or a pastry blender to break the butter down into small pieces. I like to use my hands and smash each cube until the pieces are pea-sized. Fold in the raspberries.
Add the egg yolk to the buttermilk mixture and stir with a fork to combine. Pour wet ingredients into the dry ingredients and use a spatula to stir until a shaggy dough forms.
Turn dough onto a lightly floured surface and knead gently until the dough feels cohesive without large floury- spots.
Shape dough into a 6-8 inch disk and cut into wedges.
Brush with egg white and bake for 15-20 minutes, or until the edges are golden brown.
Allow scones to cool slightly on a wire rack while you make the glaze, combining the powdered sugar and lemon juice until a smooth glaze forms.
Drizzle the glaze onto the scones and enjoy. Scones are best the day you bake them buy can last in an airtight container for up to 3 days.