Cranberry Sour Cream Bundt Cake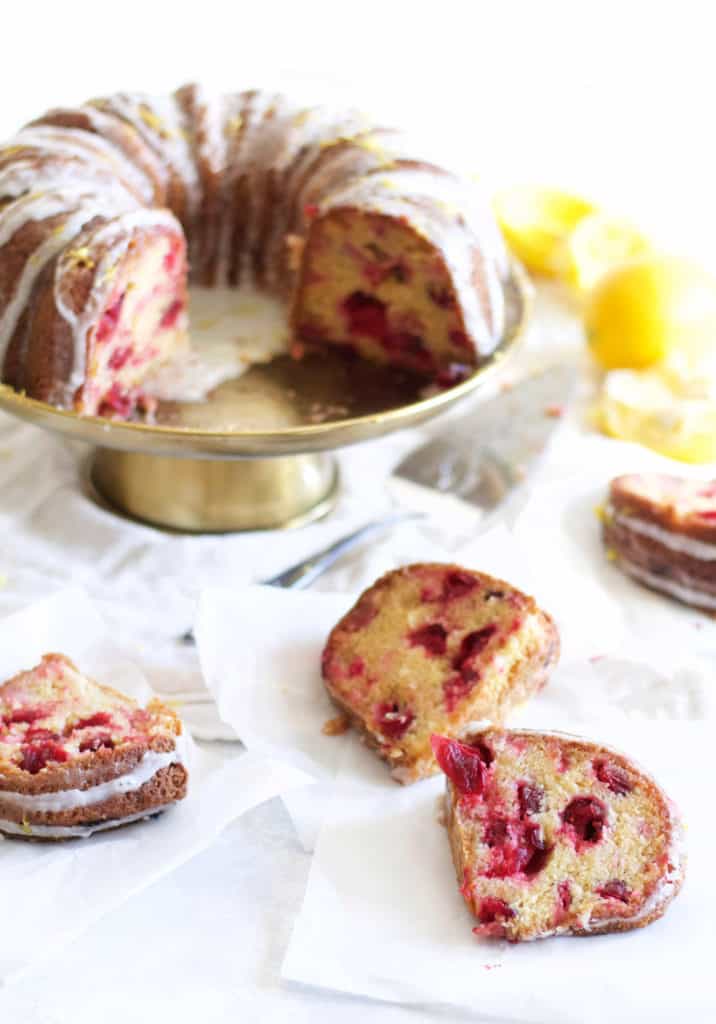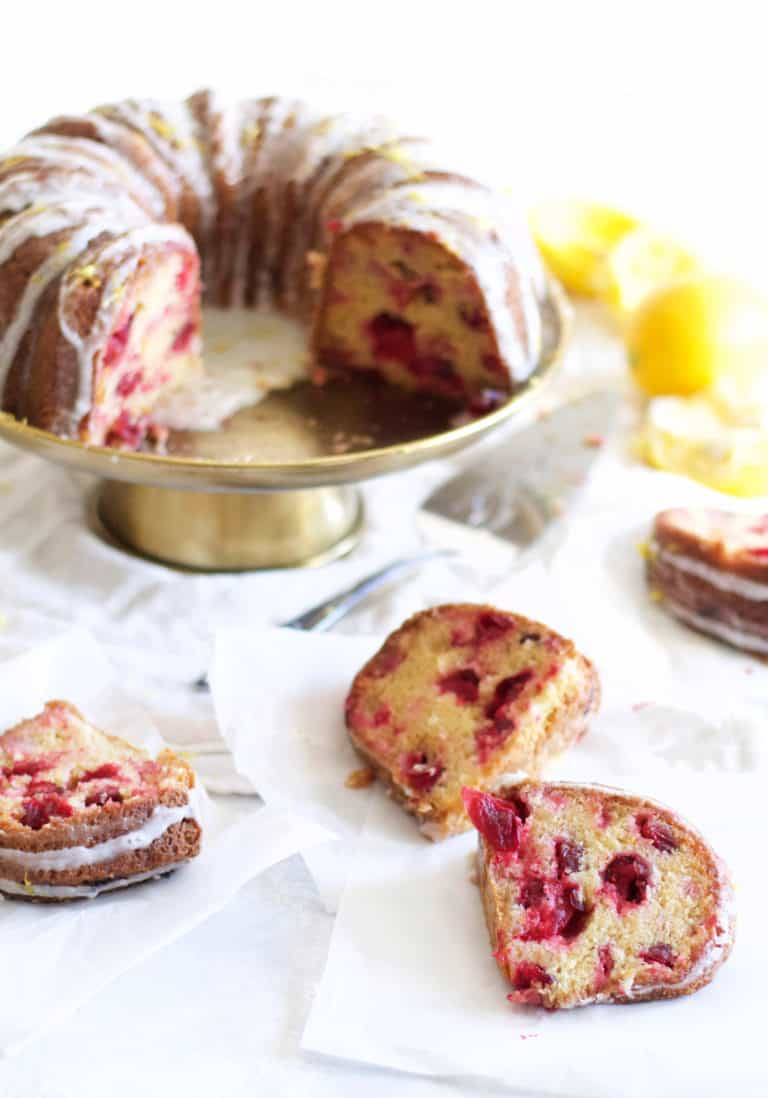 If you're looking for a show-stopping dessert for your holiday table or to impress your guests at Christmas brunch, this Cranberry Sour Cream Bundt Cake is the perfect thing. Bursting with the tartness of fresh cranberries and the zesty tang of lemon juice, this cake a sweet/tart dessert lover's dream come true!
Ingredients needed for Cranberry Sour Cream Bundt Cake:
All-purpose flour
Baking soda
Baking powder
Salt
Sugar
Lemon zest
2 large eggs, at room temperature
Sour cream
Vegetable oil
Vanilla extract
16 oz bag of fresh cranberries
Lemon juice (you could sub orange juice here too!
Powdered Sugar
Supplies needed for Cranberry Sour Cream Bundt Cake:
Large bowl
Electric mixer
9-10 cup bundt pan
Rubber spatula
How to make a Cranberry Bundt Cake:
Preheat your oven to 350 degrees F (175 degrees C) and generously grease and flour a 10-inch bundt pan to ensure your cake doesn't stick to the sides. (I like to use a pastry brush to make sure I get butter or oil into every nook and cranny.)
In a large mixing bowl, cream butter and sugar with the lemon zest until light and fluffy, using either a stand mixer fitted with a paddle attachment or an electric mixer. Add the eggs one at a time, beating well after each addition. Then, mix in the vanilla and lemon juice until well combined.
In a separate bowl, whisk together the flour, baking powder, baking soda, and salt. Gradually add the dry ingredients to the creamed butter mixture, alternating with the sour cream. Begin and end with the dry ingredients, mixing on low speed until just combined. Be careful not to over mix, as this can result in a dry, dense cake. Finally, gently stir the fresh cranberries into the batter
Pour batter into the prepared bundt pan, smoothing the top with a spatula. Give the pan a few gentle taps on the counter to release any air bubbles and ensure the batter settles into the corners of the pan.
Bake the cake in the preheated oven for about 55-60 minutes, or until a cake tester inserted into the center of the cake comes out clean. Remember that baking times may vary, so keep an eye on it. Once done, remove the cake from the oven and let it cool in the pan for 15 minutes before turning it and transferring it to a wire rack to cool completely.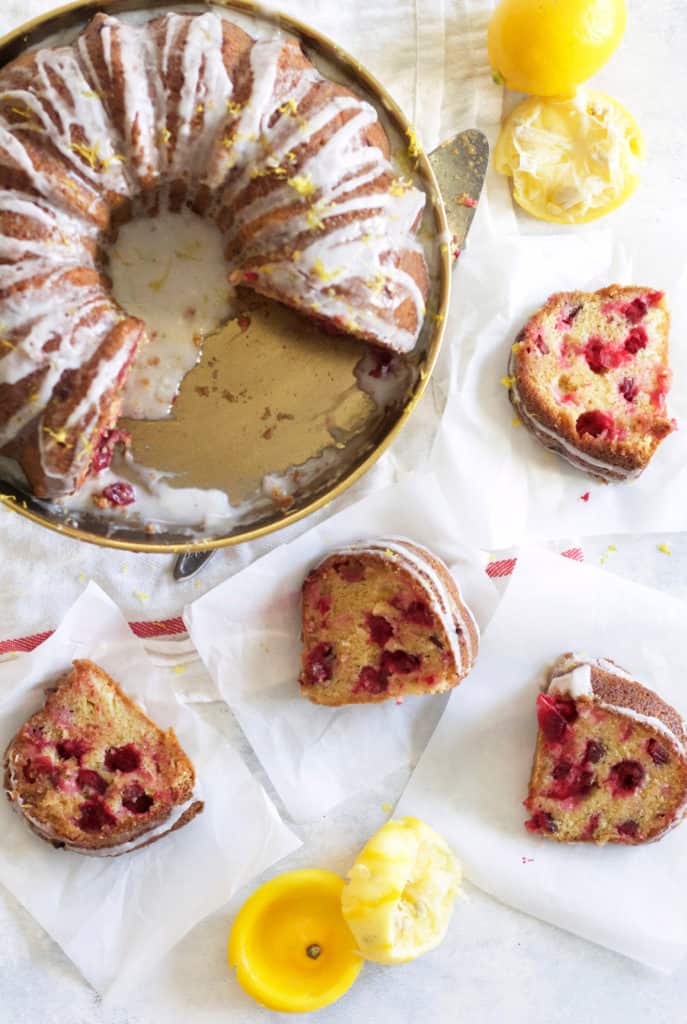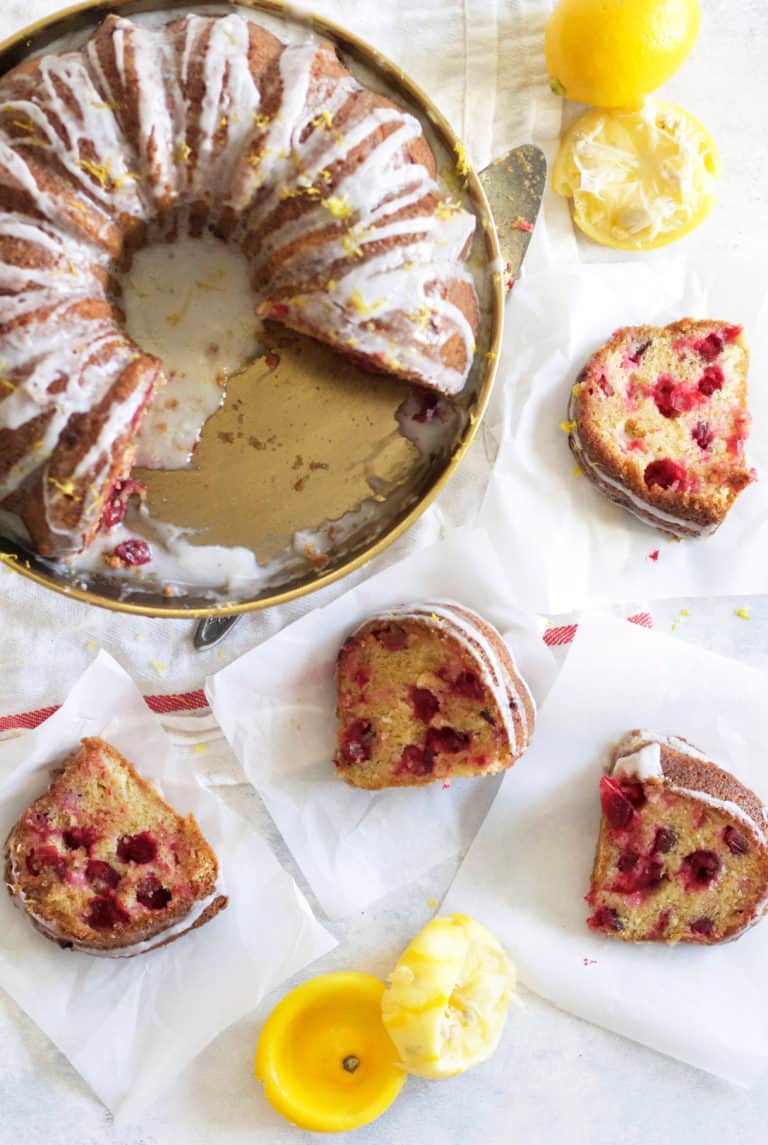 While the cake is cooling, make the glaze.
In a small bowl, combine 1 cup of powdered sugar and enough lemon or orange juice to make a pourable glaze. Drizzle the glaze over the cooled cake, allowing it to cascade down the sides. This will add a touch of sweetness and an enticing sheen to your creation.
Now, all that's left to do is to slice and enjoy this cranberry delight. The cake's moist crumb, the burst of tart cranberries, and the delightful citrus flavor will make it a favorite among your family and friends. Serve it with a dollop of whipped cream or a side of fresh berries for an extra special touch.
For storage, keep the cake in an airtight container at room temperature for up to three days, or freeze individual slices wrapped in plastic wrap and then into a freezer-safe container. When you want to eat, take one slice out to thaw at room temperature.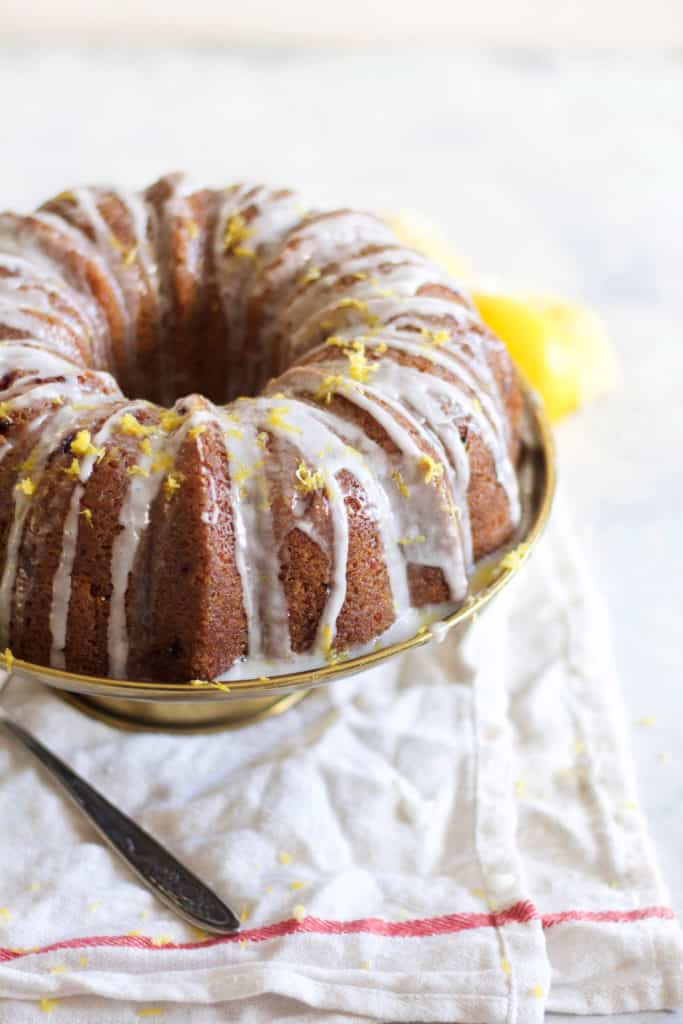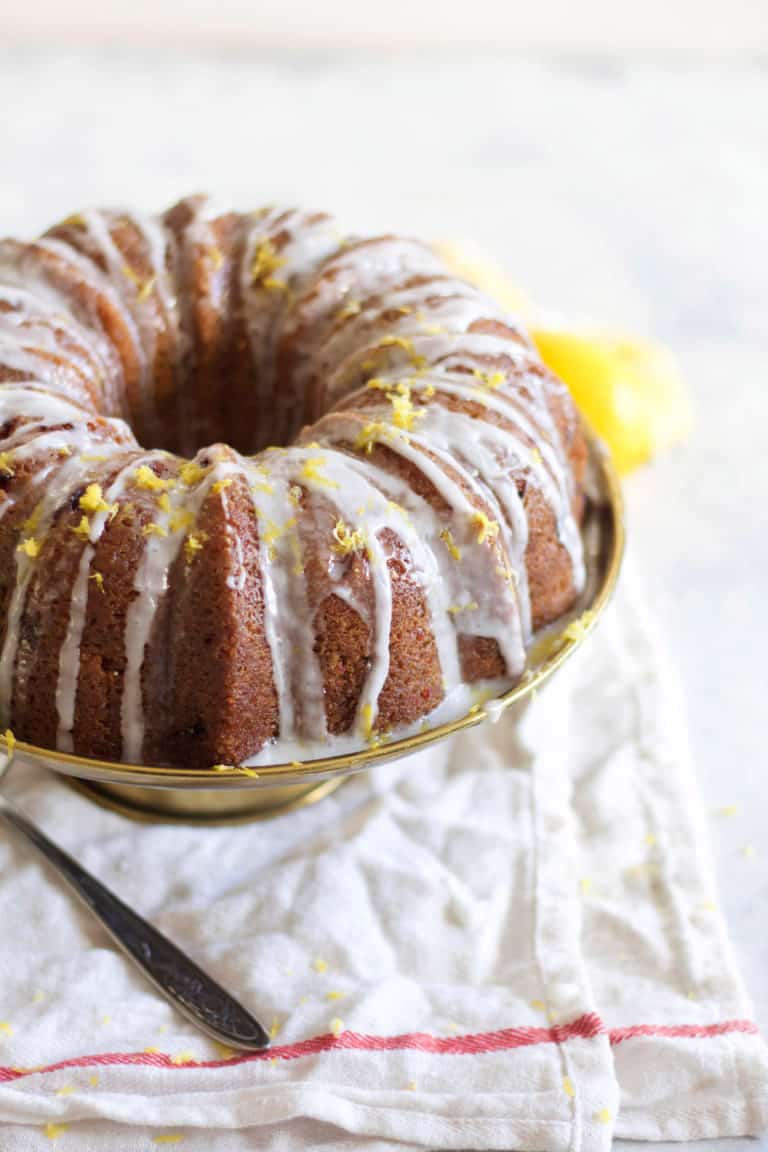 Why Sour Cream?
The addition of sour cream in this cake keeps the texture moist and tender. You can sub greek yogurt or even buttermilk in a pinch.
Want to make this into a Cranberry Orange Bundt Cake?
If an Orange Cranberry Cake is of interest to you, sub the lemon juice and zest for lots of orange zest and orange juice for a sweet orange glaze. If using this combo you can also sub vanilla extract for almond extract which will add a nice contrast to the citrus.
If you're interested in exploring more bundt cake recipes here are a few favorites: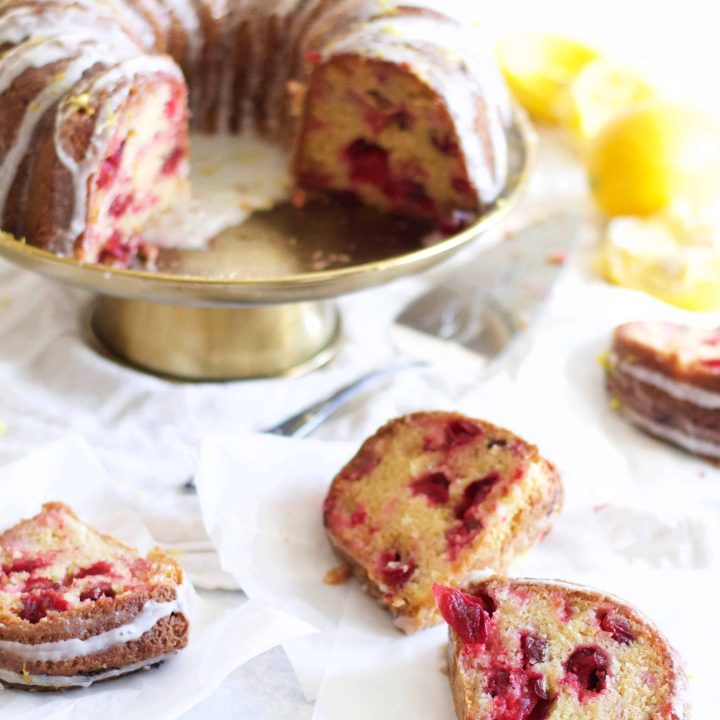 Cranberry Meyer Lemon Bundt Cake
Cranberry Meyer Lemon Bundt Cake Author: Audra
Ingredients
For the cake:
2 cups plus 2 teaspoons all-purpose flour, divided
1 teaspoon baking soda
3/4 teaspoon baking powder
1 teaspoon kosher salt
1⅔ cups granulated sugar
1 tablespoon meyer lemon zest*
2 large eggs, at room temperature
1 cup sour cream, at room temperature
¾ cup vegetable oil
1 teaspoon vanilla extract
16 oz bag of fresh cranberries
For the syrup
½ cup meyer lemon juice
⅓ cup granulated sugar
For the glaze
¾-1 cup confectioners' sugar
1-2 tablespoons meyer lemon juice
1 tablespoon of meyer lemon zest for sprinkling (optional)
Instructions
Preheat oven to 350 F. Generously butter (or spray,) and flour a 9-inch bundt pan. Set aside.
Whisk 2 cups of flour, baking powder, baking soda, and salt together in a medium-sized bowl and set aside.
In the bowl of a stand mixer fitted with the whisk attachment, use your hands to rub the sugar and zest together for a minute or two. Add the eggs to the bowl with the sugar mixture and beat on medium speed for about 3 minutes, or until the mixture is thick and creamy. With the mixer running, stream in the oil, then add the sour cream and finally the vanilla. With the mixer on low speed, add the dry ingredients, beating just until combined.
Toss the cranberries with 2 teaspoons of flour and then gently fold into the batter.
Pour the batter into the prepared pan. Bake for about 45-60 minutes, or until a toothpick inserted into the center comes out clean.
Let cake cool on a wire rack before inverting onto a cake stand or platter. (You can speed the cooling process up a bit in the freezer.)
While the cake is baking, make the syrup: Combine the lemon juice and sugar in a small saucepan. Bring to a simmer, stirring to dissolve the sugar, then continue to simmer for 1 minute.
When the cake has been cooled and inverted, prick the top with a fork all over and brush it generously with the syrup.
To make the glaze:
Stir the powdered sugar and lemon juice together adding a tablespoon of the juice first, and then a bit more if needed until the glaze is a thick but pourable consistency.
Drizzle glaze generously over the cake, and sprinkle with zest if desired. Allow cake to set before serving.
Notes
* Regular lemon juice and zest can be subbed in this recipe no problem!