Homemade Chipwich Ice Cream Sandwiches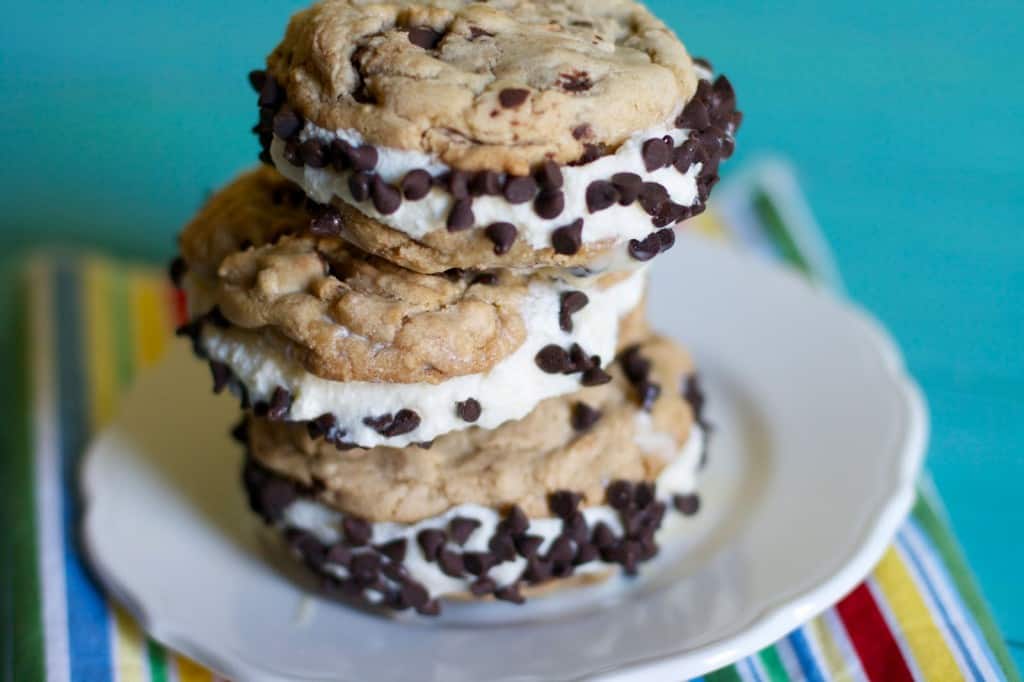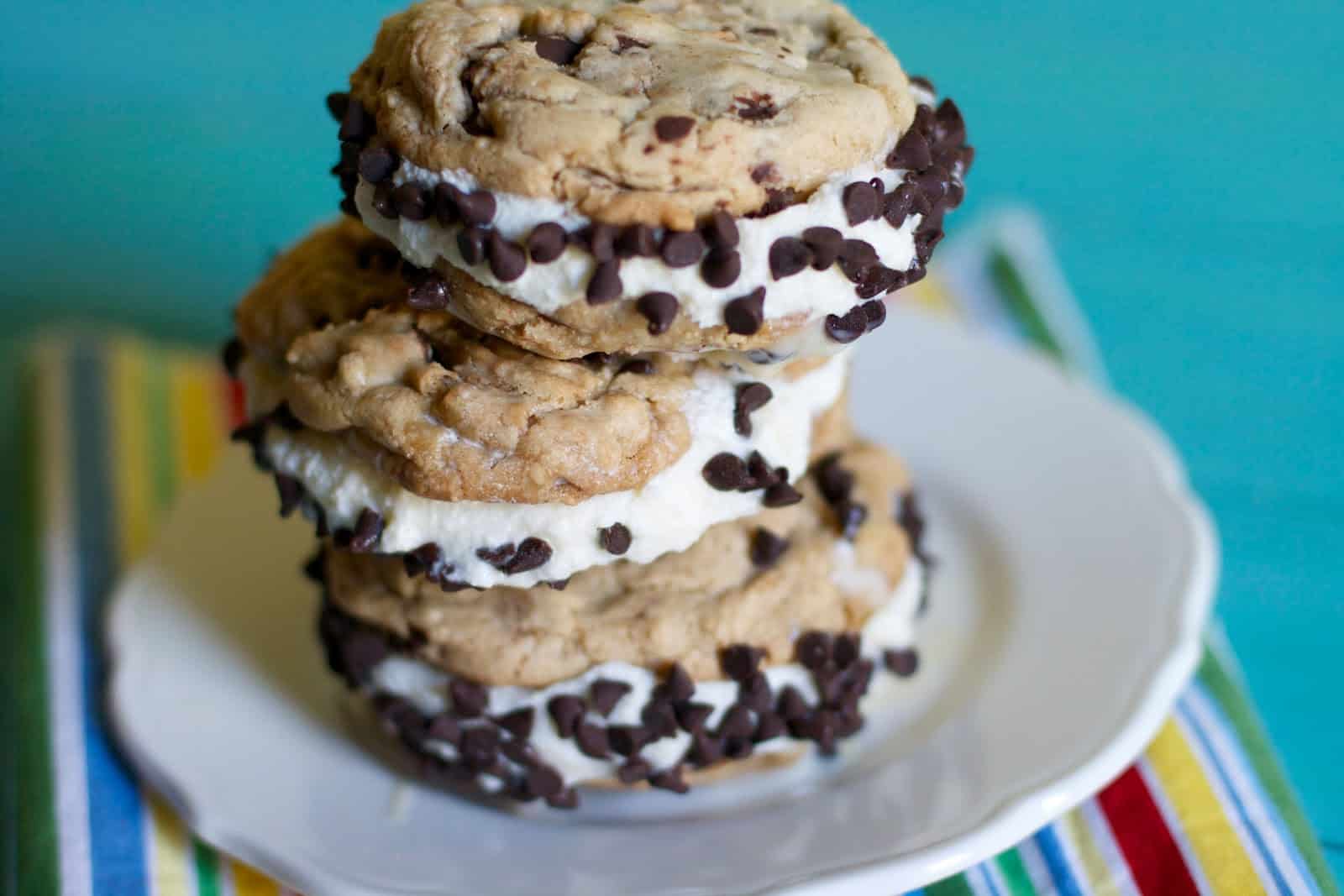 As kids, I'm sure we all have fond memories of that glorious Ice Cream Truck song. As a wee one, I would run faster than anything to beg my Mom for a dollar to buy something from the truck when it happened to cruise my neighborhood. Within moments, there would be a line of 10+ kids gathered with their quarters and an excited smile in anticipation of a treat. No matter how long the line, when I made it to the front- I always got one of two treats- a Choco Taco or a Chipwich. When it was a Chipwich day, I remember exactly how I'd eat it. First- I'd nibble the edges where the ice cream got all melty, and work my way towards the soft center.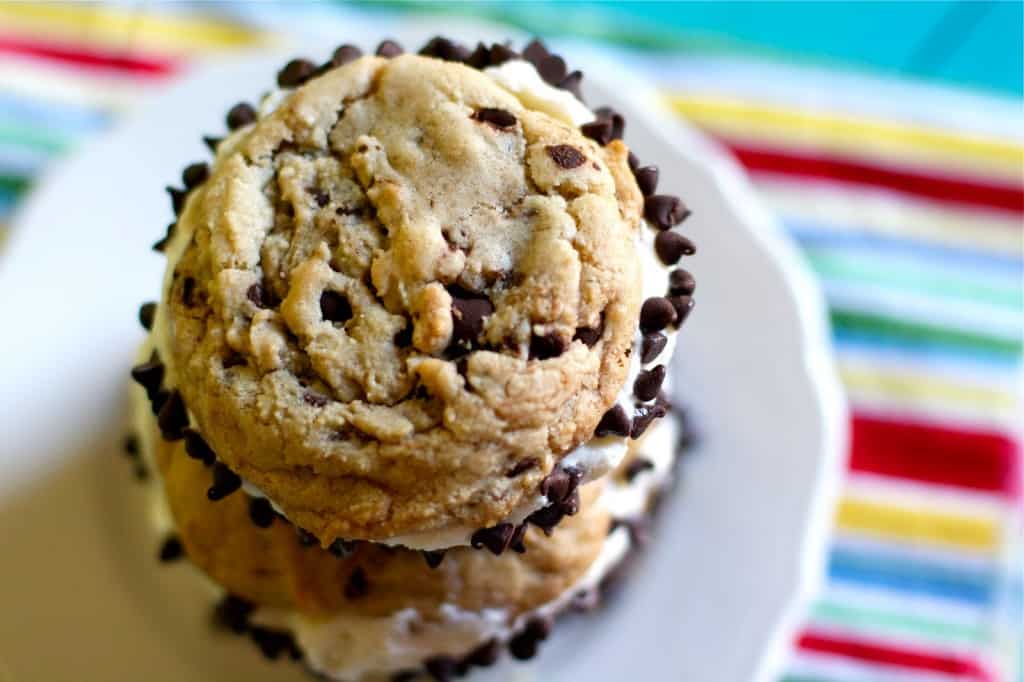 I have been dreaming of a from scratch version of this treat for ages, and last week it finally happened. I baked a batch of my favorite soft and chewy chocolate chip cookies and whipped up some vanilla ice cream. After freezing the cookies a bit to make assembly easier, I was almost on my way to having this nostalgic treat. Making these is so simple and really worth the extra effort. I also found that having a few stashed away in the freezer is the perfect things for last minute company. I mean who doesn't love a chipwich?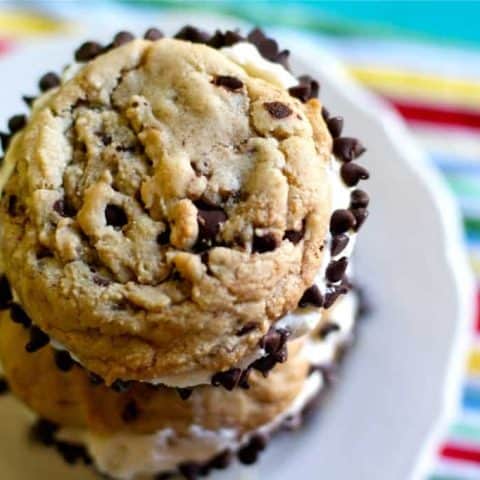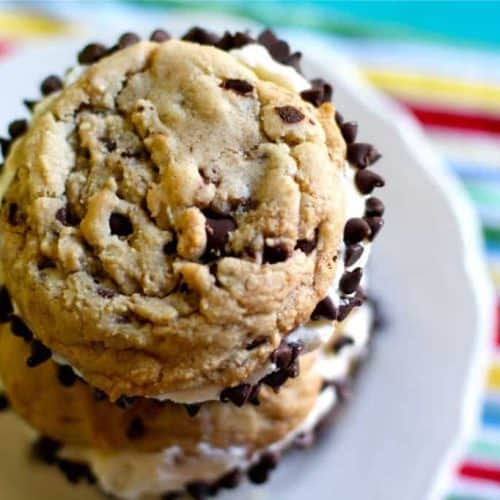 Homemade "Chipwich" Ice Cream Sandwiches
Yield:
1 dozen cookie sandwiches
Ingredients
2 dozen chocolate chip cookies
1 qt. vanilla ice cream, recipe below
1-2 cups mini chocolate chips
vanilla ice cream
3 cups heavy cream, or 2 cups heavy cream and 1 cup whole milk
¾ cup sugar
Pinch of salt
1 vanilla bean, split in half lengthwise
¾ teaspoon vanilla extract
Instructions
Place cookies in the freezer to harden and chill them for at least 15-20 minutes.
Before assembling cookie sandwiches, have the mini chocolate chips in a shallow dish ready to go, as things will melt quickly and you have to work fast.
Allow ice cream to soften at room temperature for a few minutes while the cookies are in the freezer.
Once cookies are cold and hardened, scoop ice cream onto one cookie, sandwich it with another, and quickly roll it the mini chocolate chips, making sure to push any loose chips in. Place each finished chipwich in the freezer before you start the next! Once they are all complete, wrap them tightly in plastic wrap and foil and store in the freezer for up to two weeks!
For Ice Cream:
Pour 1 cup of the cream into a medium saucepan and add the sugar and salt. Scrape the seeds from the vanilla bean into the saucepan and add the pod to the pot. Warm over medium heat, stirring, until the sugar is dissolved.
Remove from the heat and add the remaining 2 cups cream (or the remaining 1 cup cream and the milk) and the vanilla extract.
Chill the mixture thoroughly in the refrigerator. (Overnight!) When ready to churn, remove the vanilla bean, rinsing and reserving it for another use (I stuck mine in my sugar container,) and then freeze the mixture in your ice cream maker according to the manufacturer's instructions.
Nutrition Information:
Serving Size:

1 grams
Amount Per Serving:
Unsaturated Fat:

0g
Cookie Recipe adapted from Baking Illustrated.
Ice Cream Recipe from The Perfect Scoop by David Lebovitz.