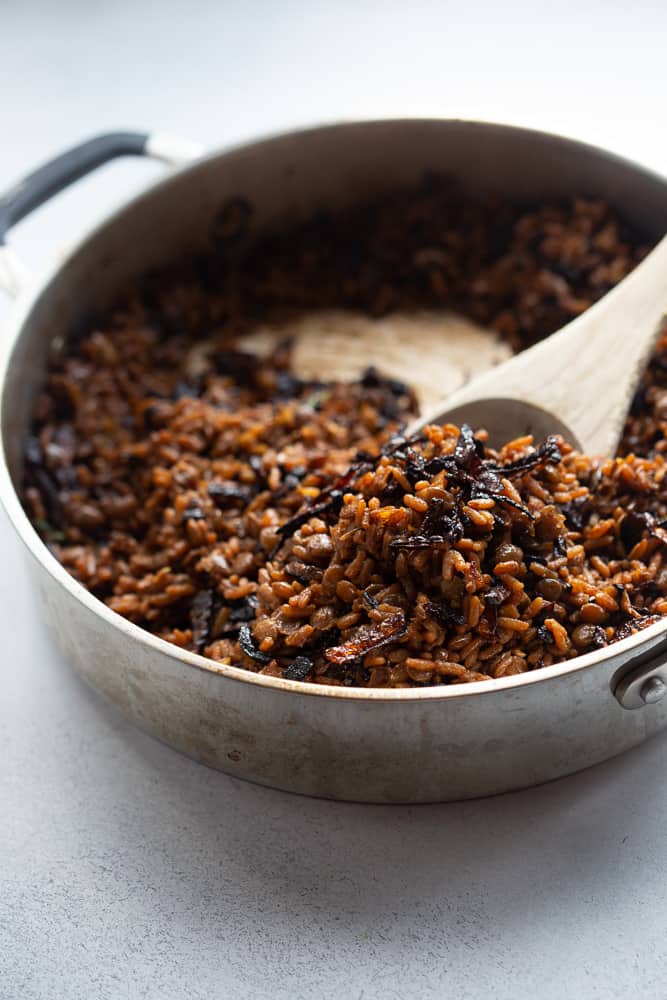 There is something bittersweet about learning to make the meal you always ask for when you visit your Mom's kitchen.
Yes I feel proud and accomplished to have mastered one of my favorite dishes, now having a healthy, meatless dinner option that my kids love in my repertoire, but at the same time it feels like end of an era. (The era where the only person who could make this meal the way I love it is my Mom!)
Now it's a good thing I learned her secrets, because this meal needs to stay in the family well past me, and hopefully my kids will also grow to love it and pay homage to my Middle Eastern roots by making this someday too. (But not too soon Ok kids? Promise me a good 35 years of you thinking I'm the only person who can make this as well, it's only fair!)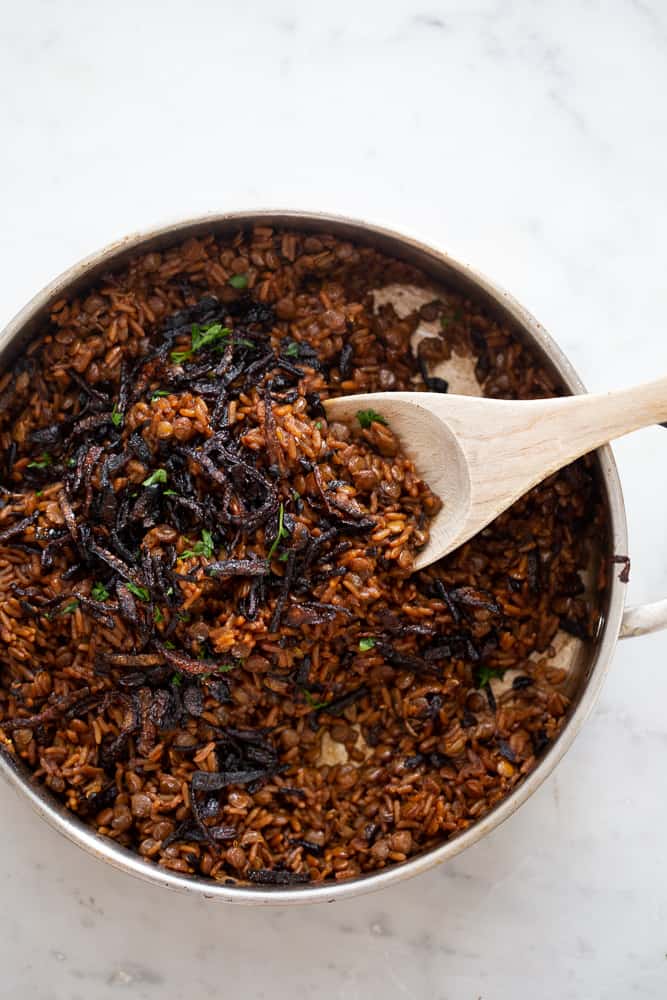 The meal I'm talking about, is a classic Middle Eastern dish called Mujadara. Funny enough though, I didn't know the proper name for it until a few years ago, as when we were kids it was always called "Lentils, Rice & Crispies"
This dish got it's nickname because of the crispy onions we'd always pass around to sprinkle on top, which happen to be my favorite part of the meal.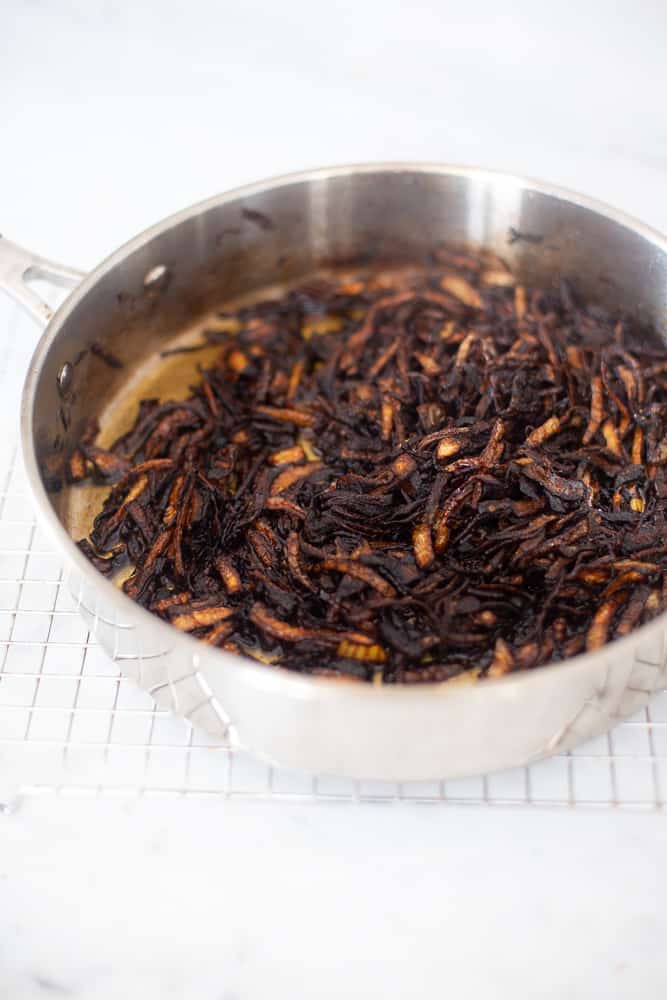 Dark crispy onions are cooked with lentils and rice, giving it a deep caramel-brown color and so much flavor. Now, some versions of mujadara include spices like cumin and allspice. But that is not the way my family makes it. I think country to country has their own version in the Middle East, and as my Dad is from Palestine/Jordan, this is how they do it.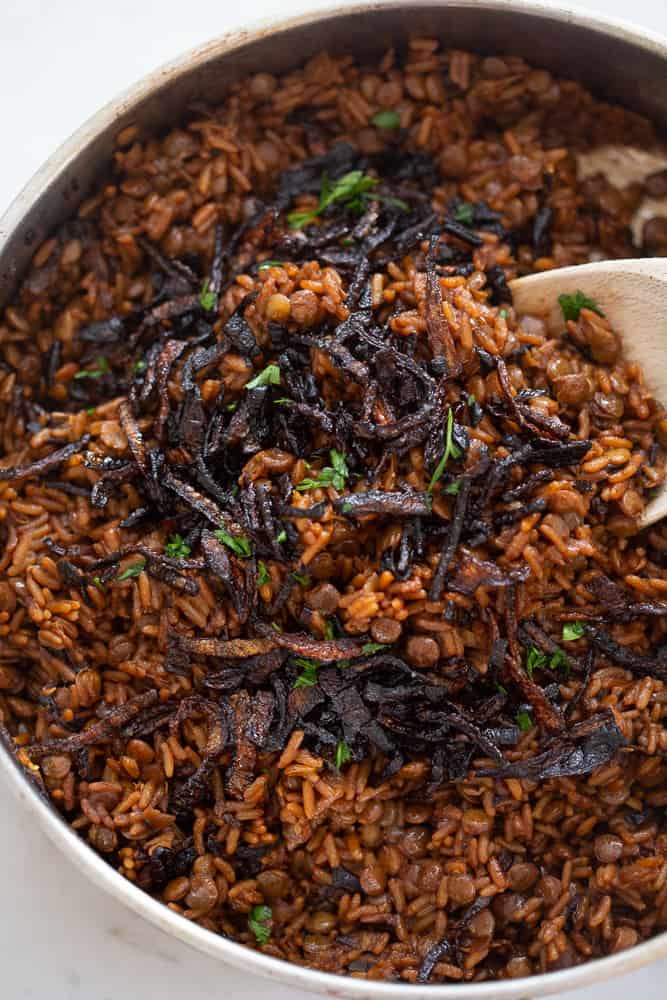 One little secret that makes my Mom's version so yummy and in my opinion, different from other recipes I've seen and tried, is scraping every bit of that fried onion delicious-ness from the pan and cooking it right into the lentils.
Typically Mom fries the onions in one pan, adds some of the water that's going into the lentils to de-glaze it a bit and adds that in, but I saved a step (and a pan,) by making this a one-pan wonder. Simply crisp up your onions in a shallow pan with lots of surface area that also can be covered tightly when it comes time to cook the rice.
The end result is that every last bit of caramelized onion-infused oil get mixed into the lentils and rice mixture, keeping the flavor simple but so rich and delicious.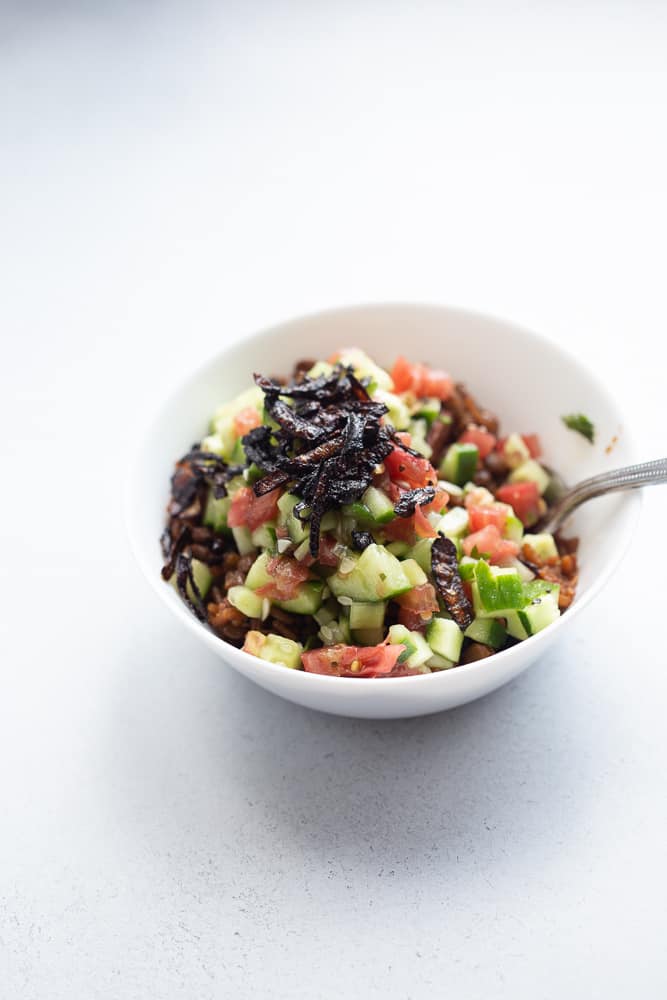 Some families serve Mujadara with yogurt, or my Dad for example likes to eat his rice plain with some Arabic bread on the side, but the rest of my family always has this meal with a simple chopped salad of cucumber, tomato, parsley, lemon and olive oil.
Don't forget the extra crispies on top!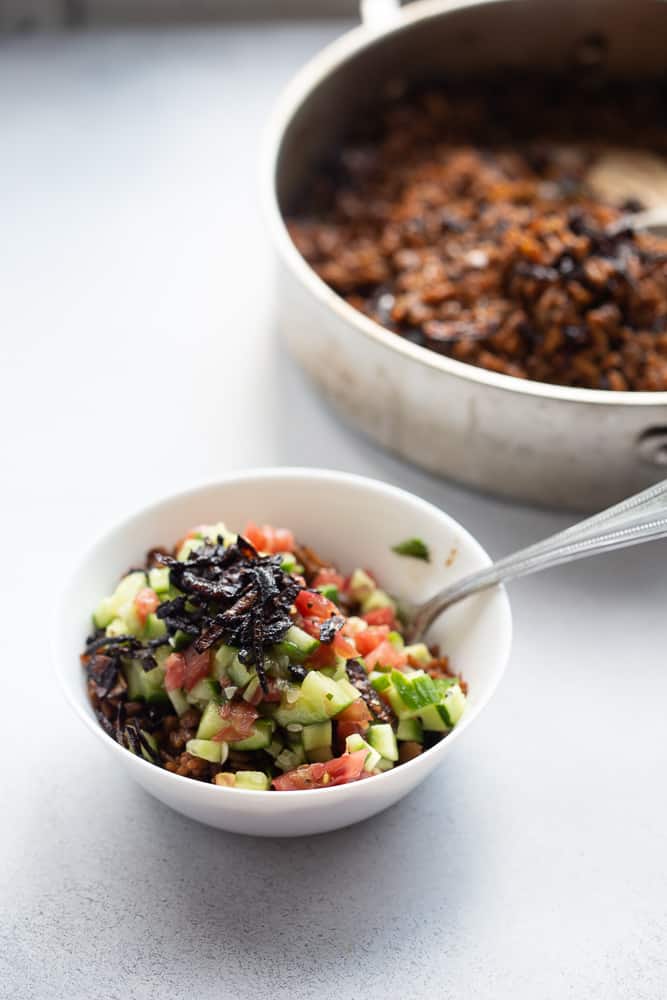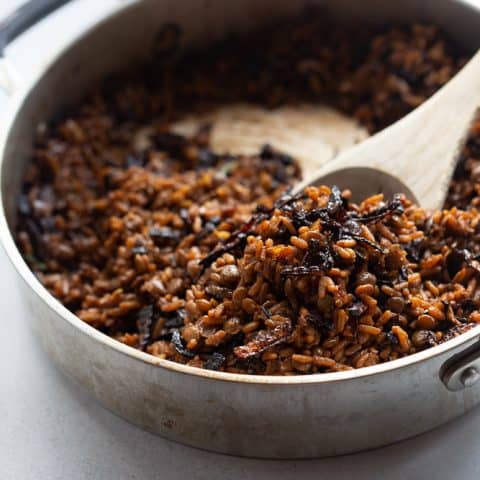 Mama's Mujadara (Lentils, Rice & Crispies!)
Ingredients
2 large yellow onions
3/4 cup vegetable oil (I use avocado oil)
1 cup brown lentils
1 cup long grain rice*
2 Persian cucumbers
2 medium-sized tomatoes
handful of parsley
juice of 1 lemon
extra virgin olive oil
salt and pepper to taste
Instructions
1. Start by thinly slicing your onions. You want them to be mostly uniform so they cook evenly. (Otherwise some will burn before the others have cooked.) Sprinkle liberally with salt.

2. Add vegetable oil to your pan over medium- high heat. When hot, add the onions, stirring frequently, until they are dark brown.

3. Remove half of the onions using a slotted spoon and place in a paper towel lined bowl.

4. Rinse 1 cup of lentils and add them to the remaining onions and oil along with 1 cup of water. (I chose not to remove any of the oil and added it to my rice for a little richness, but you are welcome to discard some of the oil if you prefer.) Have a splash guard or cover ready as it may sizzle.

5. Add salt and pepper. Par cook the lentils for 15 minutes, scraping the bottom of the pan to make sure you get all the onion bits. Add more water as needed so the lentils are just covered in water.

6. Add the rice and an additional 1.5 cups of water. Bring to a boil and then reduce heat to low, cover, and cook for 20 minutes or until water is absorbed and rice is cooked.

7. Meanwhile make the salad by dicing the cucumber and tomato and adding to a bowl with the finely chopped parsley, lemon juice and about 2 tablespoons of olive oil. Add salt and pepper to taste.**

8. Serve lentils and rice with salad on top and some of the remaining crispy onions.
Notes
*My Mom swears by using Uncle Ben's Rice for this recipe so that's what I use too!
** The salad really is a "little bit of this, little bit of that" you could add some chopped bell pepper, fresh mint, etc. Taste it to make sure the olive oil and lemon are well balanced and there is enough salt depending on how salty your rice is.