Pumpkin Buttermilk Pancakes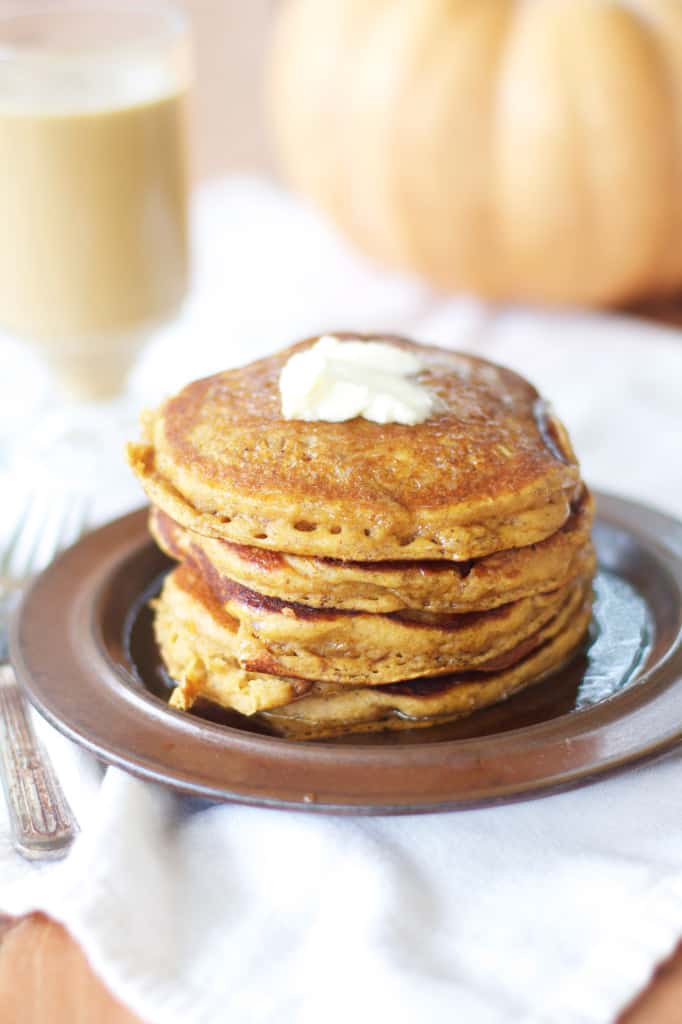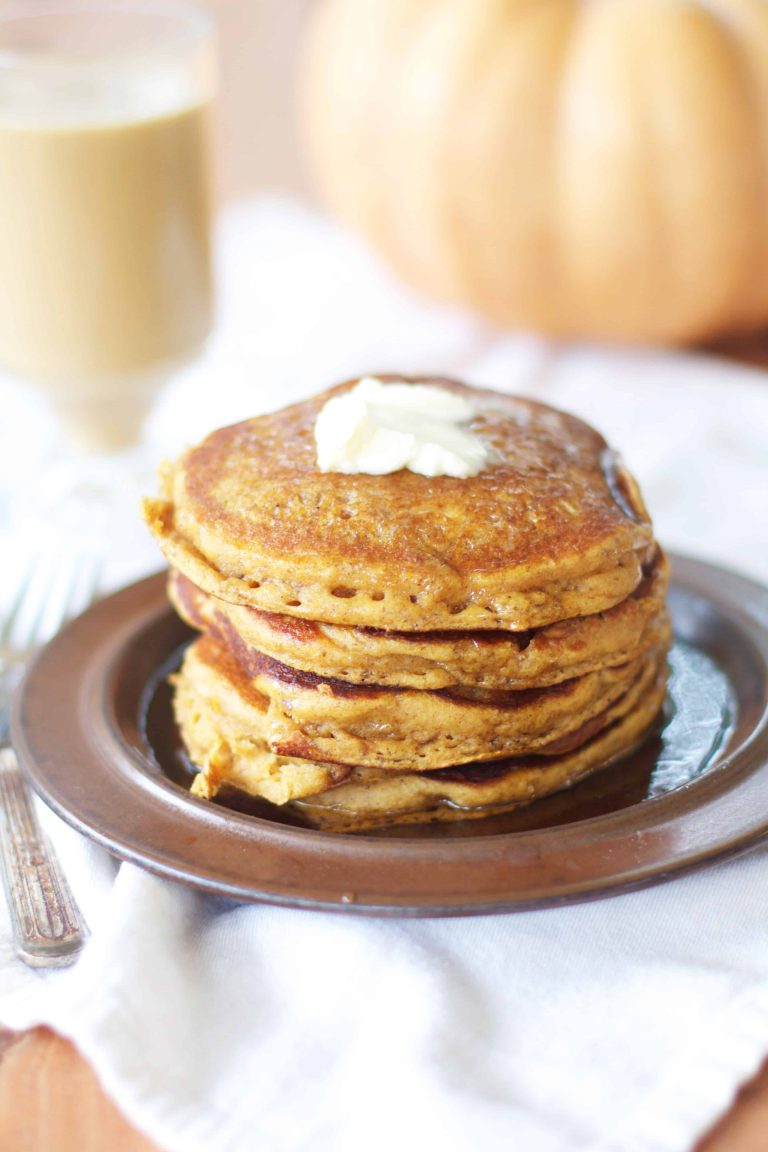 Pumpkin season is upon us, which means the start of craving fluffy pancakes on weekend mornings! This pumpkin pancake recipe is what crisp fall morning dreams are made of, full of pumpkin flavor with the perfect blend of spices.
Not only is it easy to throw this recipe together, but each bite is full of pumpkin spices, the perfect fluffy texture, and just puts my family in that fall mood. It's a great recipe I hope you try. Who doesn't love fluffy pumpkin pancakes!?
Ingredients needed for Pumpkin Buttermilk Pancakes:
buttermilk
pumpkin puree
eggs
vegetable oil
all-purpose flour
brown sugar
baking powder
baking soda
ground cinnamon
ground ginger
ground nutmeg
ground cloves
salt

Supplies needed:
large bowl
medium bowl or liquid measuring cup
griddle, non-stick pan, or cast iron skillet
Whisk
Spatula for flipping
The process:
In a large mixing bowl combine the dry ingredients. In a separate bowl or liquid measuring cup combine the wet ingredients. (buttermilk, pumpkin, oil, eggs.) Whisk together a bit and then pour the wet ingredients into the dry. Whisk until a smooth, thick pancake batter is formed (though a few small lumps are ok.) Preheat a skillet griddle on medium heat and oil or butter the pan. Pour about 1/2 cup batter onto the hot griddle and flip when bubbles form and pop. Place pancakes on a baking sheet on a low heated oven while you cook the rest of the pancakes. Serve with warm maple syrup and butter!
Mix in and topping ideas for Buttermilk Pumpkin Pancakes:
Chocolate chips
Toasted pecans
Fresh fruit
A little butter
Pure maple syrup of course!
Can I sub pumpkin pie spice for the individual spices listed?
Yes! I'd do 3 teaspoons of pumpkin pie spice as a sub for what is in the recipe.
What about pumpkin pie filling? Can I sub that?
I never suggest using pumpkin pie filling because it's hard to measure the sugar amount, and it something like pancakes that get a lot of their sweetness fro the maple syrup, I think the sugar in the filling would be too much. I'd stick with regular canned pumpkin. (Fresh pumpkin pureé would work too)
Can I sub whole wheat flour for all purpose?
The short answer is yes, but when you use whole wheat flour in pancakes the batter ends up much thicker and dryer, so I'd prepare to add up to an extra cup of buttermilk.
How to store leftover pancakes:
Let them come to room temperature and then store them in an airtight container or freezer bag. You can store them in the fridge for 3 days or in the freezer for up to a month. I like to pop them into the toaster oven or air fryer to reheat them for quick weekday breakfasts.
No buttermilk on hand?
That's Ok! Did you know you can make buttermilk by adding 1 tablespoon of vinegar or lemon juice to every cup of regular milk. You could also do this with almond milk or another milk sub in a pinch.
Other pumpkin breakfast ideas:
Pumpkin Cinnamon Roll Scones, Easy One-Bowl Pumpkin Bread, Pumpkin Muffins with Brown Butter Glaze
This post contains affiliate links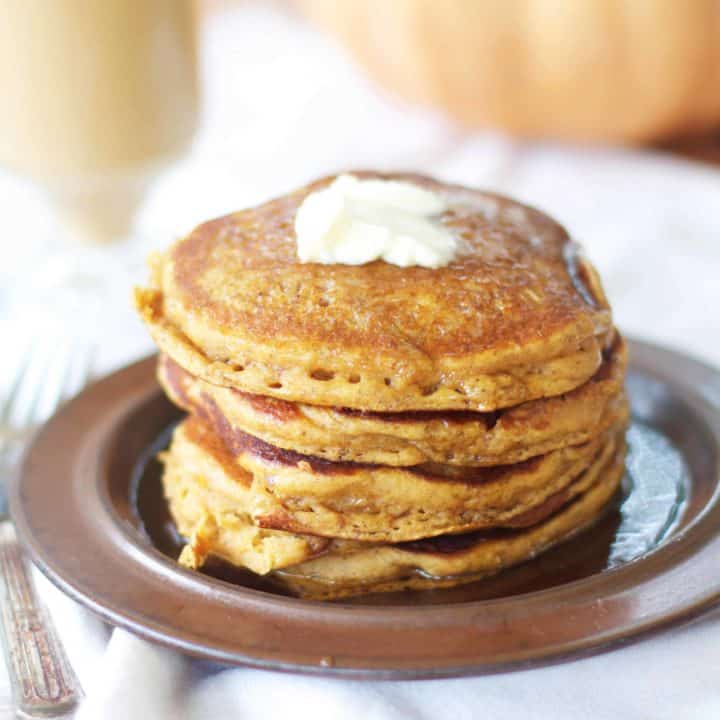 Pumpkin Buttermilk Pancakes
Ingredients
1 1/2-2 cups buttermilk
1 cup pumpkin puree
1 egg plus 1 egg white
2 tablespoons vegetable oil
2 cups all-purpose flour
3 tablespoons brown sugar
2 teaspoons baking powder
1 teaspoon baking soda
1 teaspoon ground cinnamon
1/2 teaspoon ground ginger
1/2 teaspoon ground nutmeg
1/4 teaspoon ground cloves
1/2 teaspoon salt
Instructions
In a bowl, mix together 1 1/2 cups buttermilk, pumpkin, egg, egg white, and oil. Combine the flour, brown sugar, baking powder, baking soda, cloves, cinnamon, ginger and salt in a separate bowl. Stir into the pumpkin mixture just enough to combine. Add extra buttermilk if the batter is too thick.
Heat a lightly oiled griddle or frying pan over medium high heat. Let batter rest on the counter for 5-7 minutes, and then scoop the batter onto the griddle, using approximately 1/4 cup for each pancake. Flip when bubbles form and pop, and when a lifted edge is golden brown.
Serve warm with maple syrup and butter.