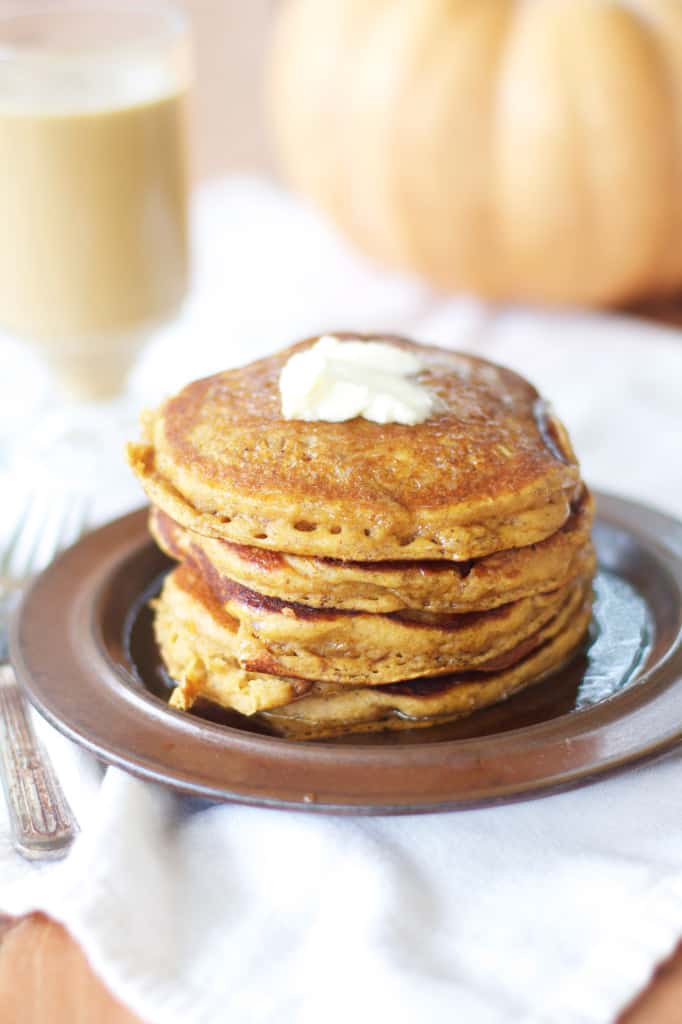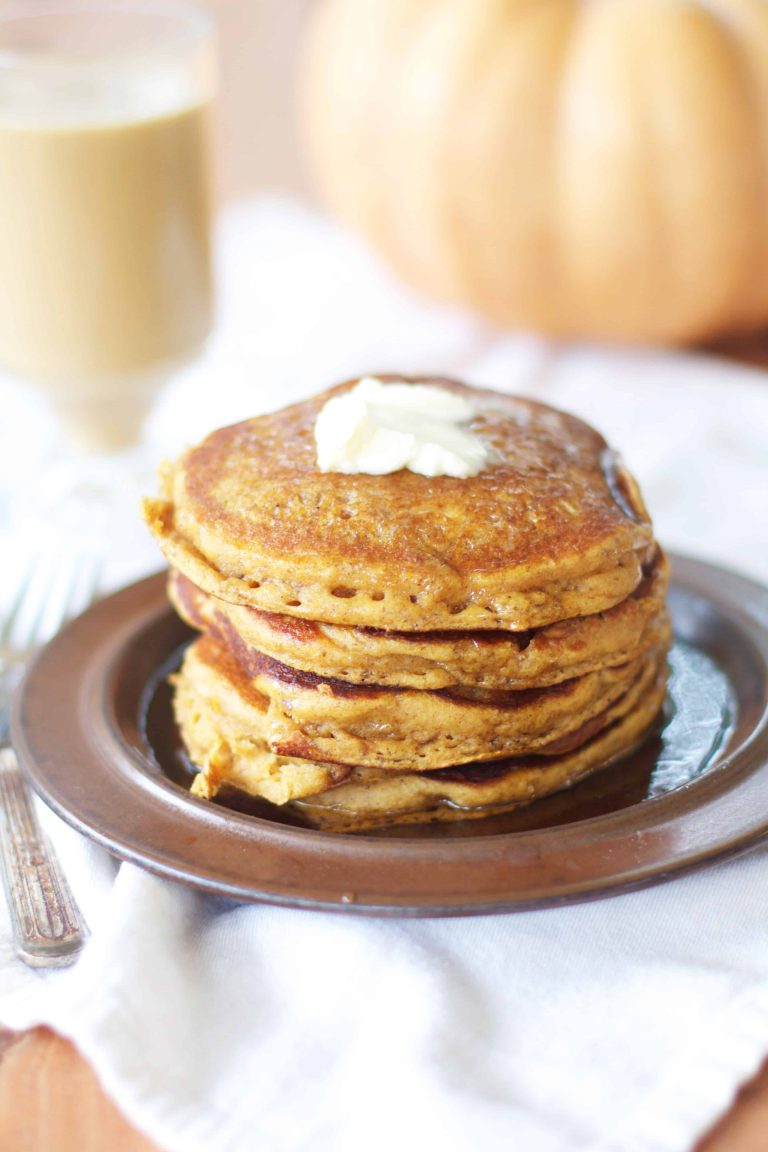 So here was the situation: I'm sitting down for breakfast at my Mother-in-law's a few weeks ago, and she brings a stack of the fluffiest pumpkin pancakes to the table. She's got one heck of a green thumb, and her late summer harvest yielded lots of cooking pumpkins which meant we enjoyed a weekend of fresh pumpkin inspired recipes. Anyway, I couldn't get over how fluffy, light and delicious these pancakes were.
I asked for the recipe which she said she had printed from the internet and when she found it, guess what- it was my recipe! Ha! Hers were way better than I remember mine being- so I thought I should take her notes on the process and re-post this baby. Truly they are too good to be passed up and I really love re-circulating some of these oldies but goodies.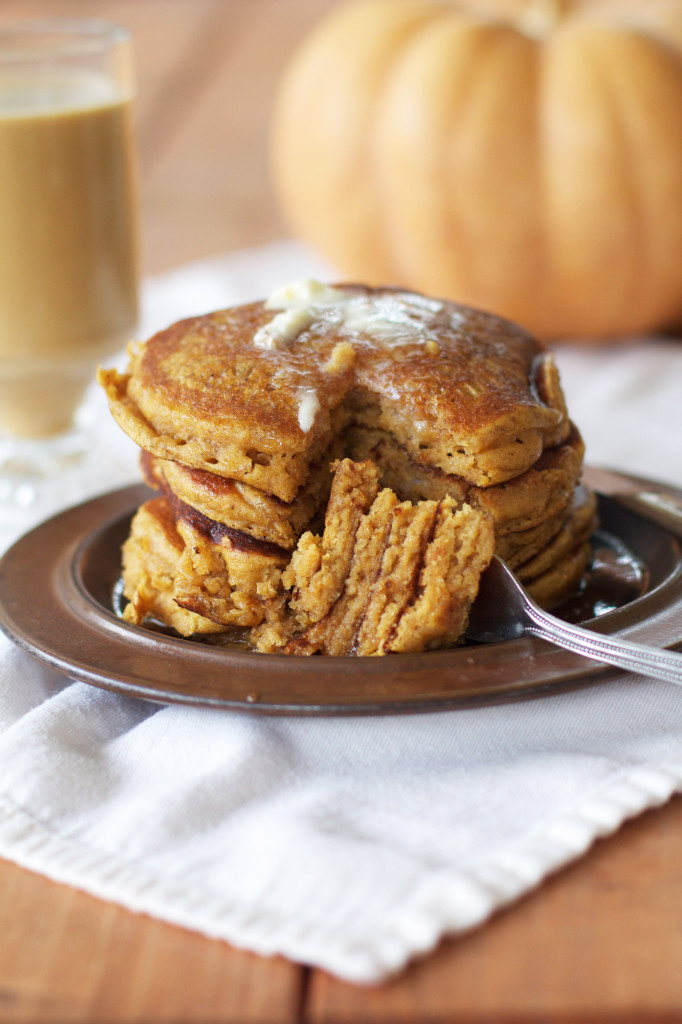 The only two changes to the original recipe are minor, but seemed to make a big difference. (Now I must also point out that these were made with fresh garden pumpkin puree which is naturally way better than the canned stuff, but the canned pureé is all I ever seem to get my hands on over here and it works too.) Anyway, this version contains a bit more egg, and requires letting the batter sit out on the counter for a few minutes before spooning it onto the griddle. My MIL says she discovered that letting the baking soda/powder do it's thing for a few minutes before cooking seems to really get that batter fluffy. (And let me tell you these were that and more!)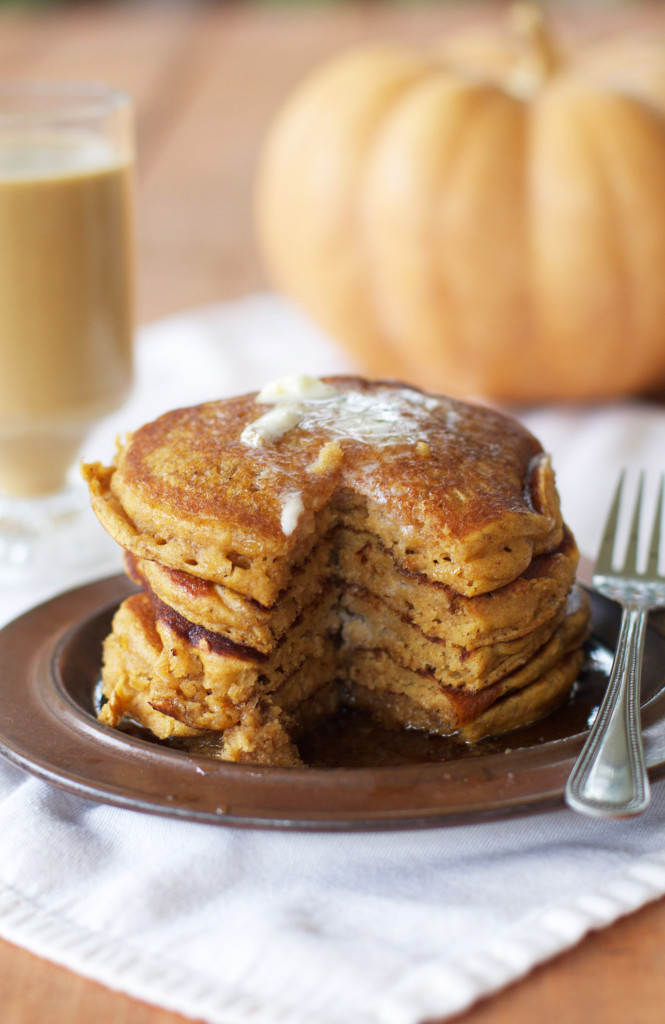 It's been feeling more fall-like this week than ever, and though I do feel a bit caught in between late summer and fall, as the days are 70s and sunny but the mornings are cool and crisp. I can't quite make up my mind as to what season I'm committed to, but I can eat these pancakes any old time of year!!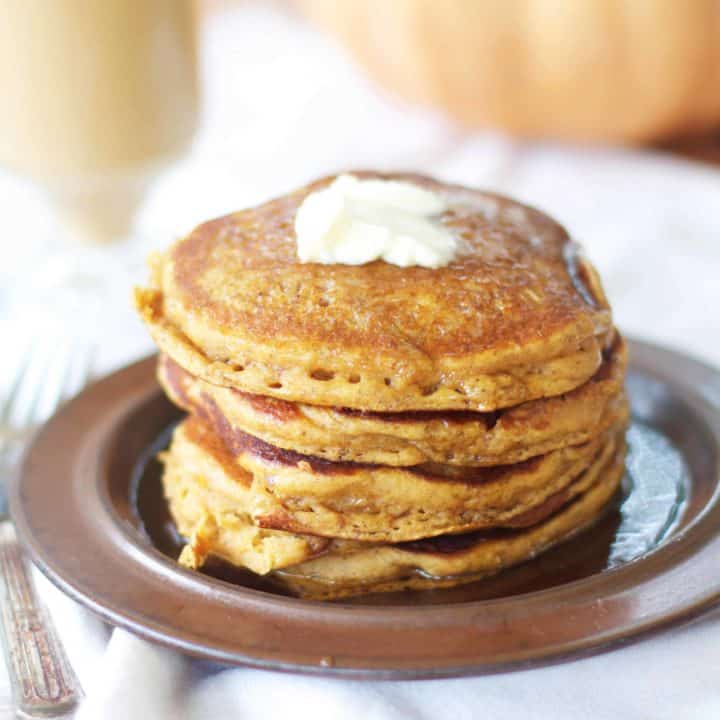 Pumpkin Buttermilk Pancakes
Ingredients
1 1/2-2 cups buttermilk
1 cup pumpkin puree
1 egg plus 1 egg white
2 tablespoons vegetable oil
2 cups all-purpose flour
3 tablespoons brown sugar
2 teaspoons baking powder
1 teaspoon baking soda
1 teaspoon ground cinnamon
1/2 teaspoon ground ginger
1/2 teaspoon ground nutmeg
1/4 teaspoon ground cloves
1/2 teaspoon salt
Instructions
In a bowl, mix together 1 1/2 cups buttermilk, pumpkin, egg, egg white, and oil. Combine the flour, brown sugar, baking powder, baking soda, cloves, cinnamon, ginger and salt in a separate bowl. Stir into the pumpkin mixture just enough to combine. Add extra buttermilk if the batter is too thick.
Heat a lightly oiled griddle or frying pan over medium high heat. Let batter rest on the counter for 5-7 minutes, and then scoop the batter onto the griddle, using approximately 1/4 cup for each pancake. Flip when bubbles form and pop, and when a lifted edge is golden brown.
Serve warm with maple syrup and butter.
Recipe adapted from: AllRecipes