Soft Frosted Pumpkin Spice Cookies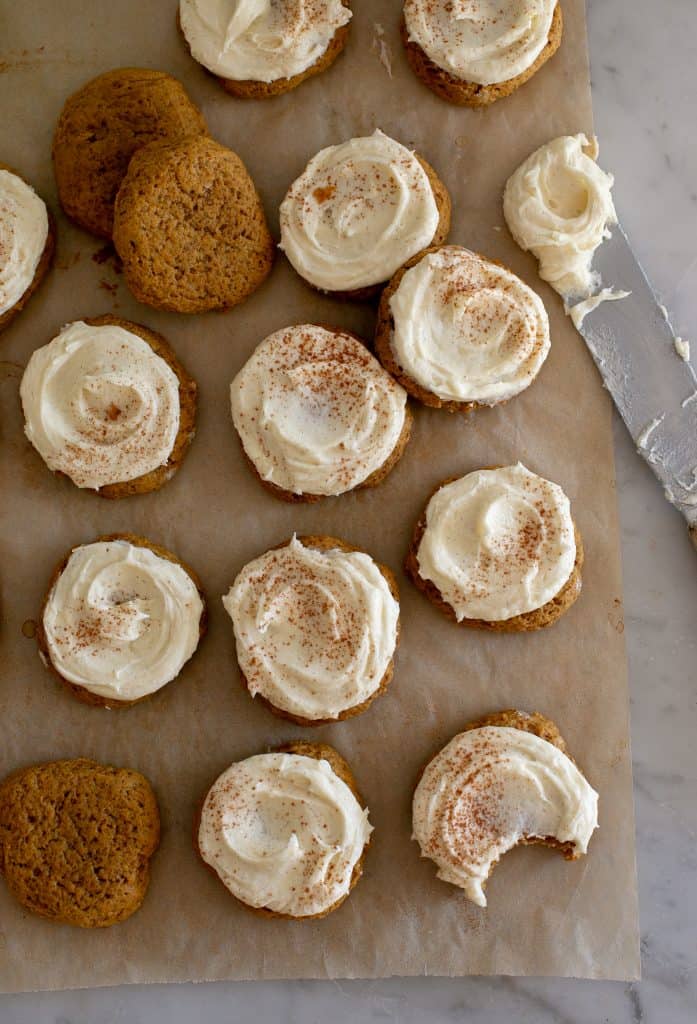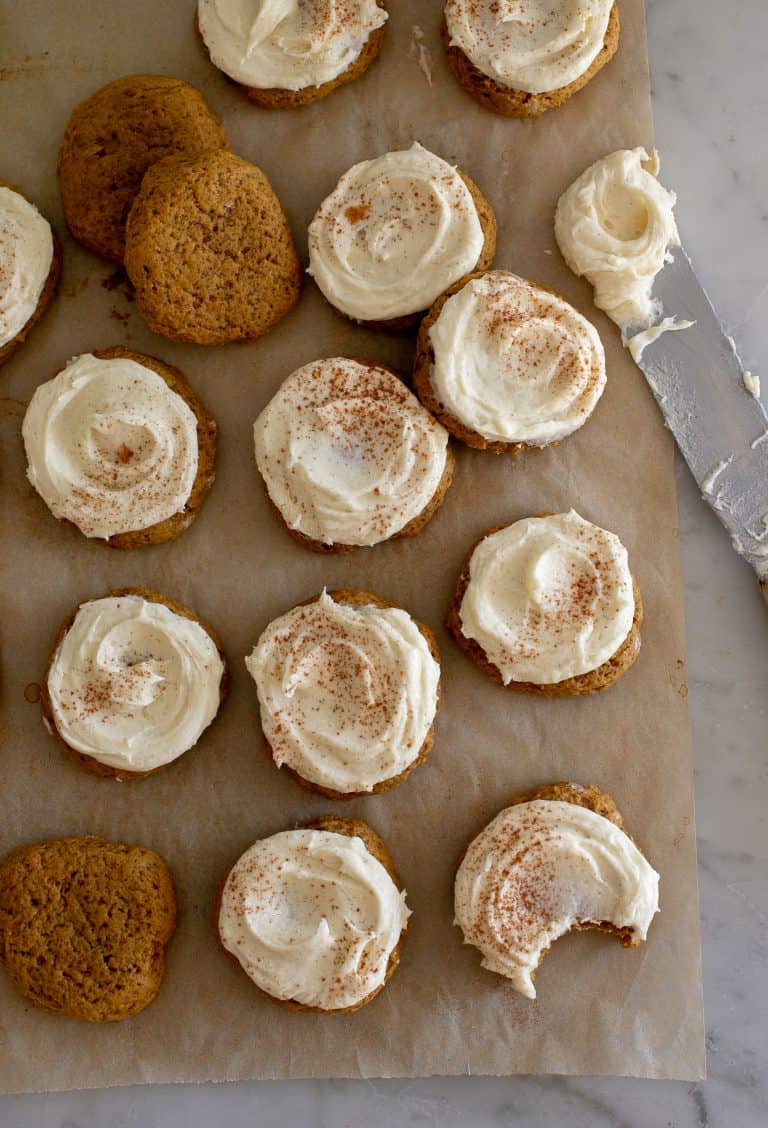 These cookies man, they are one of the most popular recipes on this site and for good reason. They are just.so.good. In fact this was one of the first recipes on my site when I became a food blogger and the comments from readers who have made them don't lie- this is a must make during pumpkin season!
This great recipe is one I've been dreaming about for awhile: a pumpkin cookie that is crisp around the edges but still soft and fluffy in the middle, loads of warm spices, and a dreamy cream cheese frosting. All those flavors together result in my favorite pumpkin cookies.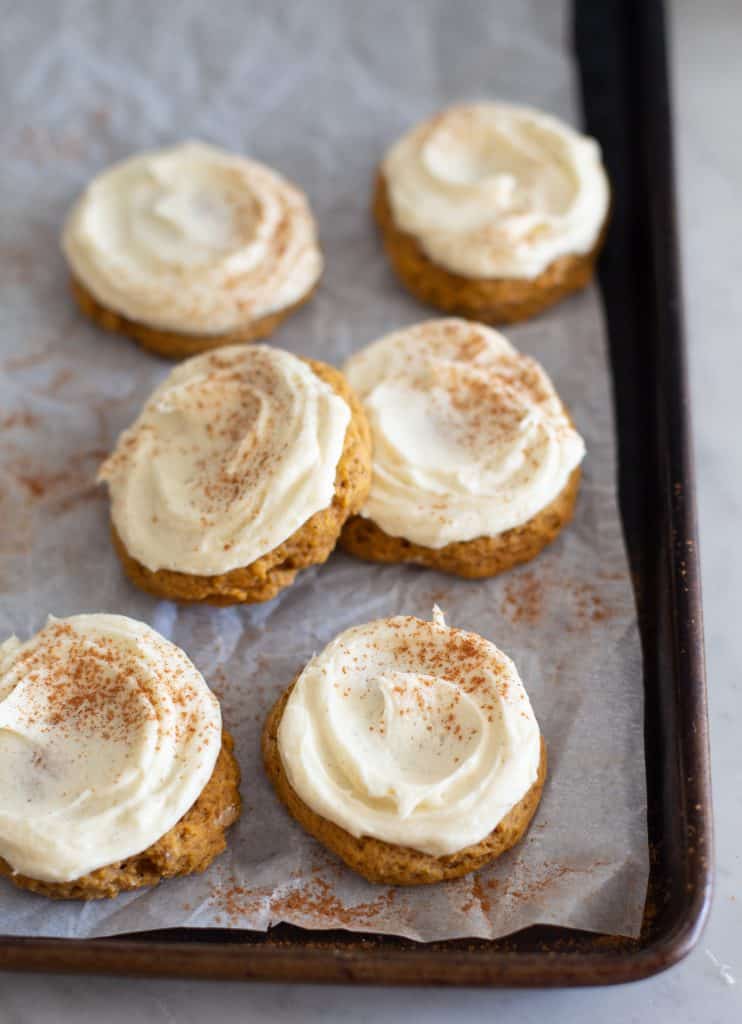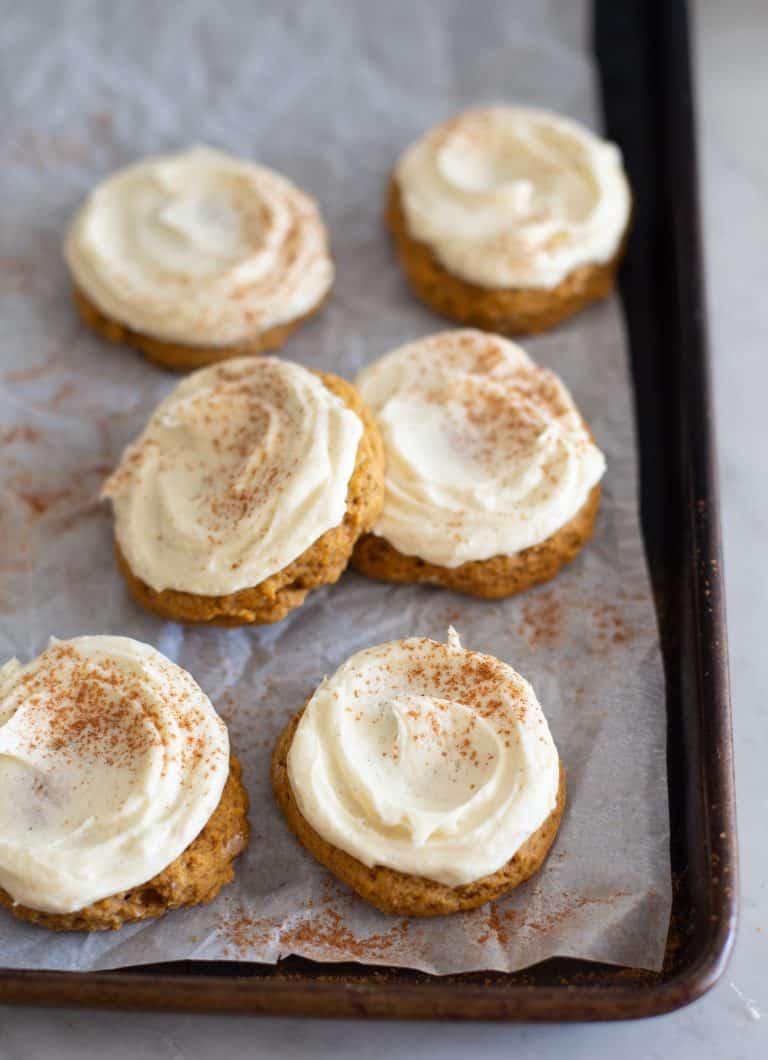 This cookie dough comes together in no time and you can make the frosting while they are cooling. Since these cookies are thicker than most, they seem like a more substantial dessert than most cookies, which means they are a perfect last-minute treat for a party or company.

Ingredients for Soft Frosted Pumpkin Spice Cookies:
All Purpose Flour
Cinnamon
Cloves
Nutmeg
Pumpkin
Brown Sugar
Butter
1 large Egg
Cream Cheese
Vanilla extract
Powdered Sugar
Supplies needed for Pumpkin Spice Cookies:
Large bowl
Hand mixer or stand mixer with paddle attachment
Cookie Sheet
Wire rack for cooling
Parchment paper
Cookie scoop

The process:
In a large bowl cream together the butter and sugar on medium speed. Add the eggs, vanilla and pumpkin and mix until smooth. Add the dry ingredients to the wet ingredients and mix on low speed until just combined. (Don't overmix.)
Add 2 tablespoons of cookie dough to the prepared baking sheets and bake cookies for about 12 minutes or until the edges are set and golden.
How to store Soft Pumpkin Spice Cookies:
Unfrosted these can be store in an airtight container at room temperature for 4-5 days. Once frosted I suggest storing in the fridge so the cream cheese frosting stays fresh. (PS- These get even more delicious the next day.)

Can I sub pumpkin pie spice for the individual spices?
Sure. I would sub 2 teaspoons of pumpkin pie spice.
Can I sub pumpkin pie filling for the actual pumpkin?
I always say no to this question as pumpkin pie filling has added spices and sugar which messes up the recipe proportions. I suggest pure pumpkin puree for this recipe.

Is this a chewy cookie? Or do they have more of a cakey texture?
Full disclosure- When adding a fruit/veggie pureé like banana, applesauce or pumpkin, the texture is always more on the cakey side. I know there are recipes out there that use a smaller amount of the purée and blot out the moisture with a strainer and paper towel to adjust the texture. This cookie has crisp edges and the inside is perfectly soft and fluffy. I think they are the perfect texture especially with the frosting!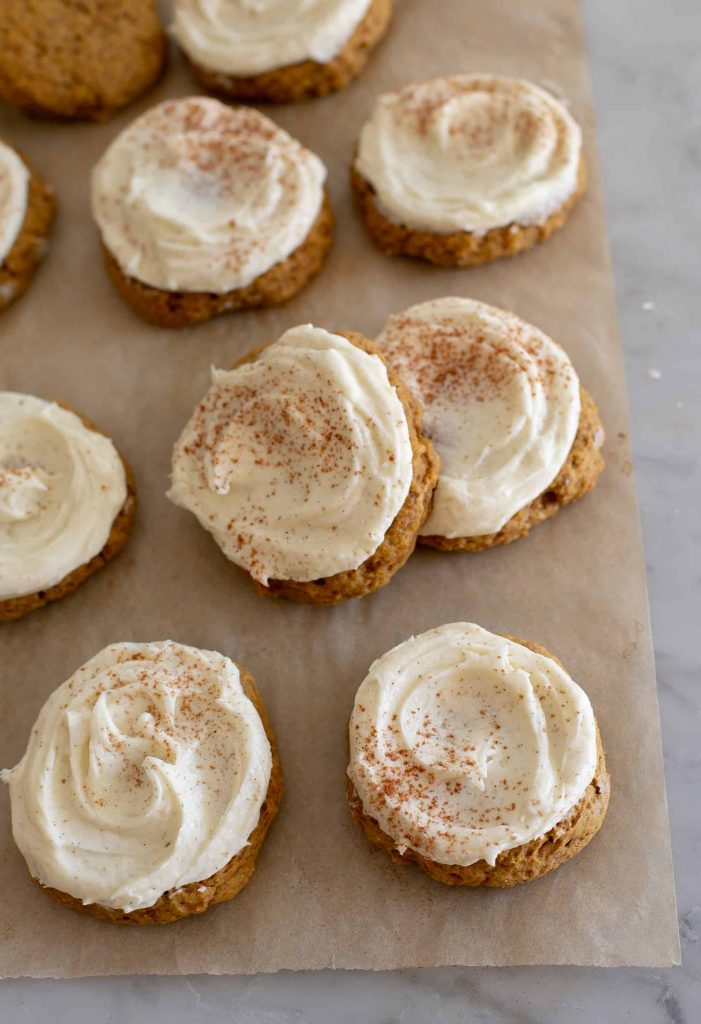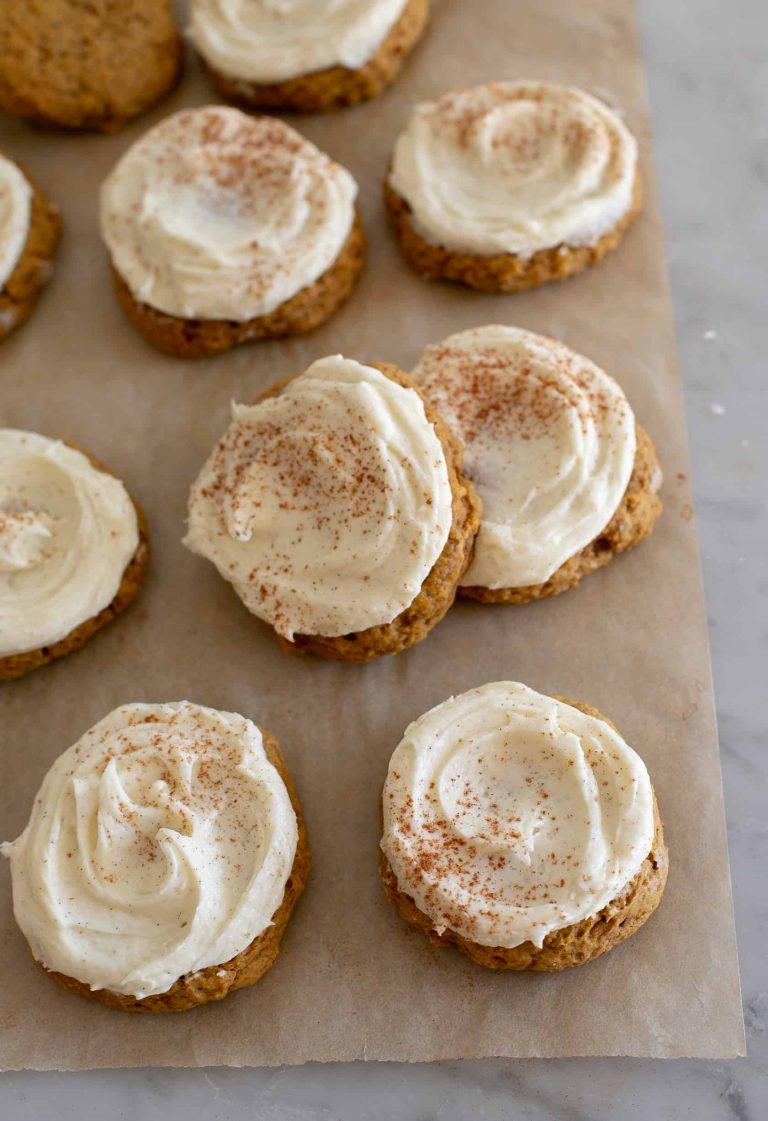 Adaptations:
Add 1 cup of semi sweet or white chocolate chips to make these pumpkin spice chocolate chip cookies
Or make cinnamon cream cheese frosting by adding 1 tsp cinnamon to the icing.
Make these into a Pumpkin Whoopie Pie by filling 2 cookies halves with frosting.
More favorite pumpkin recipes: Sour Cream Pumpkin Donuts, Easy One-bowl Pumpkin Bread, Pumpkin Cinnamon Roll Scones
Plus another amazing pumpkin cookie recipe: Chewy Pumpkin Oatmeal Cookies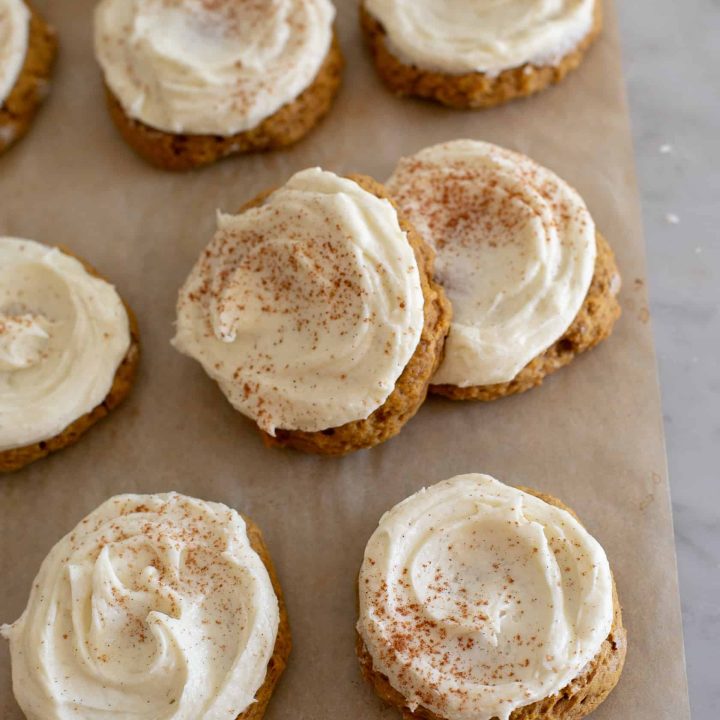 Soft Frosted Pumpkin Spice Cookies
Soft Pumpkin Spice Cookies with a fluffy cream cheese frosting.
Ingredients
For the Cookies:
2½ cups all-purpose flour
1 teaspoon baking powder
1 teaspoon baking soda
2 teaspoons ground cinnamon
½ teaspoon ground nutmeg
½ teaspoon ground cloves
½ teaspoon salt
½ cup butter, softened
1½ cups brown sugar*
1 cup canned pumpkin puree
1 egg
1 teaspoon vanilla extract
For the Frosting:
½ cup (1 stick) softened butter
½ cup softened cream cheese
2-3 cups powdered sugar
1 tsp. vanilla extract (or vanilla bean paste if you're fancy)
Instructions
For the Cookies:
Preheat oven to 350 degrees F (175 degrees C). Combine flour, baking powder, baking soda, cinnamon, nutmeg, ground cloves, and salt; set aside.
In a medium bowl, cream together the ½ cup of butter and brown sugar. Add pumpkin, egg, and 1 teaspoon vanilla to butter mixture, and beat until well combined.
Slowly mix in dry ingredients. Drop on cookie sheet by tablespoonfuls; flatten slightly with floured fingers (dough will be sticky.)
Bake for 10-13 minutes or until the edges are set and just turning golden.

For the Frosting:
Cream butter and cream cheese together. Slowly add powdered sugar and mix with an electric mixer until thick and creamy. Add vanilla and mix on high.
When cookies are cooled- spread frosting on top with an offset spatula or spoon.
Notes
* You may also use a mix of white and brown sugar if that's what you have on hand