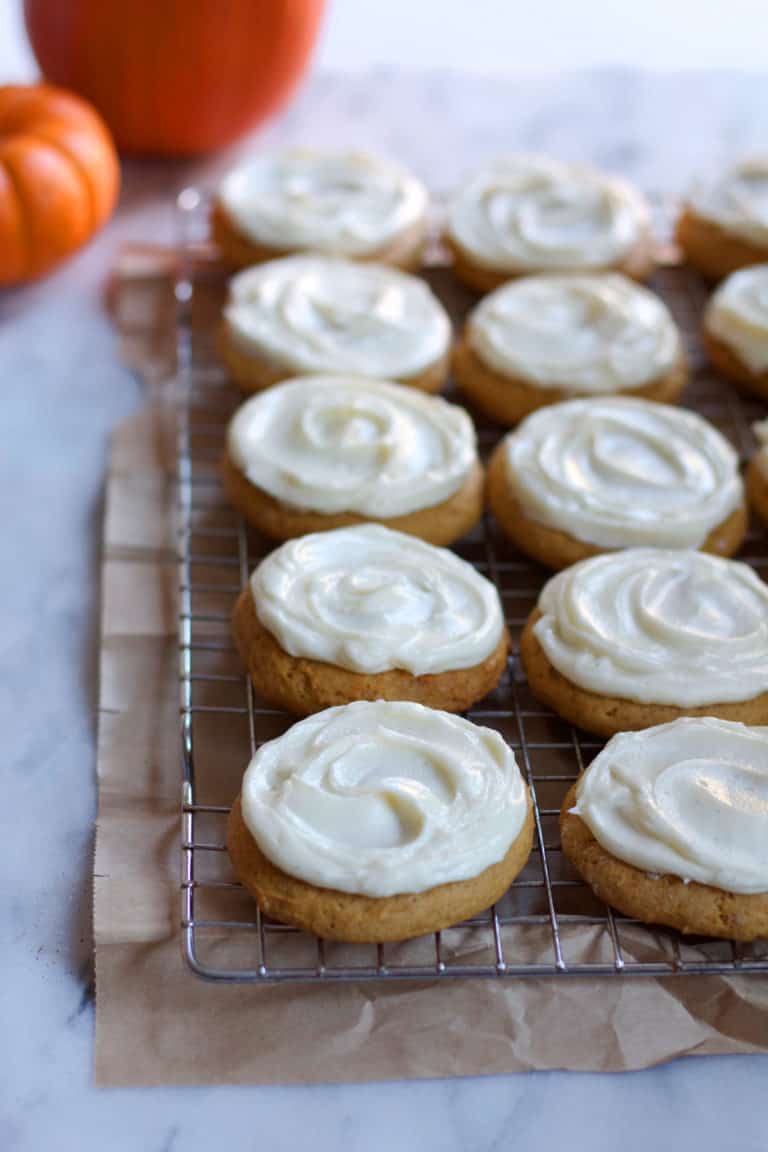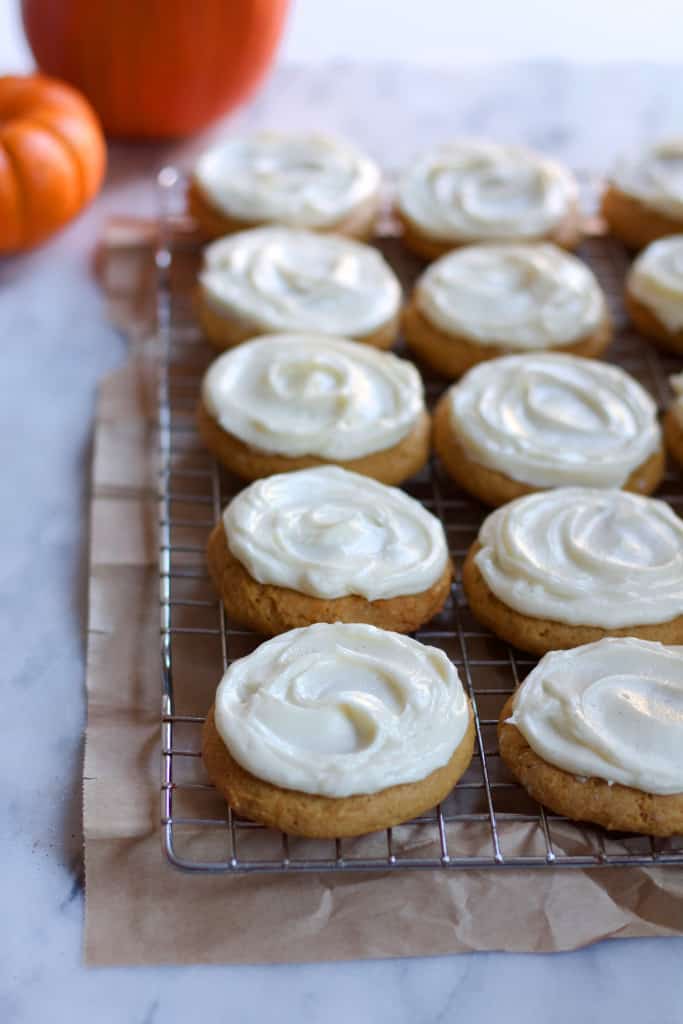 These cookies man, they are one of the most popular recipes on this site and for good reason.
They are just.so.good.
Getting to remake them this week was such a great reminder of how much I adore them.
We have a pumpkin cookie that is crisp around the edges but still soft and fluffy in the middle, loads of warm spices, and a creamy cream cheese frosting. The smell of them baking is pure heaven and fills the home with all the spices and smells you want this time of year.
I had way too many of these. Like I may have taken "eating for two" to a whole new level. But you know I had to just keep sampling them to make sure they are still good you know?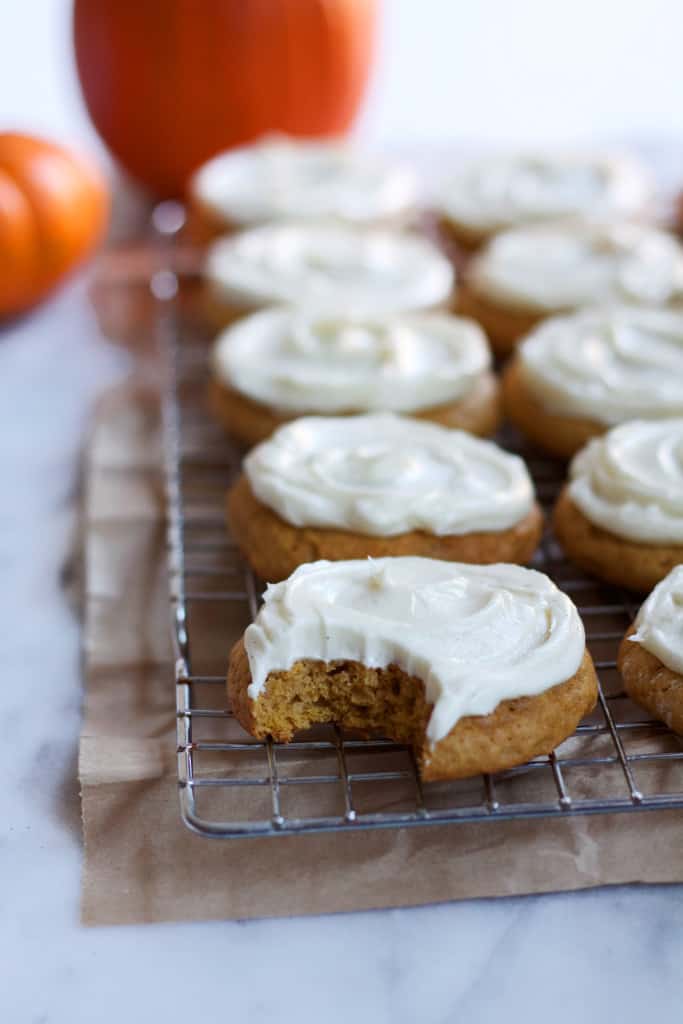 This recipe is one I've been dreaming about for awhile: a pumpkin cookie that is crisp around the edges but still soft and fluffy in the middle, loads of warm spices, and a creamy cinnamon frosting. All those flavors together may have been my favorite cookie ever, but I know I think that a lot.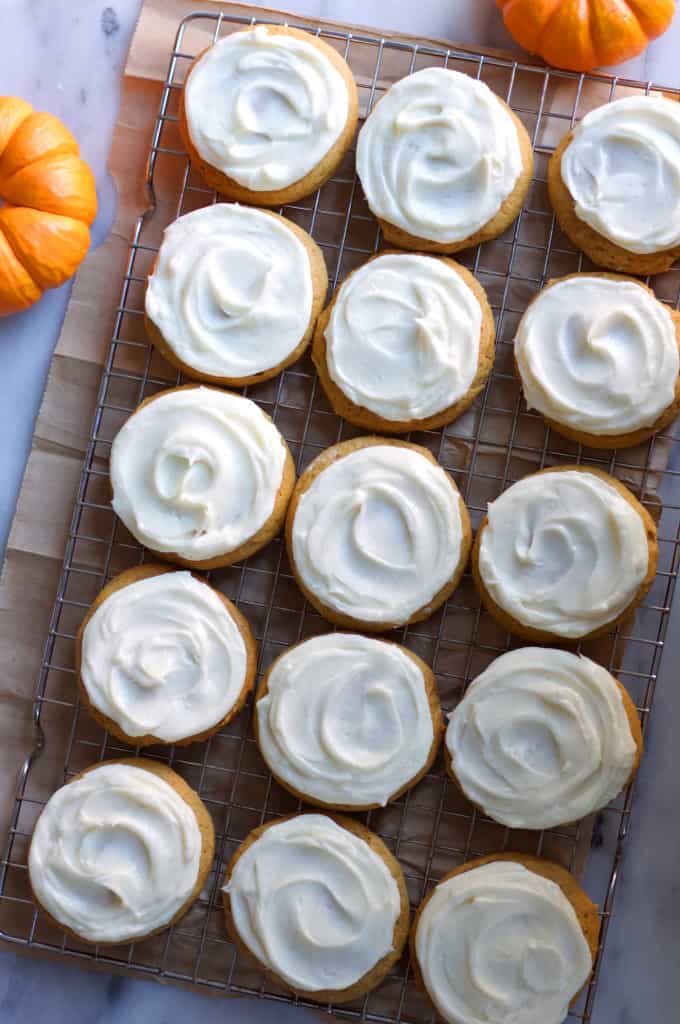 This cookie dough comes together in no time and you can make the frosting while they are cooling. Since these cookies are thicker than most, they seem like a more substantial dessert than most cookies, which means they are a perfect last-minute treat for a party or company.
In fact- I first made these when my Mom was visiting and we were having dinner at my sister's apartment that was next door (at the time.) She mentioned I maybe make something for dessert, and by the time she went back to my sister's and came over 15 minutes later, these were already in the oven and my whole place smelled like heaven.
These were a huge hit with my family and I hope you love them too!
Soft Frosted Pumpkin Spice Cookies
Ingredients
For the Cookies:
2½ cups all-purpose flour
1 teaspoon baking powder
1 teaspoon baking soda
2 teaspoons ground cinnamon
½ teaspoon ground nutmeg
½ teaspoon ground cloves
½ teaspoon salt
½ cup butter, softened
1½ cups white sugar
1 cup canned pumpkin puree
1 egg
1 teaspoon vanilla extract
For the Frosting:
½ cup (1 stick) softened butter
½ cup softened cream cheese
2-3 cups powdered sugar
1 tsp. vanilla extract (or vanilla bean paste if you're fancy)
Instructions
For the Cookies:
Preheat oven to 350 degrees F (175 degrees C). Combine flour, baking powder, baking soda, cinnamon, nutmeg, ground cloves, and salt; set aside.
In a medium bowl, cream together the ½ cup of butter and white sugar. Add pumpkin, egg, and 1 teaspoon vanilla to butter mixture, and beat until well combined. Slowly mix in dry ingredients. Drop on cookie sheet by tablespoonfuls; flatten slightly with floured fingers (dough will be sticky.)
Bake for 13-15 minutes or until the edges are set and just turning golden.
For the Frosting:
Cream butter and cream cheese together. Slowly add powdered sugar and mix with an electric mixer until thick and creamy. Add vanilla and mix on high.
When cookies are cooled- spread frosting on top with an offset spatula.
recipe adapted from: All Recipes