Banana Bars with Brown Butter Frosting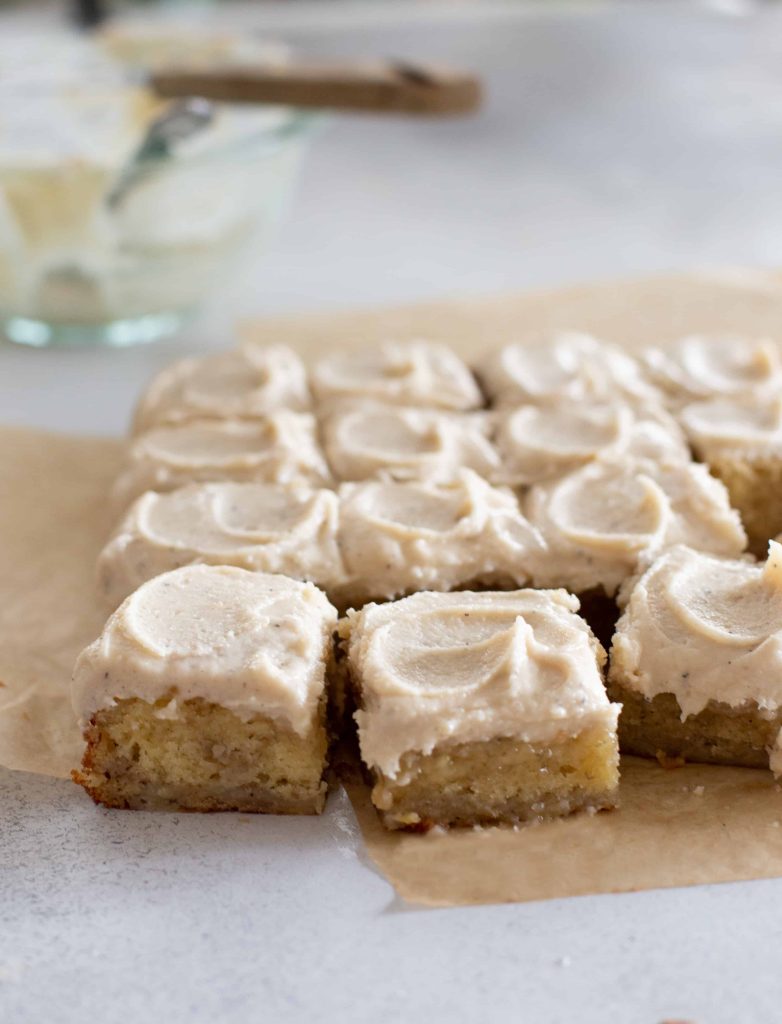 If you find yourself with some ripe, brown speckled bananas on your counter, don't despair- they are perfect for this recipe . The best way to use them are in banana desserts. They are the key to moist banana bars that are sweet and full of banana flavor. Good luck not eating the whole pan because these are addicting.
These bars will almost melt in your mouth. They have the perfect texture and pair beautifully with the brown butter frosting recipe. Trust me when I tell you they are the best thing I have baked in ages.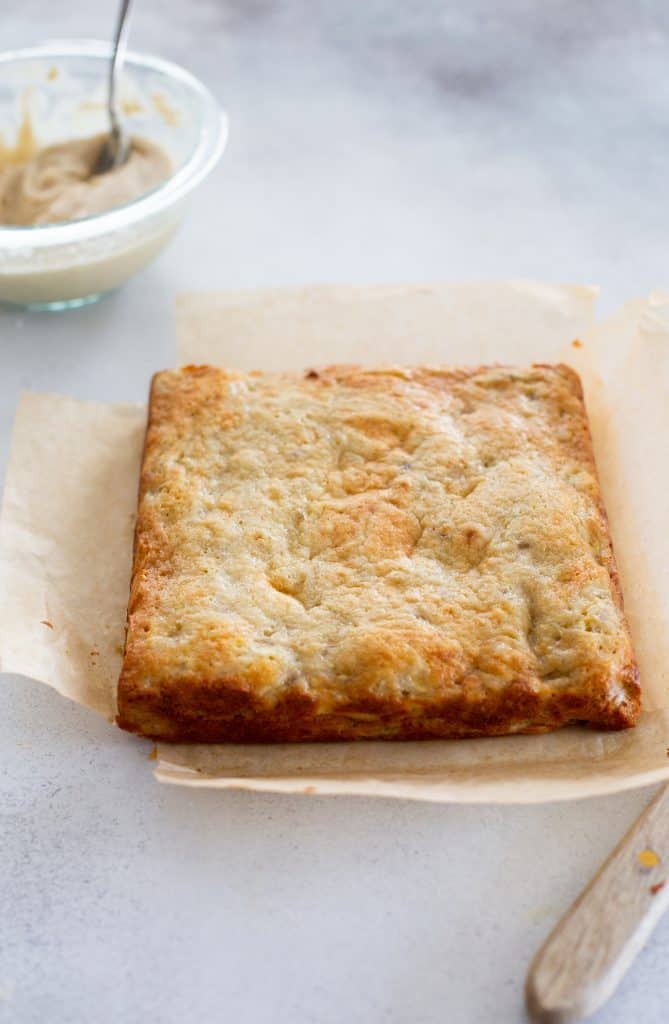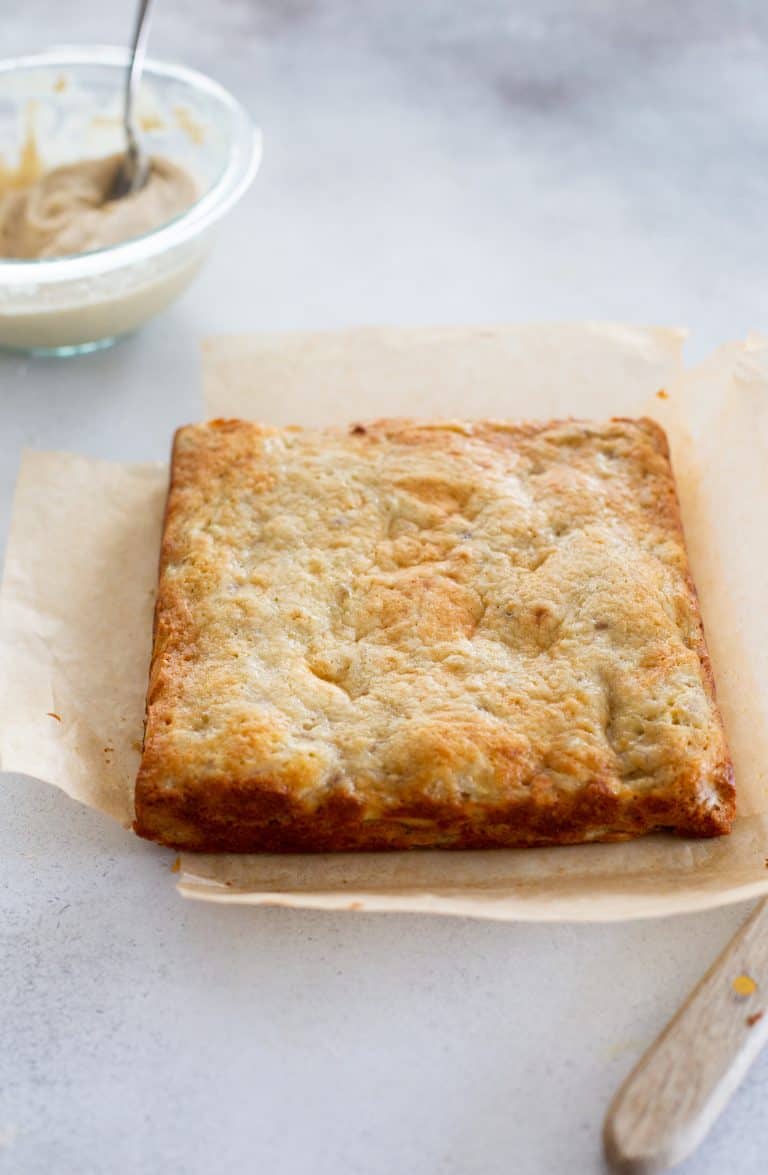 Ingredients needed for Banana Bars Recipe with Brown Butter Frosting:
Overripe Bananas
Sour Cream
Vanilla Extract
Sugar
All Purpose Flour
Butter (and Browned Butter for the Frosting)
Powdered Sugar

Supplies needed:
Large Bowl
Electric Mixer
Parchment Paper
8×8 square baking dish
Rubber Spatula
The Process:
In a large mixing bowl cream together the butter and sugar. Add the egg, vanilla and sour cream and then combine the wet ingredients with the dry ingredients. Fold in the mashed bananas and spread into the prepared baking pan.
Meanwhile melt the butter on the stove top until it's brown and toasty. Scrape up all the brown bits and transfer to a medium bowl. Mix in the powdered sugar and vanilla. After baking the bars in the preheated oven, spoon on the brown butter frosting and enjoy the bars warm, room temperature or cold!

How to Store these Banana Bars:
In an airtight container or in plastic wrap these bars will last about 3-4 days at room temperature or up to a week in the fridge.
Can I use yellow bananas?
Honestly I wouldn't. The brown bananas are what make these the best banana bars! The super ripe bananas make the bars extra moist and sweet and I think it's worth letting them ripen a bit.
Can I sub anything for the butter and sour cream?
This recipe works great with coconut oil instead of butter and I have used yogurt with great success as well. Non dairy yogurt would likely be a good swap.

Can I make these chocolate chip banana bars?
Yes! Next time I plan to fold in 1/2 cup of mini chocolate chips or regular semisweet chocolate chips, but you could also add a whole cup and skip the brown butter frosting.
Can I use frozen bananas?
Yes! I love peeling and freezing super ripe bananas so that I have them ready for banana bread or other recipes. (Smoothies etc…) Peel and store in a ziplock and then let them thaw at room temperature before using. They texture of the banana will be different than fresh but the end result will turn out the same.

Other favorite banana recipes:
The Best Banana Bread Ever, Naked Banana Cake, Cinnamon Swirl Banana Crumb Cake, Homemade Banana Pudding
Looking for more bar recipes?
Sea Salt Brownies and Salted Caramel Apple Pie Bars are two of my favorites!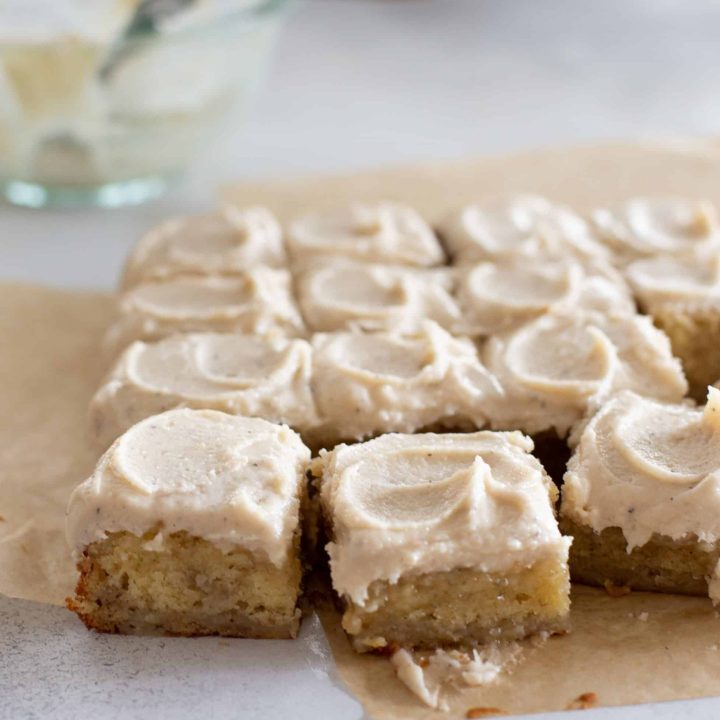 Banana Bars with Brown Butter Icing
Ingredients
¾ cup sugar
½ cup sour cream
¼ cup butter, softened
1 egg
1 cup (about 2) very ripe bananas, mashed
1 tsp. vanilla extract
1 cup all purpose flour
½ tsp. baking soda
½ tsp. salt
brown butter frosting:
1/2 cup/1 stick of butter
2 cups powdered sugar
1 tsp. vanilla extract
1½ tbsp. milk
Instructions
Heat oven to 375F. Line an 8x8 baking dish with parchment paper. (I overlap two pieces so the sides hang over the pan. It makes removing the bars easy as can be.)
In a large bowl, beat together sugar, sour cream, butter, and eggs until creamy. Blend in bananas and vanilla extract.
Add flour, baking soda, salt, stir together until just combined. Spread batter evenly into pan.
Bake 20 to 25 minutes or until golden brown. Let cool slightly and then remove from pan using the parchment to lift.
For the Frosting:
Brown Butter in a medium sauce pan by melting it over medium-high heat and then letting it continue to cook until brown bits form. Swirl the pan around but let it get toasty brown.
Pour the butter into a heat-proof bowl and whisk.
Add in the powdered sugar and vanilla and mix until smooth
Spread the icing on the bars when they have cooled for about 10-15 minutes. The frosting goes on much easier when the bars are a little warm, it also creates an amazing soft, slightly-melty affect.
Notes
Greek Yogurt works well in place of sour cream.