This stuffing recipe has been a family tradition for generations and it's just the best!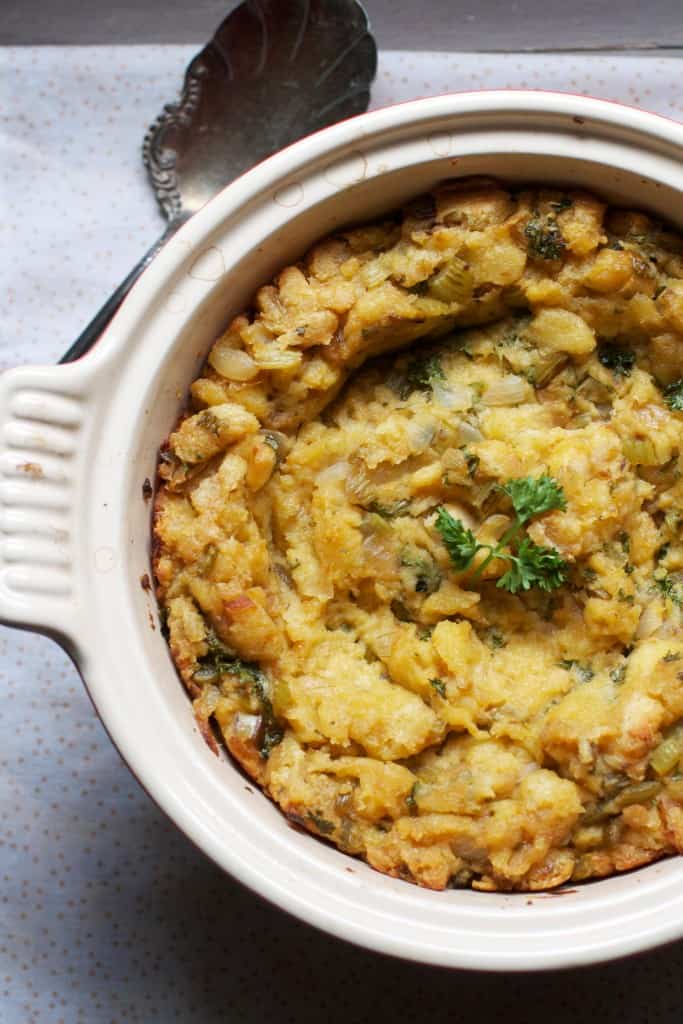 You guys I'm sharing somewhat of a treasure with you today. I actually had to ask my mom permission who then asked her siblings if they thought it was OK for this family heirloom to be out on the interwebs. Luckily for you they all said it was fine, and Great Grandma Gerlach is hopefully in the heavens feeling pride at how much we all love her famous stuffing.
I have realized over the years that not all stuffing recipes are created equal. Are you a dry stuffing person or a moist stuffing person? Do you like it loose and crisp or all soft and scoop-able with a crispy crust? Well this stuffing is definitely the latter, and I've had a bit of shock when I've tried stuffing that is anything else. After enjoying this at every Thanksgiving since I was a girl, this is how stuffing needs to be as far as I'm concerned, and man is it good. It's so good that I've been asked to make it for my book club's Thanksgiving the last four years and every time anyone tries it the "Oh my gosh this is SO goods" continue for the whole meal. Everyone asks for the recipe and wonders what in the world could make this stuffing so much more delicious than anything they have tasted.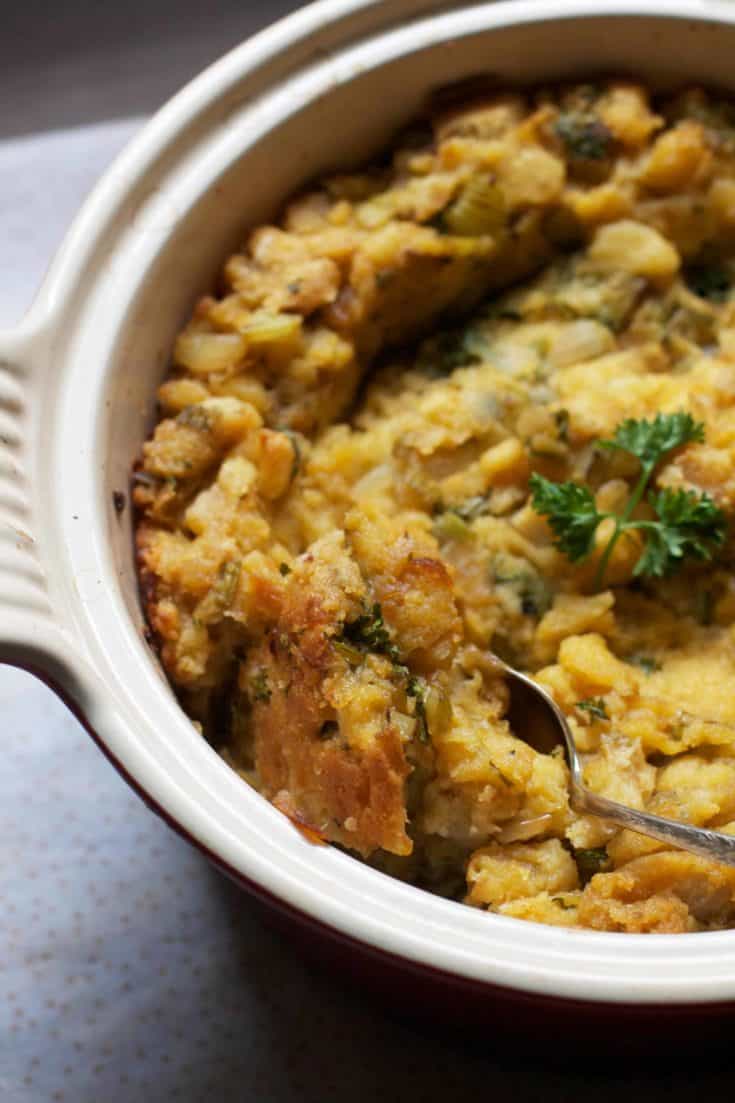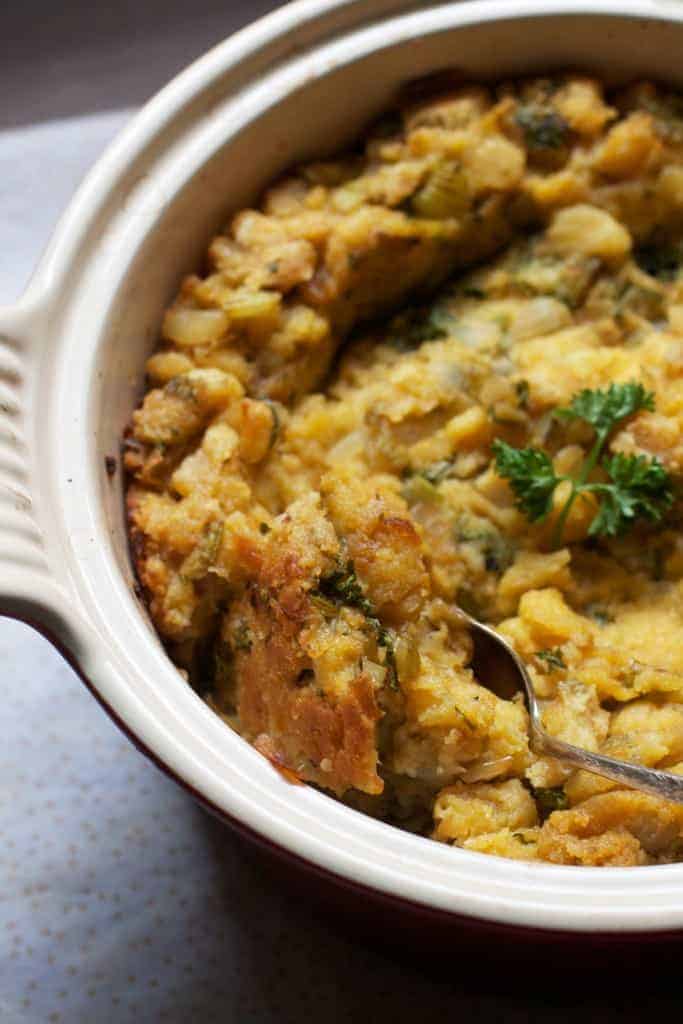 The ingredients of this recipe really aren't out of the ordinary as far as stuffing recipes go, but it does contain a whole lot of one thing that we all know makes everything taste better- butter. Lots of butter. The original recipe actually contains an entire pound of butter and is amazing, but over the years my mom has realized it can still be delicious with a little less butter and a bit more broth. The butter soaks into the bread and bakes up so amazingly and really creates something magical. If you aren't stuck on a special stuffing recipe this year- I highly suggest you try this recipe, (especially if you like super delicious things!)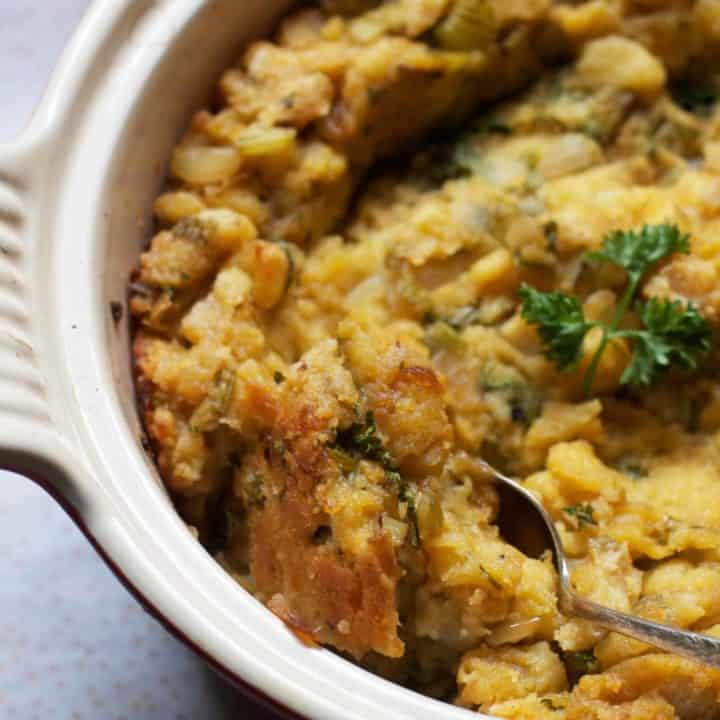 Great Great Grandma's Famous Stuffing
Ingredients
4 medium onions, chopped
4 cups of celery, chopped
3 sticks of unsalted butter
32 slices of hearty white sandwich bread*
1 1/2 cups chicken broth (or vegetable broth is fine too)
2/3 cup chopped parsley
2 tablespoons salt**
2 tsp paprika
Instructions
Either one at a time, or in two separate saucepans, brown the onions and celery separately in about 1 tablespoon of the butter each. (Over the years we've determined it's much easier not to brown them together- it takes way longer and they don't brown at the same rate.)

When brown, transfer the onion and celery into a large mixing bowl and set aside to cool slightly.

Trim the crusts of the bread (I've made it before not trimming the crusts and while it's still good, I like the crust-free texture better.) and cut it into cubes. Transfer cubes into the same bowl as the onions/celery.

Melt the remaining butter and pour it into the bowl along with the broth, parsley and paprika. Mix together with your hands thoroughly.

Add the salt- one tablespoon first, and then taste the mixture to see how much more you need. (If you are using extremely salty broth you may need a little less. I usually use the whole amount.)

Spread stuffing into a 9x13 or other similar sized baking dish. If the pan is too packed in the center it will be difficult to heat, so I like to made the middle of the dish a little bit scooped out so it bakes for less time.

At this point the stuffing can be covered air-tight and stored in the fridge overnight until you're ready to bake it and serve. When that time comes- bake at 375 for 30-45 minutes, depending on the thickness of the pan. It is done when the top is crisp and the inside is hot.
Notes
*You don't want to use something flimsy like Wonderbread for this or the bread will disintegrate with all the liquid. Any heartier white sandwich bread will do- I like the kind called "Country White"

**I used to just add the full 2T of salt every time I made this, but this last time I used a new type of salt that happened to be "saltier" it made the result a little salty, so now I recommend adding it gradually and tasting to see how much you need.