This stuffing recipe has been a family tradition for generations and it's just the best!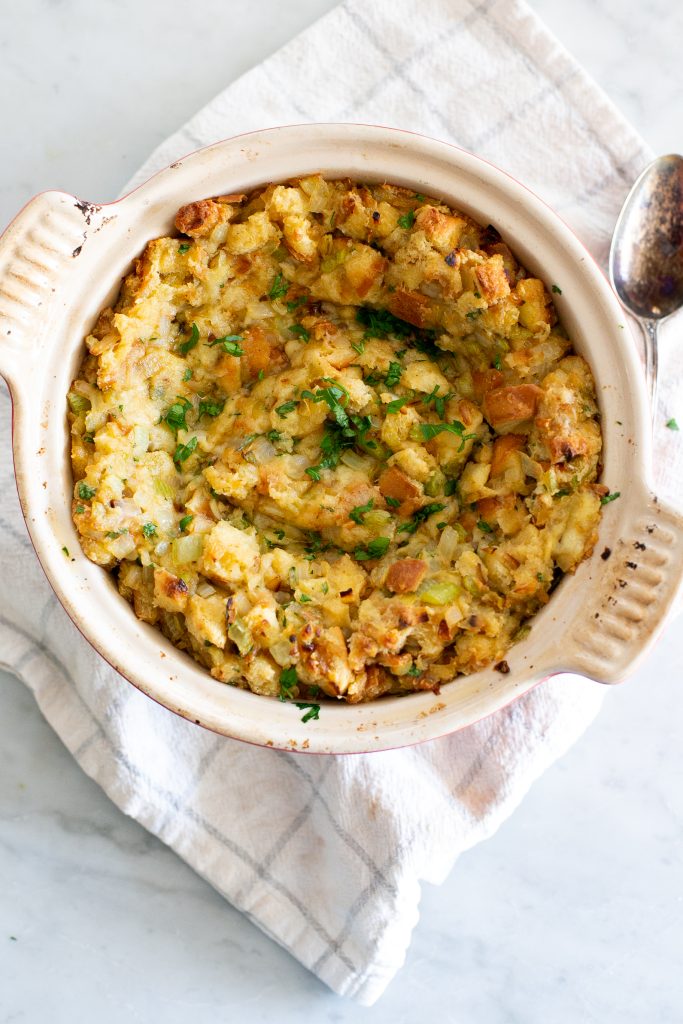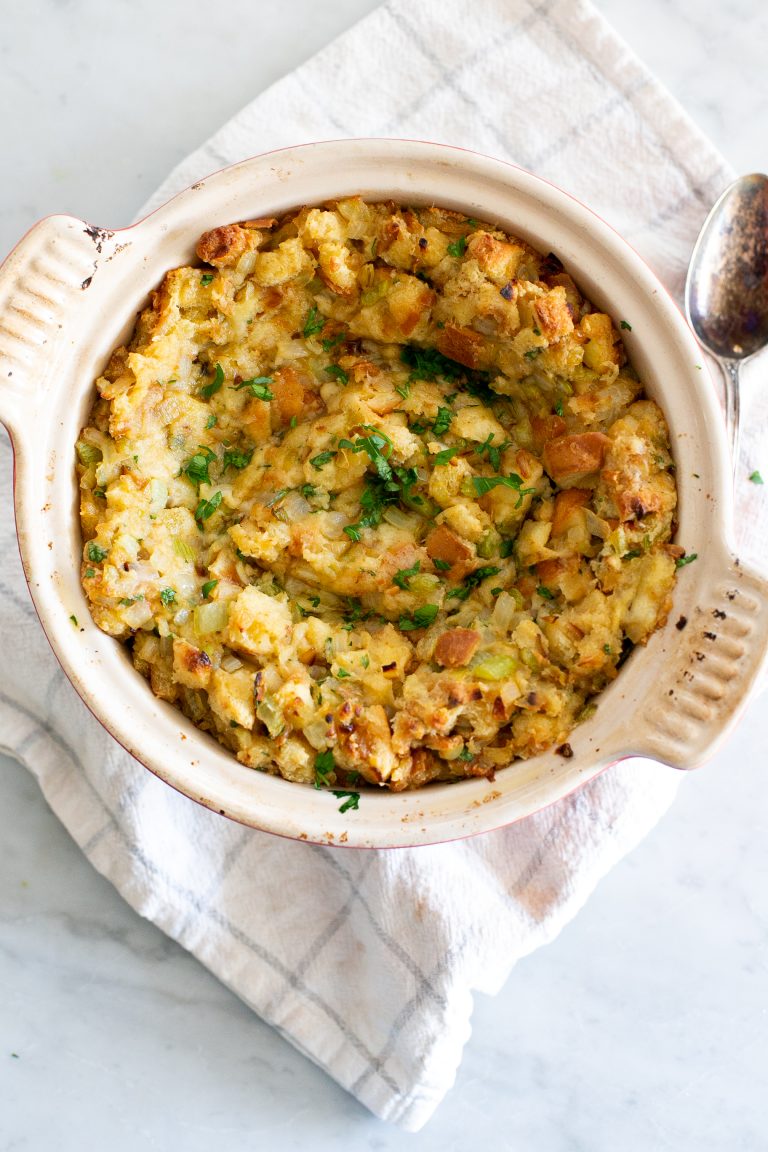 You guys I'm sharing somewhat of a treasure with you today. I actually had to ask my mom permission who then asked her siblings if they thought it was OK for this family heirloom to be out on the inter webs. Luckily for you they all said it was fine, and Great Grandma Gerlach is hopefully in the heavens feeling pride at how much we all love her famous stuffing.
Our family Thanksgiving dinner would never be complete without this homemade stuffing recipe that has been in my Mom's family for years. It is so simple and delicious, never dry, perfectly textured and crisp around the edges, and just the best stuffing recipe you'll ever try. (Don't believe me? Read the comments!)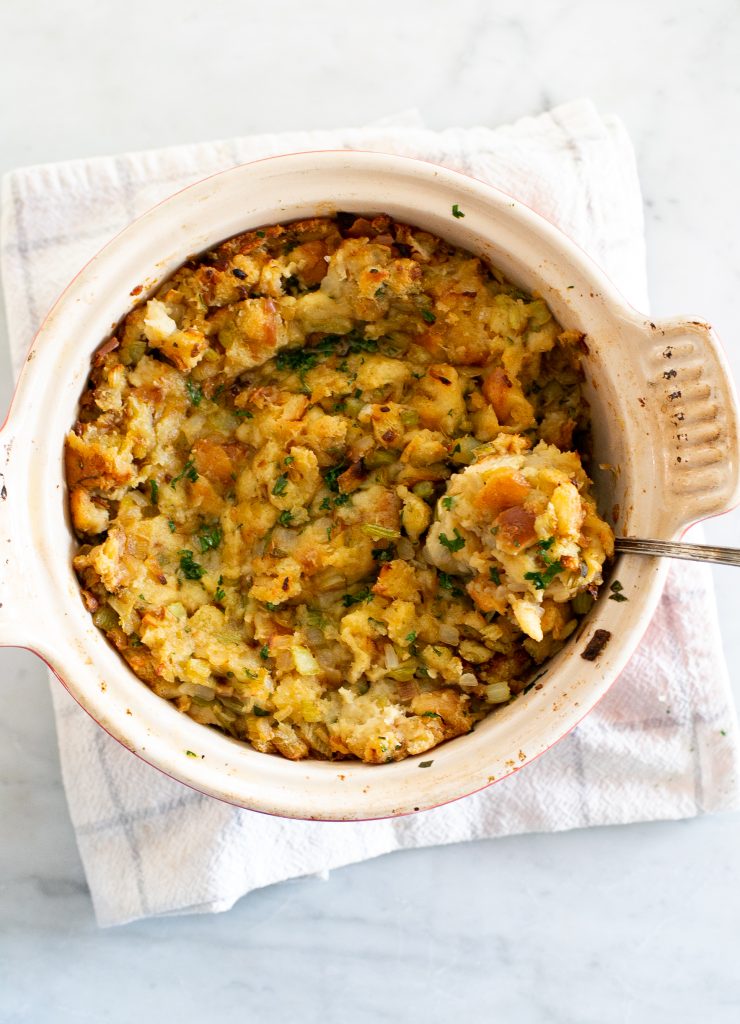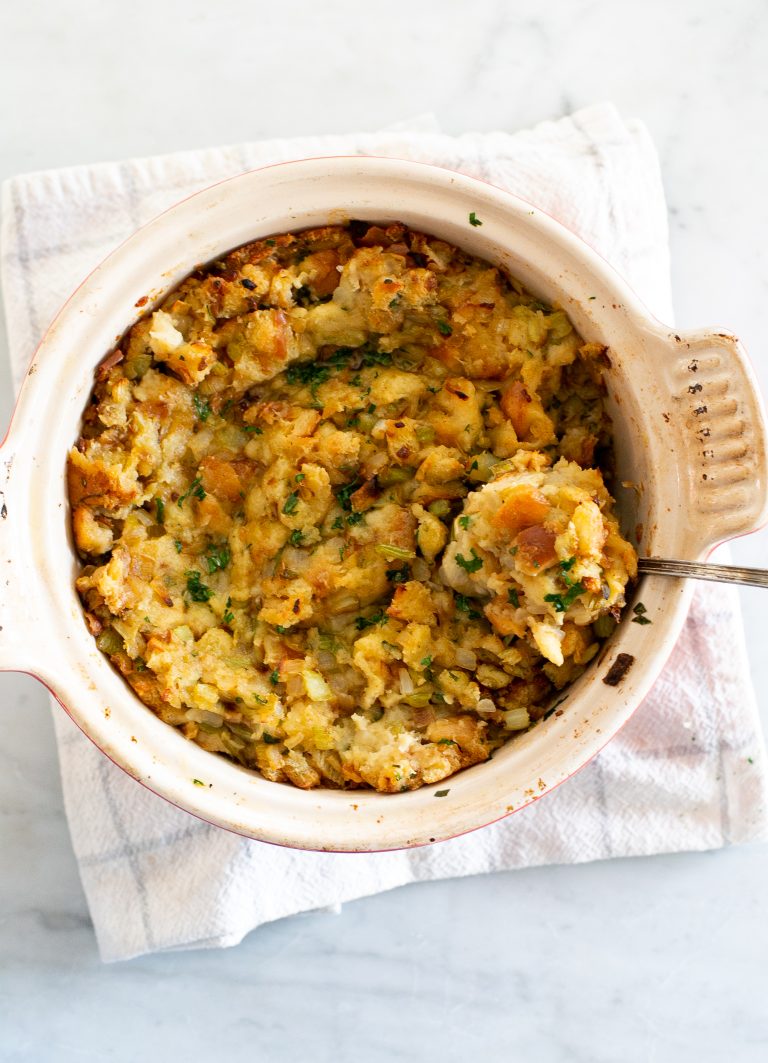 The ingredients of this Thanksgiving stuffing recipe really aren't out of the ordinary as far as stuffing recipes go, but it does contain a whole lot of one thing that we all know makes everything taste better- butter. More than one stick of butter. The original recipe actually contains an entire pound of melted butter and is amazing, but over the years my mom has realized it can still be delicious with a little less butter and a bit more broth.
The butter soaks into the bread and bakes up so amazingly and really creates something magical. If you aren't stuck on a special stuffing recipe this year- I highly suggest you try this family favorite.

Ingredients needed for Easy Stuffing Recipe:
White bread cut into cubes (See notes on which bread to use below.)
Onions
Celery
Unsalted Butter
Chicken broth or chicken stock
Parsley
Paprika
Supplies needed for this Classic Stuffing Recipe:
Large Bowl
Large skillet or dutch oven
Casserole dish

How to make my Great Grandma's Stuffing Recipe:
Prepare a baking dish by rubbing some butter around the bottom and sides.
Cube your bread into small pieces and add it to a large bowl. You can cut the crusts or leave them on- I have found I love this recipe both ways.
Place a large skillet over medium-high heat. Melt about 4 tablespoons of butter and brown your onions. You want them clear and starting to brown but totally soft. Transfer them to your large mixing bowl with the bread and repeat the last step with the celery and 4 more tablespoons of butter. (I find it easier to brown them separately.) Add the browned celery to the bread mixture as well.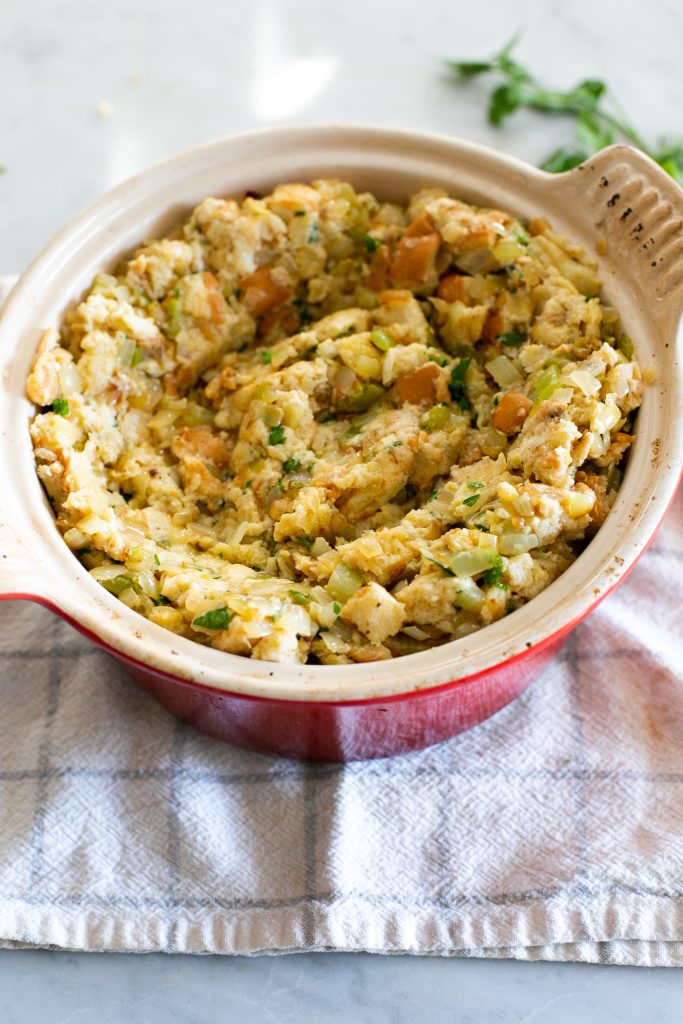 Add the rest of your butter (melted,) the broth, the chopped parsley, paprika and salt and pepper to taste. (I always try it before adding more salt because some broth is saltier than others.) Use your hands to really mix everything together well. You want the bread to really absorb the liquid.
Transfer the stuffing to the prepared baking dish and spread it into the pan, raising it a bit around the edges with a bit of a well in the center of the stuffing. (This helps it bake more evenly.) If making in advance, cover with plastic wrap or aluminum foil, and store in the fridge. On Thanksgiving day bring the stuffing out to room temperature for an hour and then bake.

What type of bread is best to use for this stuffing?
I like my cubes of bread from a basic sliced white bread from the grocery store that is sturdy. Something like "Country White" usually works well. Sourdough bread adds a nice flavor and also can work too, though sometime I find it a bit firm for this recipe. Ultimately though, use what you have. French Bread, hot dog buns, stale bread of any kind- all can work for this easy stuffing!
How do I store any leftover stuffing?
In an airtight container, leftover stuffing can be frozen for up to a month or stored in the fridge for up to 4 days.

Optional ingredients to add:
Fresh herbs: sage or rosemary would be delicious, but dry herbs could work here too.
Ground turkey meat or Italian sausage (my great grandmother did put ground turkey meat into her sausage but over the years we decided we liked it better without it.)
Old Bay Seasoning– Do not sleep on this one folks! A reader commented that her grandmother always used Old Bay in her stuffing and so I tried it recently. It is SO good and a great alternative to paprika.
Other favorite Thanksgiving Side Dishes:
If you make my favorite stuffing recipe and enjoy it- please comment and leave a review!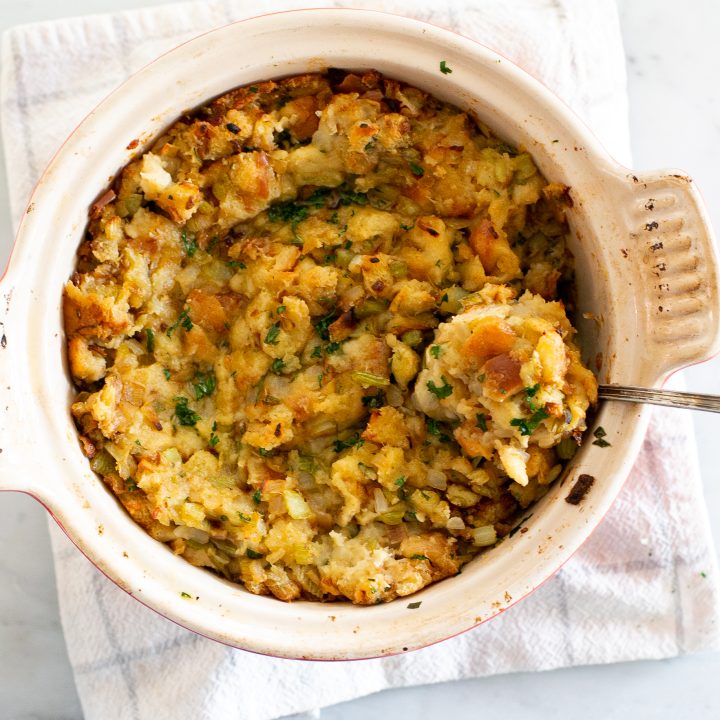 Easy Stuffing Recipe
Ingredients
4 cups of diced onions, (from about 4 medium onions)
4 cups of diced celery
3 sticks of unsalted butter
32 slices of hearty white sandwich bread*
1 1/2 cups chicken broth (or vegetable broth is fine too)
2/3 cup chopped parsley**
2 tablespoons salt***
2 tsp paprika
Instructions
Either one at a time, or in two separate saucepans, brown the onions and celery separately in about 1 tablespoon of the butter each. (Over the years we've determined it's much easier not to brown them together- it takes way longer and they don't brown at the same rate.)
When brown, transfer the onion and celery into a large mixing bowl and set aside to cool slightly.
Trim the crusts of the bread (I've made it before not trimming the crusts and while it's still good, I like the crust-free texture better.) and cut it into cubes. Transfer cubes into the same bowl as the onions/celery.
Melt the remaining butter and pour it into the bowl along with the broth, parsley and paprika. Mix together with your hands thoroughly.
Add the salt- one tablespoon first, and then taste the mixture to see how much more you need. (If you are using extremely salty broth you may need a little less. I usually use the whole amount.)
Spread stuffing into a 9x13 or other similar sized baking dish. If the pan is too packed in the center it will be difficult to heat, so I like to made the middle of the dish a little bit scooped out so it bakes for less time.
At this point the stuffing can be covered air-tight and stored in the fridge overnight until you're ready to bake it and serve. When that time comes- bake at 375 for 30-45 minutes, depending on the thickness of the pan. It is done when the top is crisp and the inside is hot.
Notes
*You don't want to use something flimsy like Wonderbread for this or the bread will disintegrate with all the liquid. Any heartier white sandwich bread will do- I like the kind called "Country White"
**Old Bay Seasoning is a wonderful sub for Paprika- I may even like it better if I'm willing to stray from the original recipe.
***I used to just add the full 2T of salt every time I made this, but this last time I used a new type of salt that happened to be "saltier" it made the result a little salty, so now I recommend adding it gradually and tasting to see how much you need.