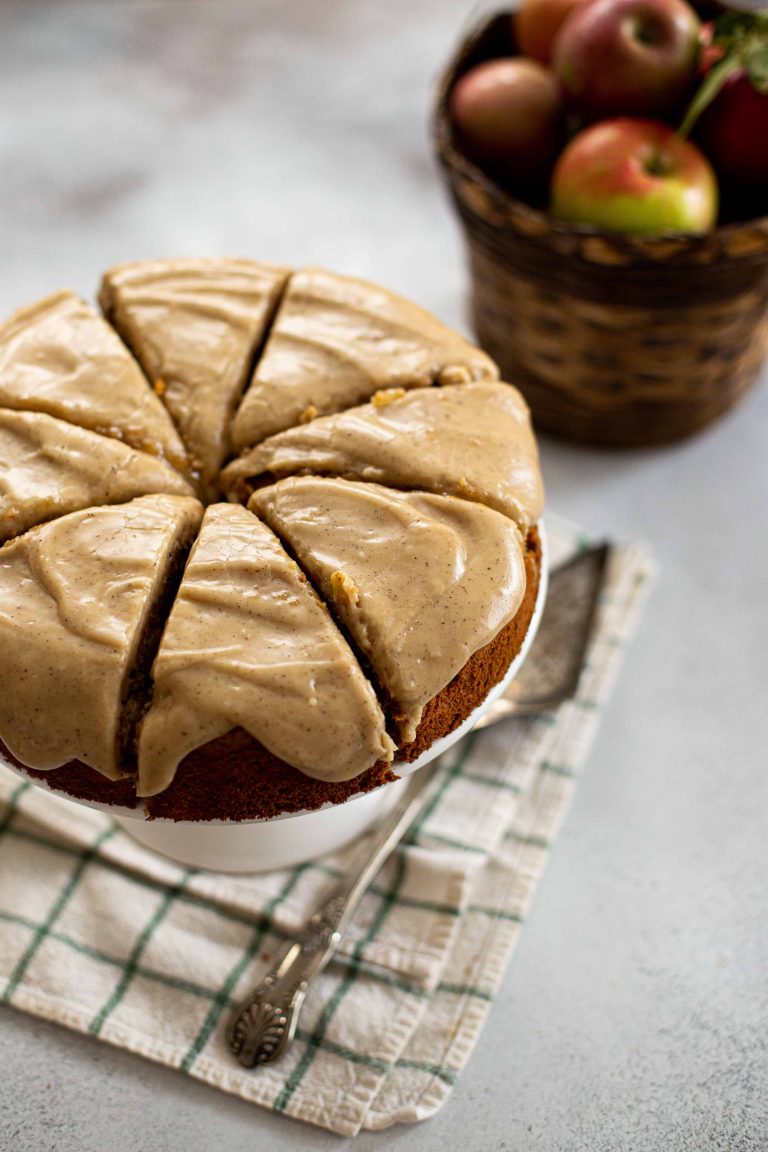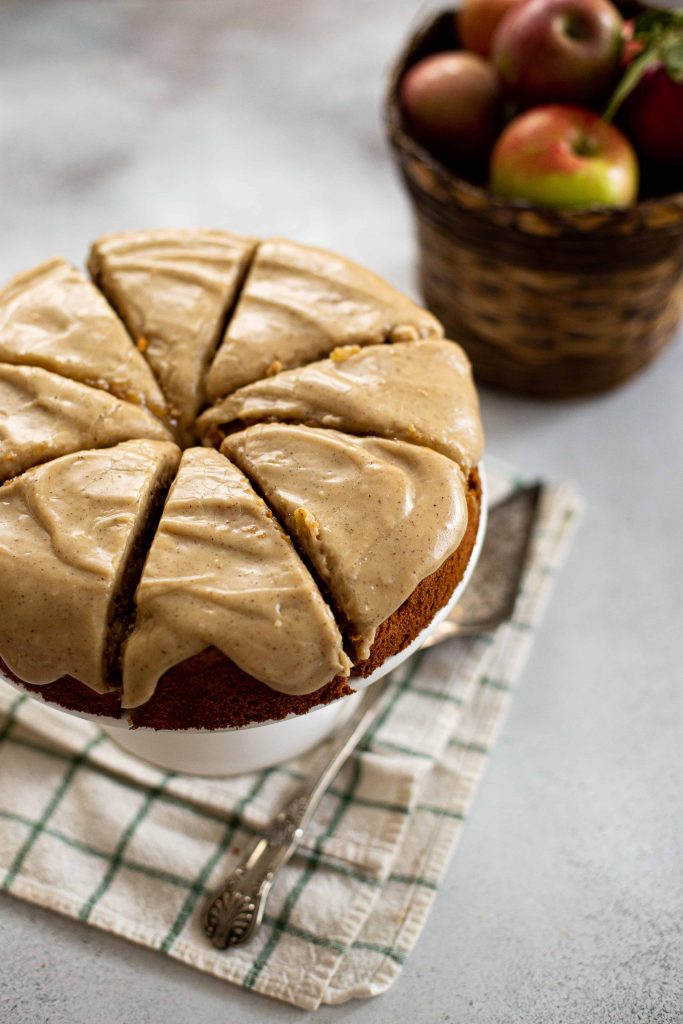 Have you been apple picking this fall?
If so, chances are your kitchen is full of bags of shiny apples just waiting for a delicious fall creation. In my kitchen there's always a batch of homemade apple sauce on hand, (no recipe I always just wing it,) a Caramel Apple Upside Down Cake and at least one Apple Pie.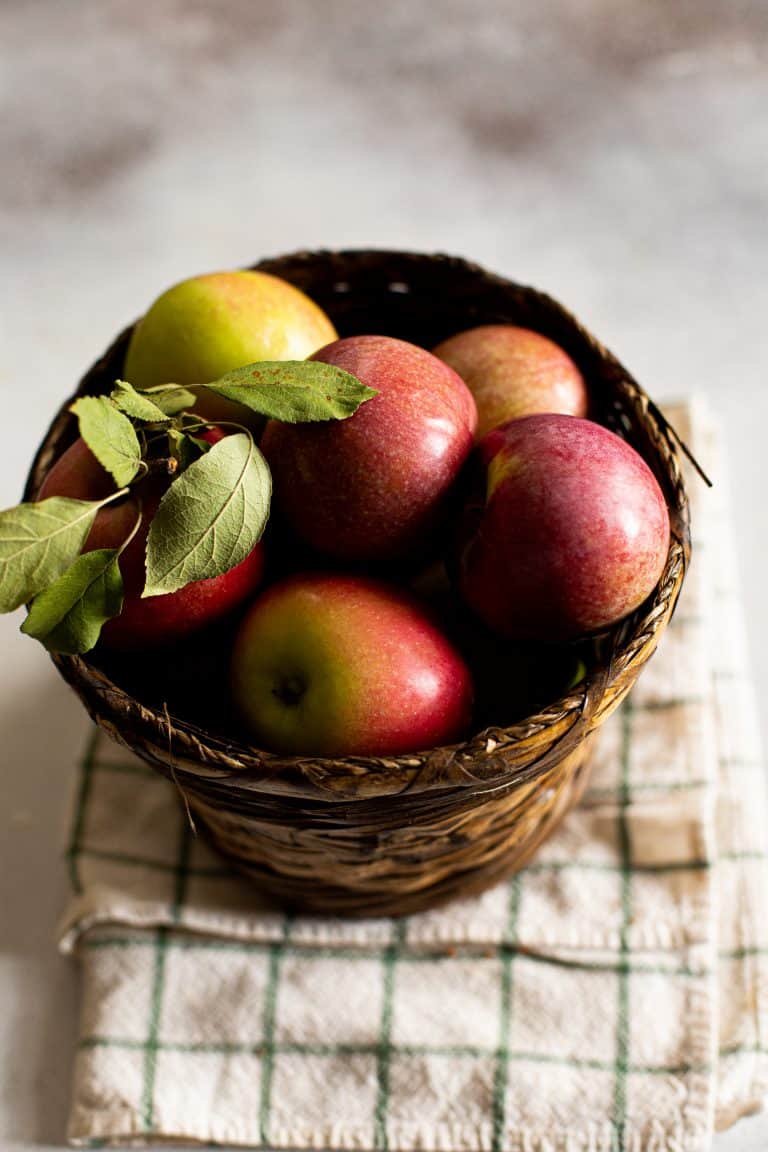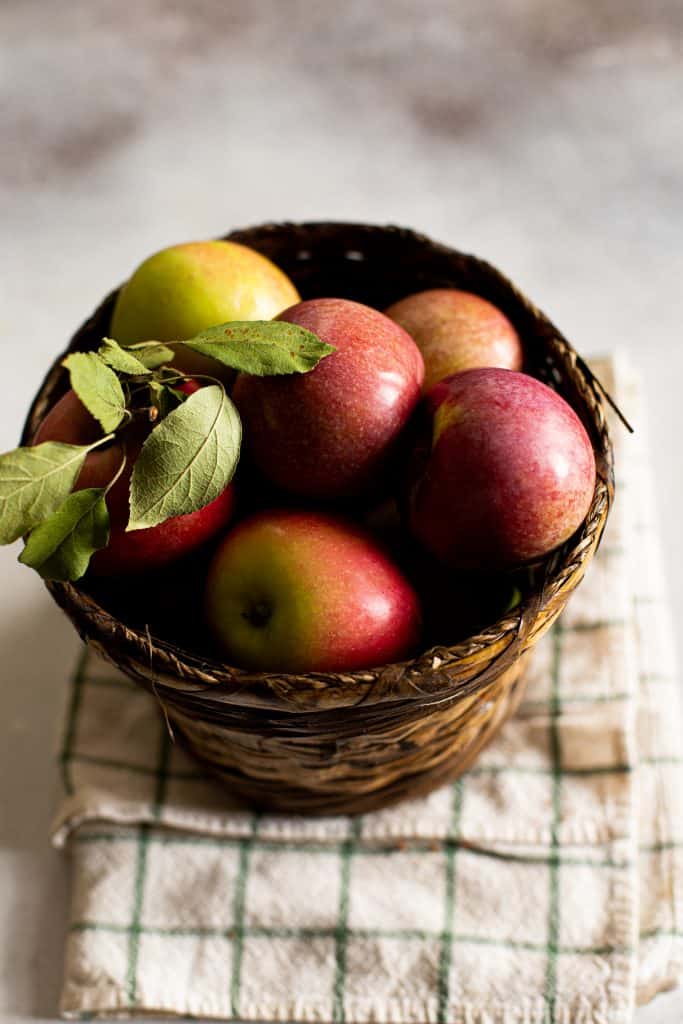 This year, I decided to blend together a few of my favorite recipes from the last few falls to make one amazing fall cake. As a base, I used the Easy One-bowl Spice Cake I shared last year, adjusting the spices a touch and adding in 2 cups of tart apple chunks.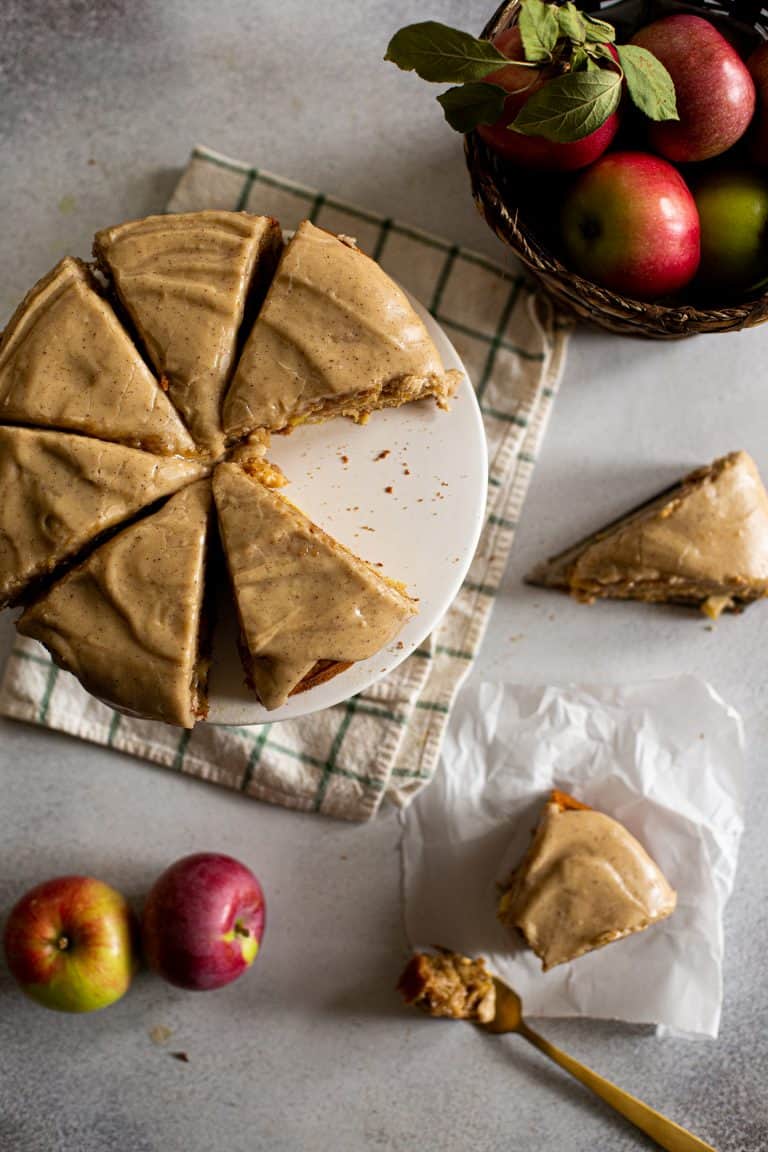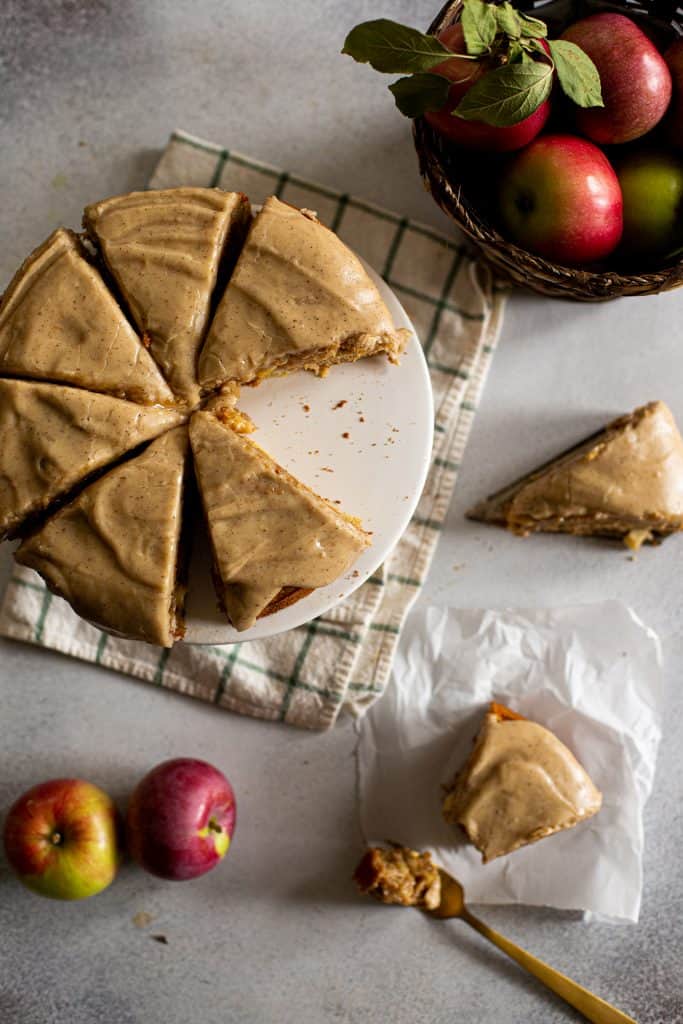 It baked up beautifully and I topped it with the absolute best brown butter glaze that I made for my Pumpkin Buttermilk Bundt Cake with Brown Butter Glaze a few years ago. I have to say the flavor combo was out of this world!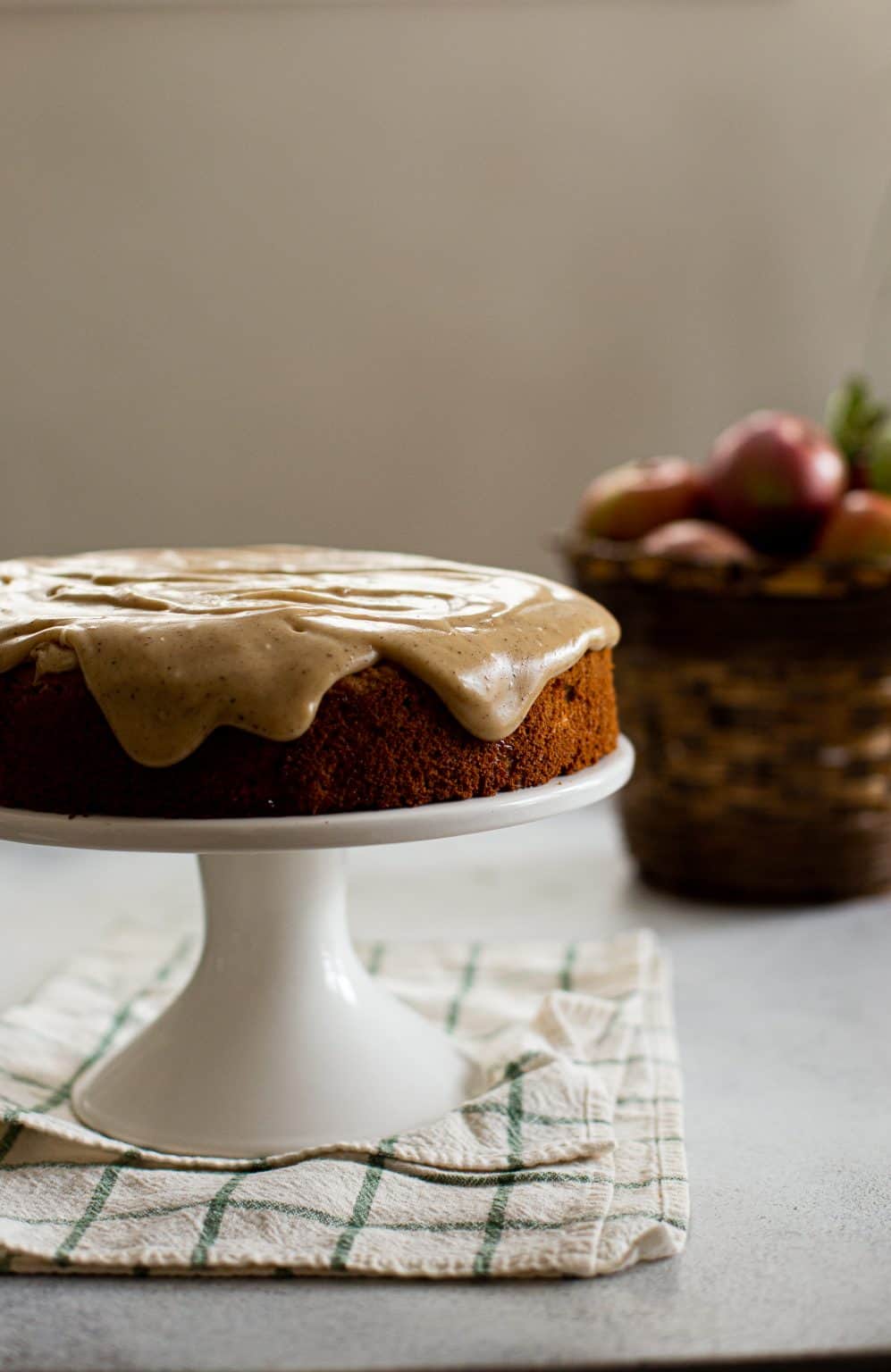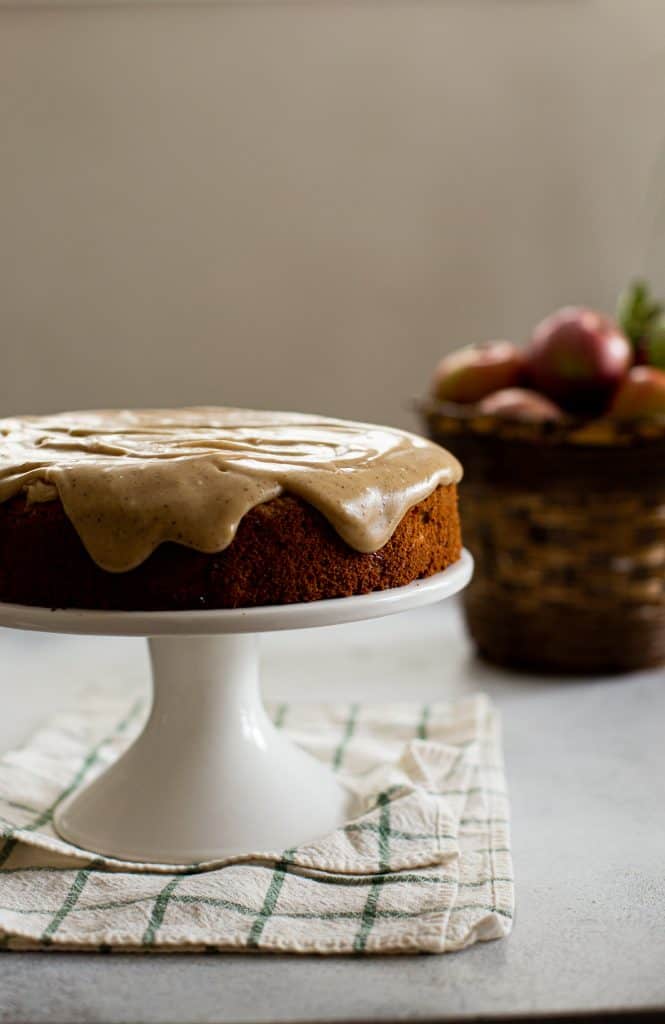 You know those cakes that almost get more moist and flavorful when wrapped up for a day or two? This is one of them! The base cake is seriously such a perfect texture, and the apples make it even better.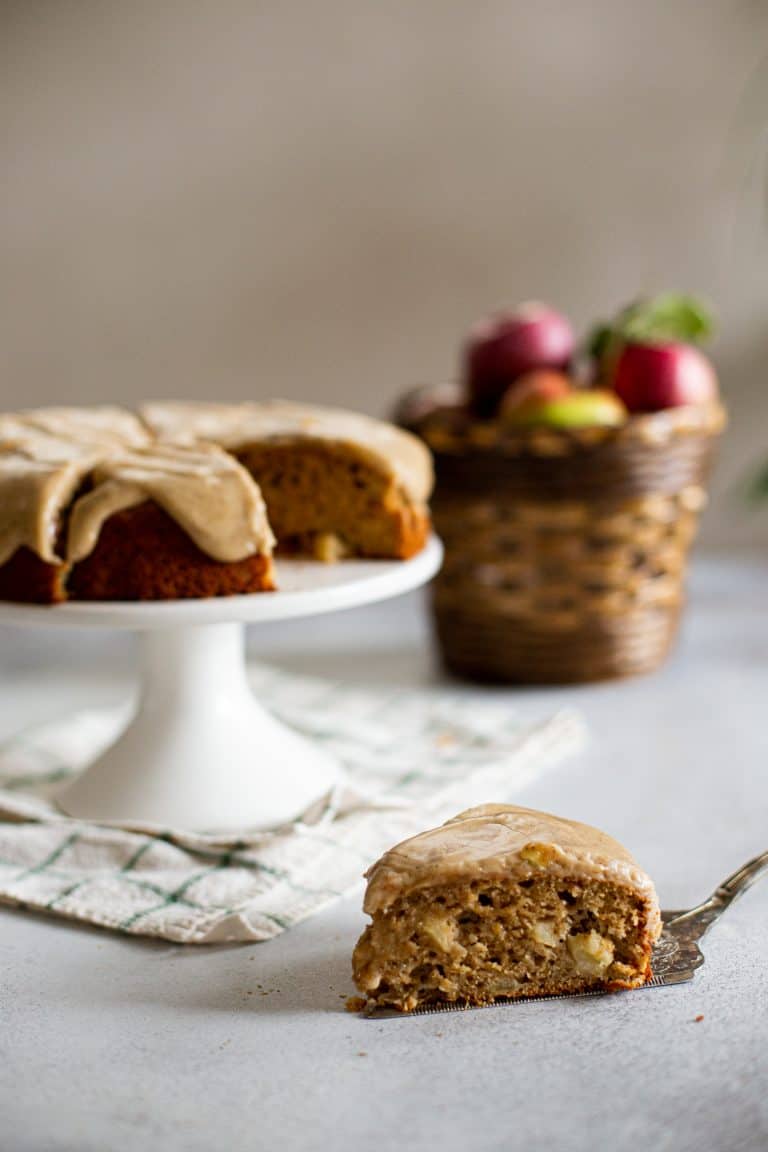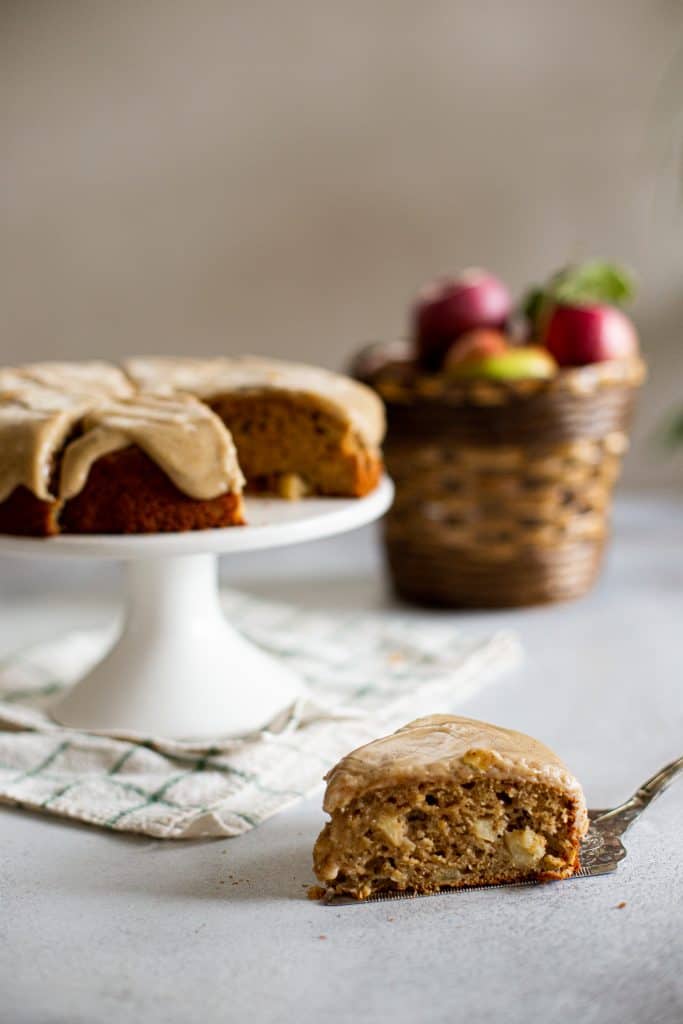 The glaze, with a toasty brown butter as the base, isn't overly sweet but adds the perfect depth of flavor that makes this whole cake next level.
If brown butter isn't your thing, (who are you though?) the cream cheese frosting I used for the spice cake would be great as well!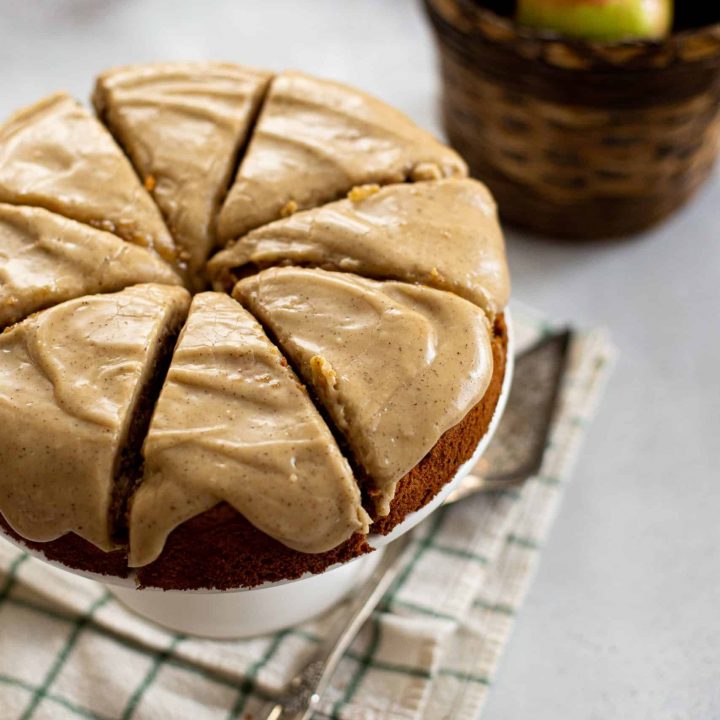 Apple Spice Cake with Brown Butter Glaze
Ingredients
For the cake:
2 1/4 cups (270g) all-purpose flour
1 1/2 teaspoons baking powder
1/2 teaspoon baking soda
1/2 teaspoon salt
1 teaspoon ground cinnamon
1/2 teaspoon ground nutmeg
1/4 teaspoon ground ginger
3/4 cup light brown sugar (lightly packed)
3 eggs, room temperature
1/2 cup extra virgin olive oil
1 teaspoon vanilla extract
1 cup (240 g) unsweetened applesauce
1/4 cup (85g) honey
1/2 cup (120ml) whole milk
2 cups of peeled and diced tart apples
For the glaze:
1 stick of butter, browned
2 cups of powdered sugar, sifted
2 teaspoons vanilla extract
2-4 tablespoons milk
Instructions
Preheat oven to 350. Generously butter or spray a 9-inch springform pan or other similar-sized pan (See notes!)
In a large mixing bowl, combine the flour, baking powder, baking soda, salt, spices and brown sugar. Stir to combine.
Make a well in the middle of the bowl and add the eggs, olive oil, vanilla, applesauce, honey, and milk. Mix together gently and then incorporate into dry ingredients, mixing until just combined, with no streaks or dry areas.
Fold in diced apples .
Spoon into prepared pan and smooth with the back of a spoon. Bake on a middle shelf for 33-38 minutes, or until a toothpick inserted into the middle of the cake comes out with a few moist crumbs.
Allow cake to cool on a wire rack before frosting. (You can release from the springform after 10-15 minutes to cool it more quickly. Just run a knife around the edge first.)
For the glaze:
Pour the browned butter into a bowl and whisk in the 2 cups sifted powdered sugar and vanilla, stirring until smooth. Add the milk, a tablespoon at a time until the desired consistency is achieved.
Drizzle over the cake and serve warm, at room temperature or even cold from the fridge. (This cake tastes even better on days 2 and 3!)
Notes
A note on the baking pan: No springform pan? No problem. You can use a 9x13 baking pan, a 10 inch round baking pan, or even a bundt pan. Just adjust baking time if needed, the thinner the batter, the less baking time will be.
Base recipe adapted slightly from Simple Cakes by Odette Williams
Recommended Products
As an Amazon Associate and member of other affiliate programs, I earn from qualifying purchases.