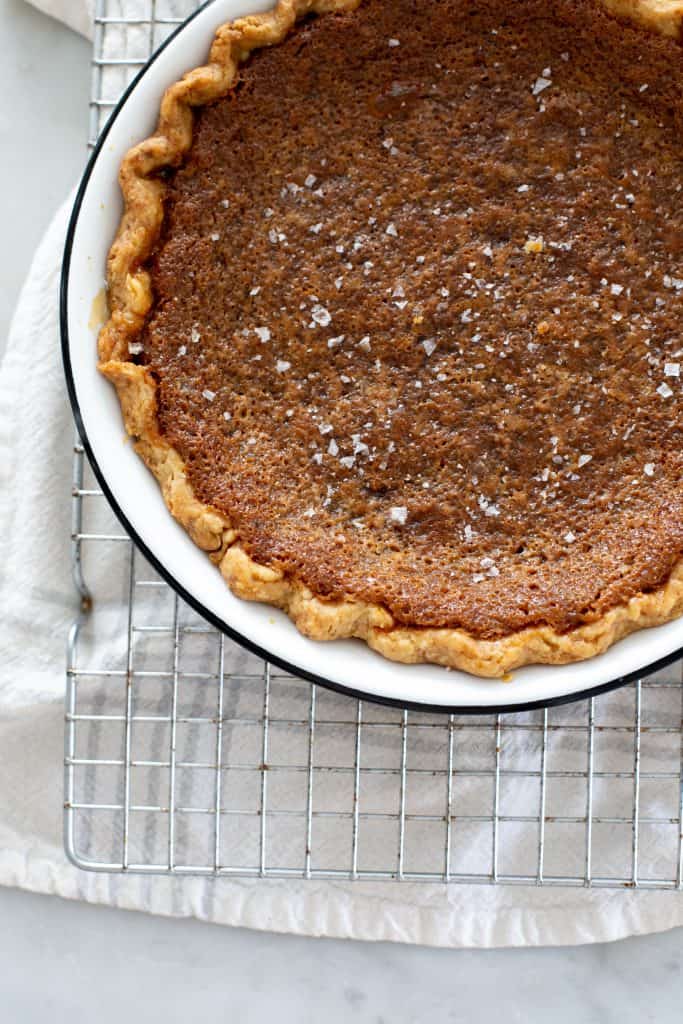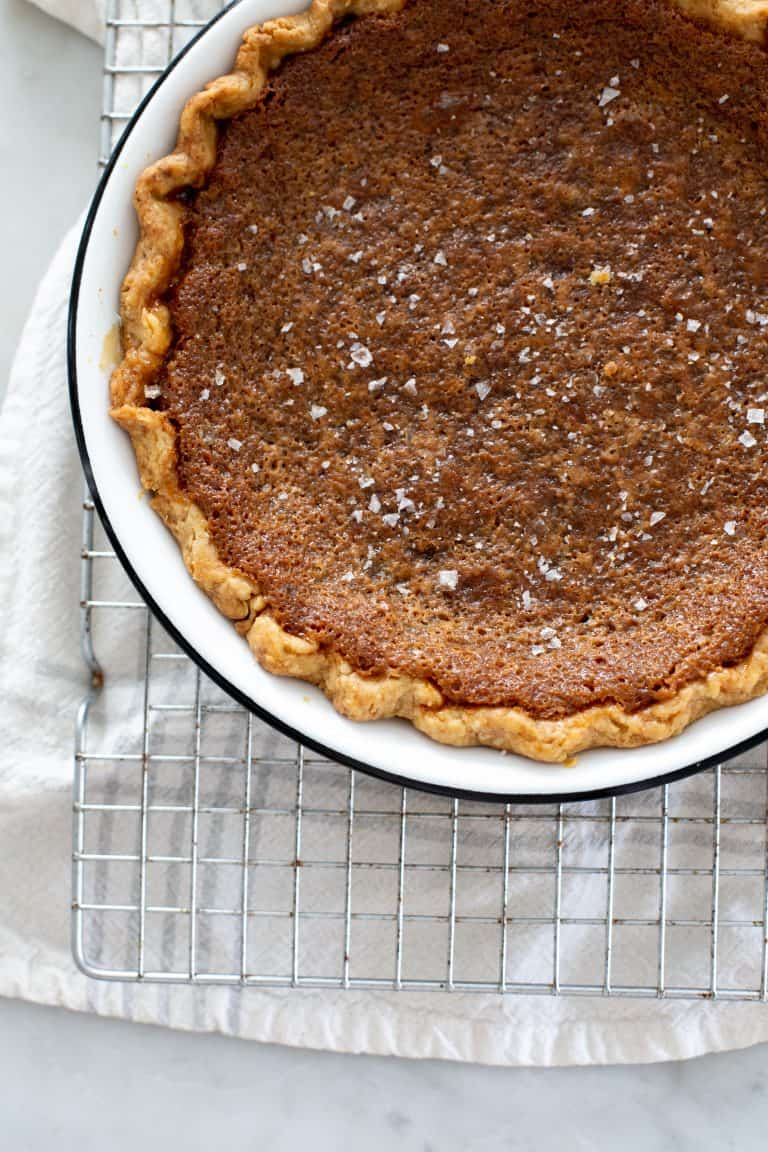 Always on the hunt for new kinds of pie, this year I am coming to you with a rich, caramel-like pie that is simple and so delicious. Brown Sugar Pie has Southern and Canadian roots, but this recipe is a bit of a mash-up of the two versions.
Southern Brown Sugar Pie is a brown sugar chess pie that is custardy without the use of cream, and the Canadian version- called Tarte au Sucre Brun, has no eggs, mostly just brown sugar, butter, and cream. This recipe has both and the final result is full of rich brown sugar flavor, creamy caramel-like filling, is crisp on top and just so good.
This is a sweet pie that is also rich so I paired it with some fresh whipped cream which balanced it really well. The best part of the pie is the flaky crust paired with the gooey filling, crisp top crust and crunch of sea salt sprinkled on top. A small piece is all you need and this easy Brown Sugar Pie recipe has quickly become my absolute favorite.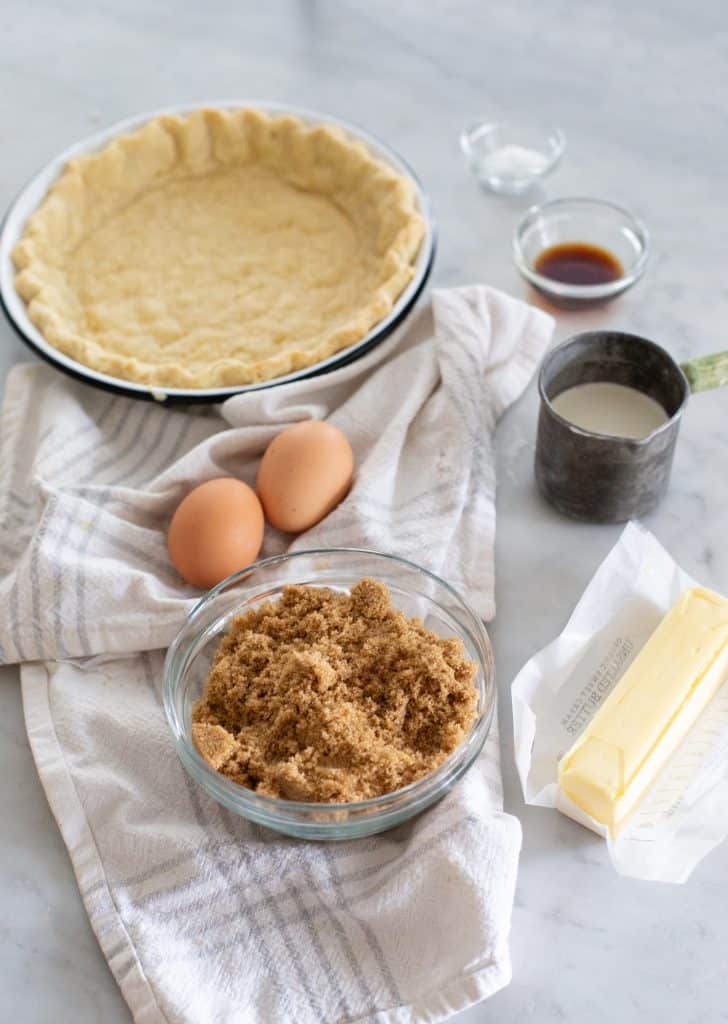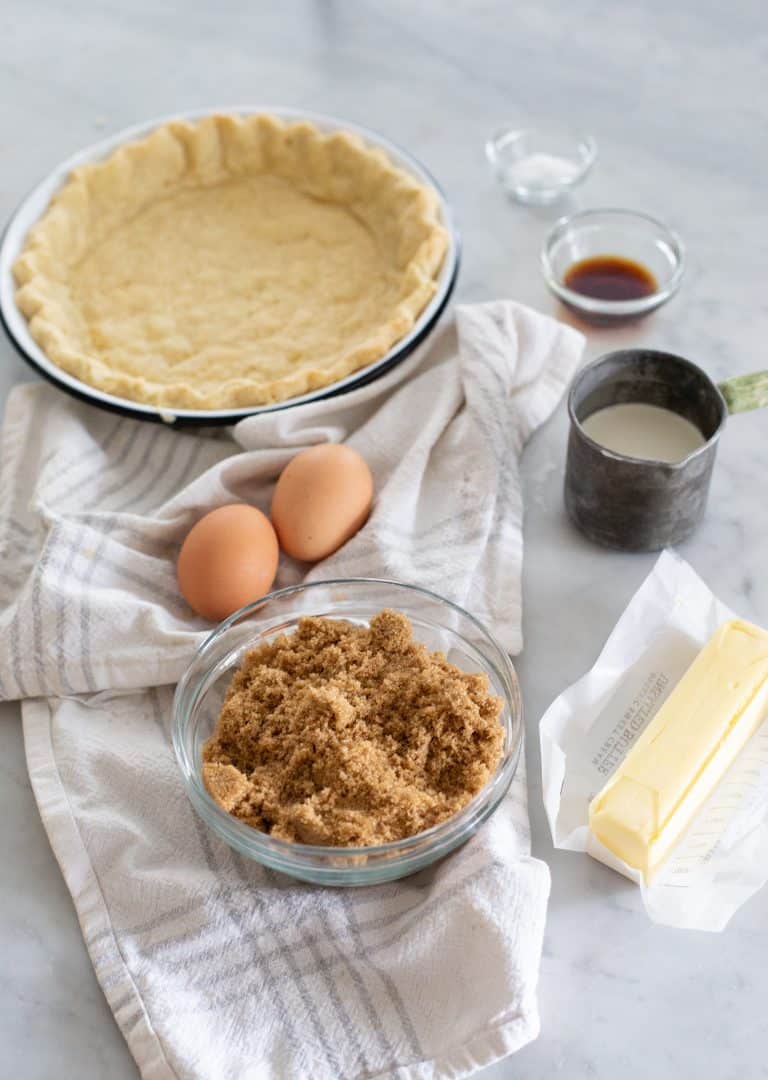 This is a simple dessert and the filling contains ingredients you likely have on hand already. (Including what you need to make your own crust.) Butter, brown sugar, eggs & cream are the perfect ingredients for this delicious and simple pie.
Ingredients needed for Brown Sugar Pie
Pie Crust
Dark Brown Sugar
Heavy Cream
Butter
Eggs
Vanilla Extract
Flakey Sea Salt

Supplies needed for Brown Sugar Pie:
9-inch pie pan
pie weights or dried beans
rolling pin
parchment paper or aluminum foil
wire rack for cooling
Large bowl
The Process:
For pies that don't have a top crust I really recommend par-baking the crust. This gives it a little extra baking time and ensures your finished pie has a crisp bottom crust. It's really pretty simple and I'll outline the process below.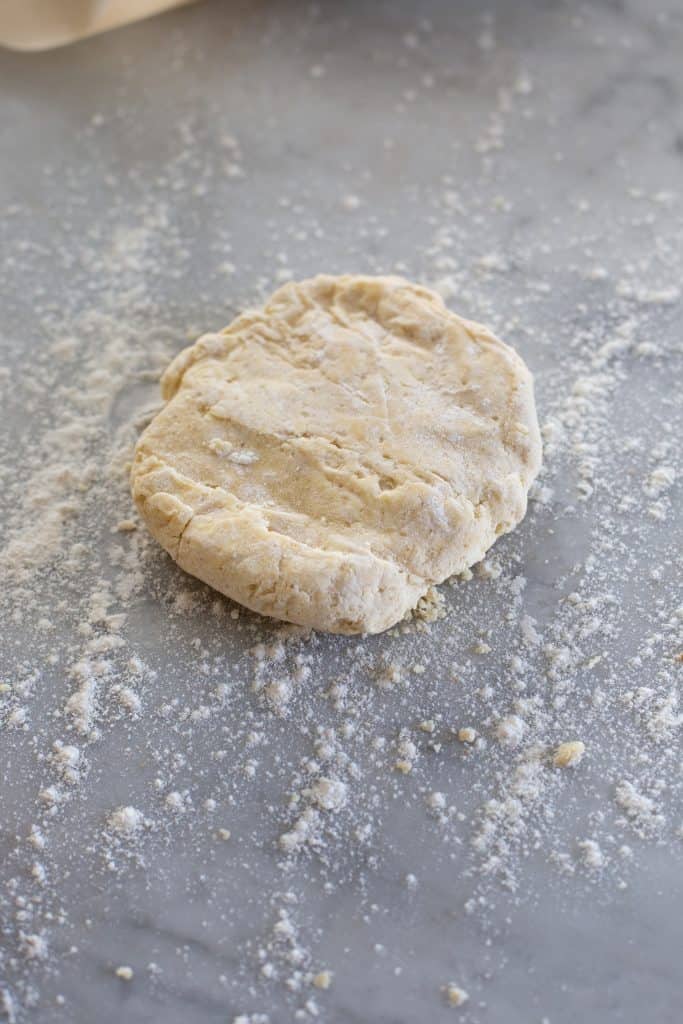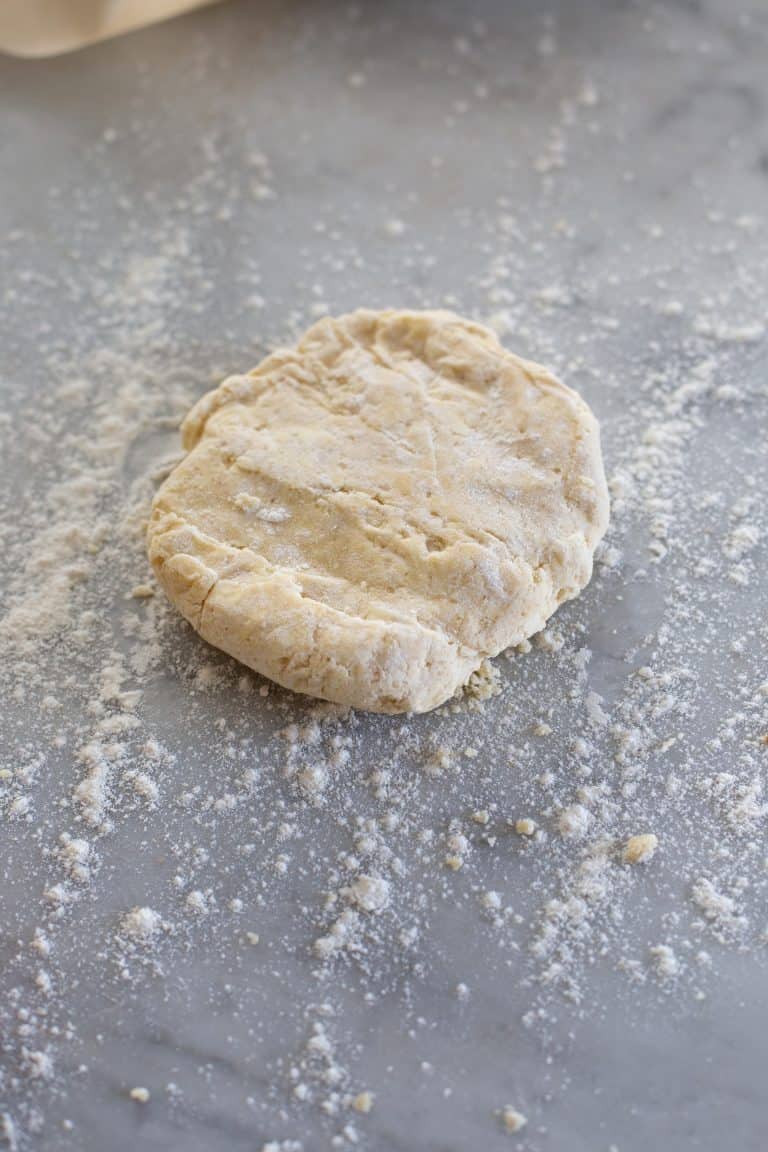 Place dough on a lightly floured surface and roll dough out to a 12 inch circle and drape it into your pie dish. Trim/crimp the edges as desired and prick the bottom of the crust with a fork. Preheat the oven to 375F and drape a piece of parchment paper inside the crust. Fill with pie weights. This keeps the crust from shrinking when you bake it without anything inside. What can I use instead of pie weights? A full post on the subject here.
Bake for 10 minutes and then carefully remove the parchment and bake for 10 minutes more. Your crust will still be pale- not dark golden yet- but will be showing the early signs of done-ness.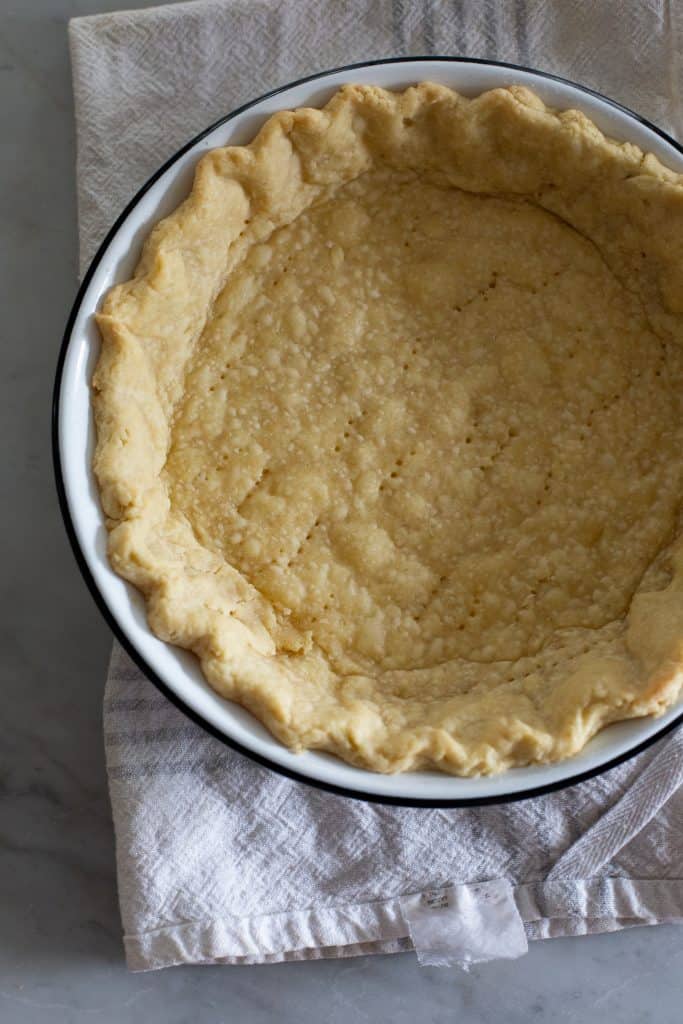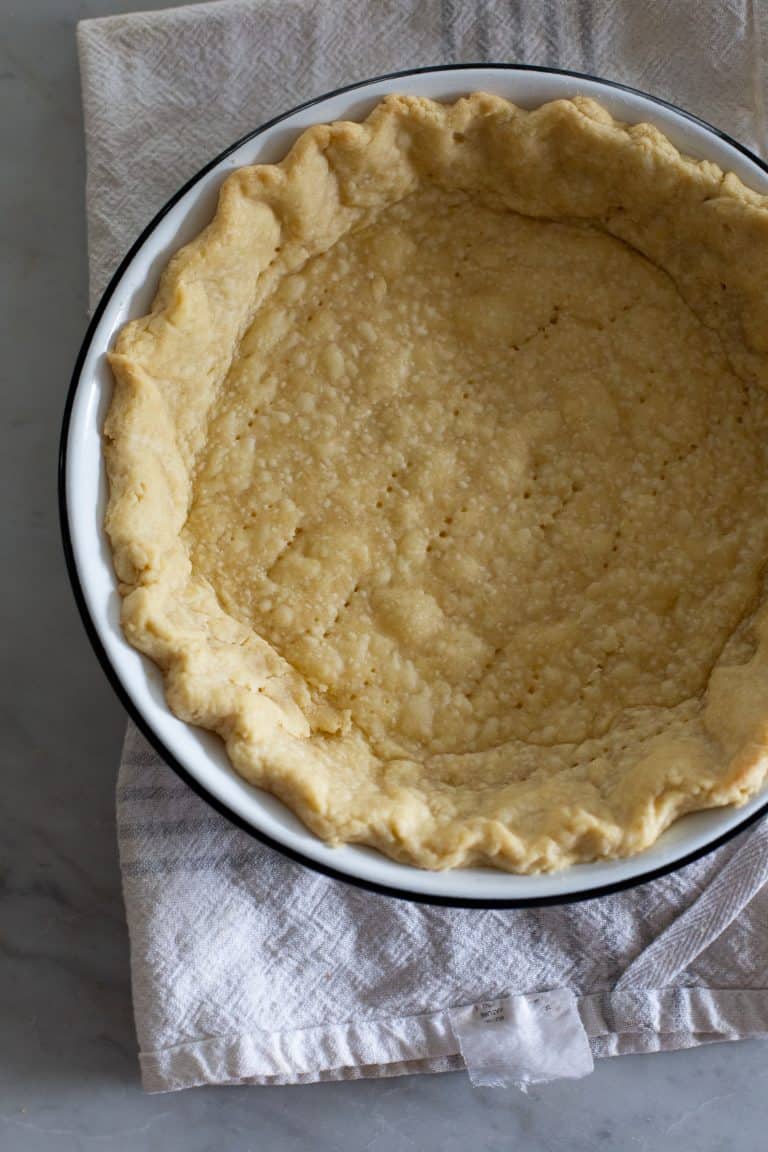 Then mix up the simple filling ingredients in a large bowl, starting with the melted butter and then adding the brown sugar, eggs, cream and vanilla. Pour brown sugar mixture into the crust and sprinkle with a touch of flakey sea salt. (Save the rest for after.) Bake for about 45 minutes or until the center of the pie is firm and not jiggly. Sprinkle the top of the pie with a little more flakey sea salt., then let to room temperature fully before slicing. Enjoy with a dollop of fresh whipped cream or vanilla ice cream.
Do I need to use a homemade pie crust? Or can I get an unbaked pie shell from the store?
I love my Perfect Pie Crust recipe and thing with the use of a food processor it's pretty simple, but if that isn't your thing, yes you may buy an unbaked pie shell or frozen pie crust but I do still recommend par-baking it like I outline above.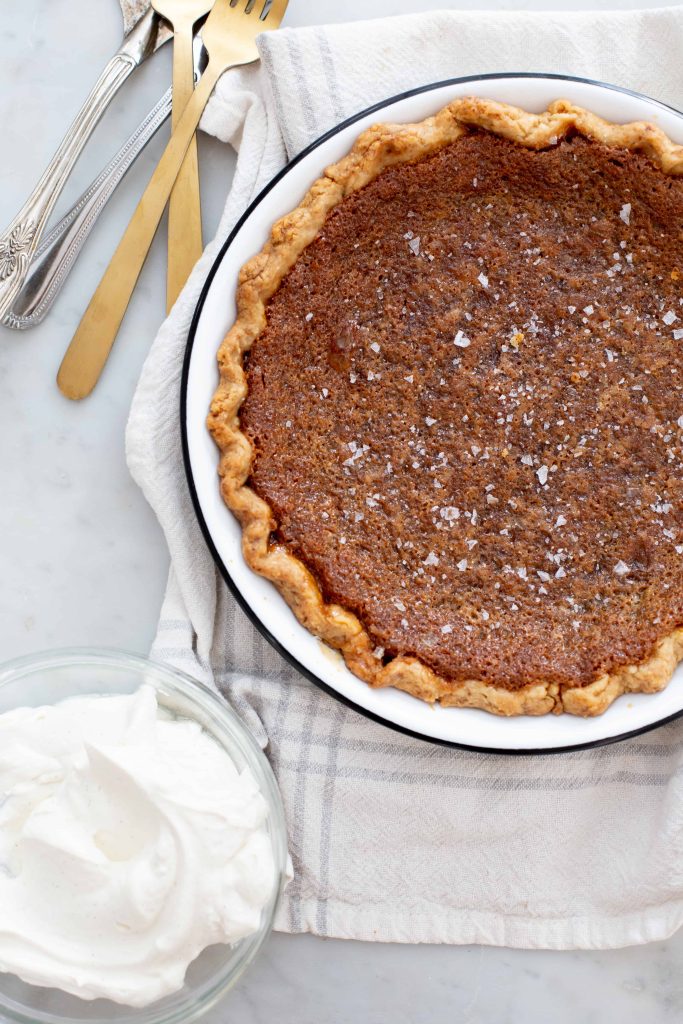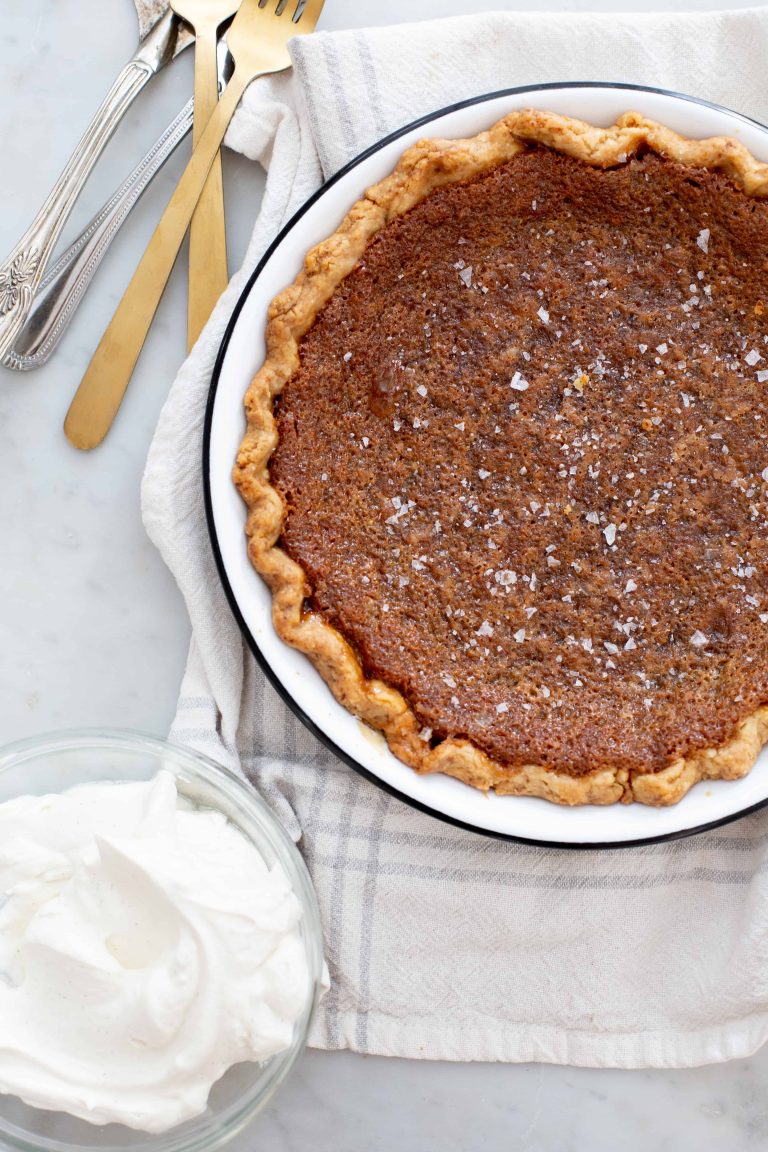 Can I add pecans to the filling and make it pecan pie?
This delicious Brown Sugar Pie is very similar to the base of pecan pie! Feel free to add 1-2 cups of pecans to the filling for Brown Sugar Pecan Pie!
Tips for a flaky crust:
Always use very cold butter and don't let it warm as you handle it. Adding a little vinegar or vodka to your ice water helps too!

Ways to make this pie your own:
Love cinnamon? Add 2 teaspoons to the filling and it will taste like the middle of a cinnamon roll! Add a sprinkle of cinnamon to some fresh whipped cream for an extra touch.
Maple Syrup or honey your jam? Sub out 3/4 cup of the brown sugar for maple syrup or 1/2 cup of honey. (Similar versions- my Salted Maple Chess Pie and Salty Honey Pie!)
How to store Brown Sugar Pie:
If you make your pie in advance and want to store the whole pie, I recommend wrapping it snugly with plastic wrap and leaving it in room temperature for up to 2 days. Alternatively you could store it in the fridge for 3-4 days. Individual slice could be store for the same amount of time in an airtight container.
Other favorite pie recipes:
Easiest Key Lime Pie, Brown Sugar Banana Cream Pie, Brown Sugar Pumpkin Pie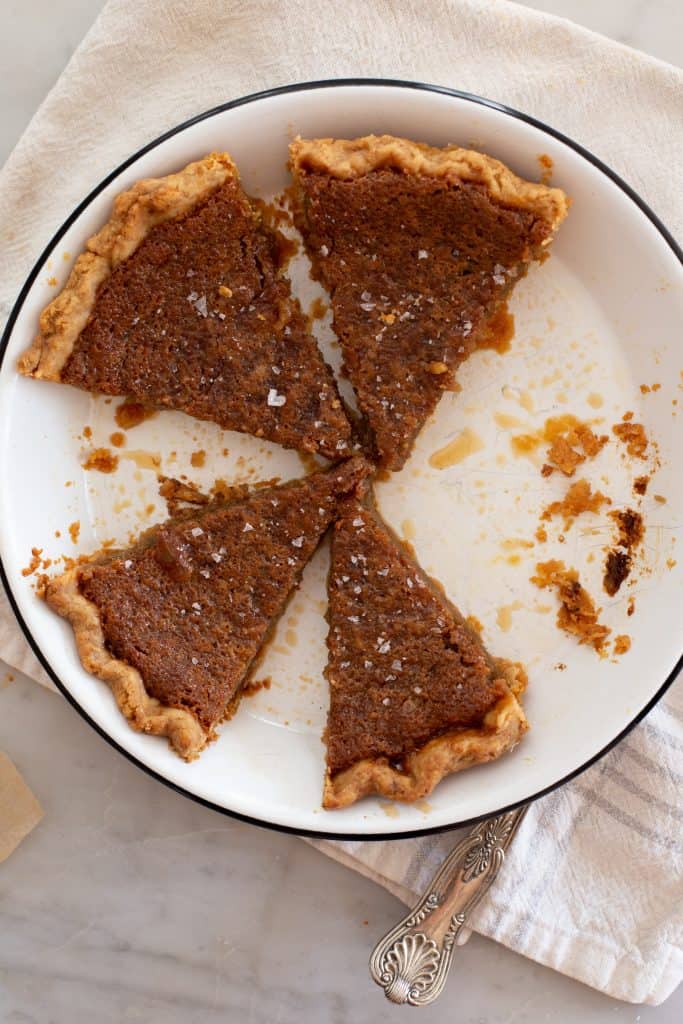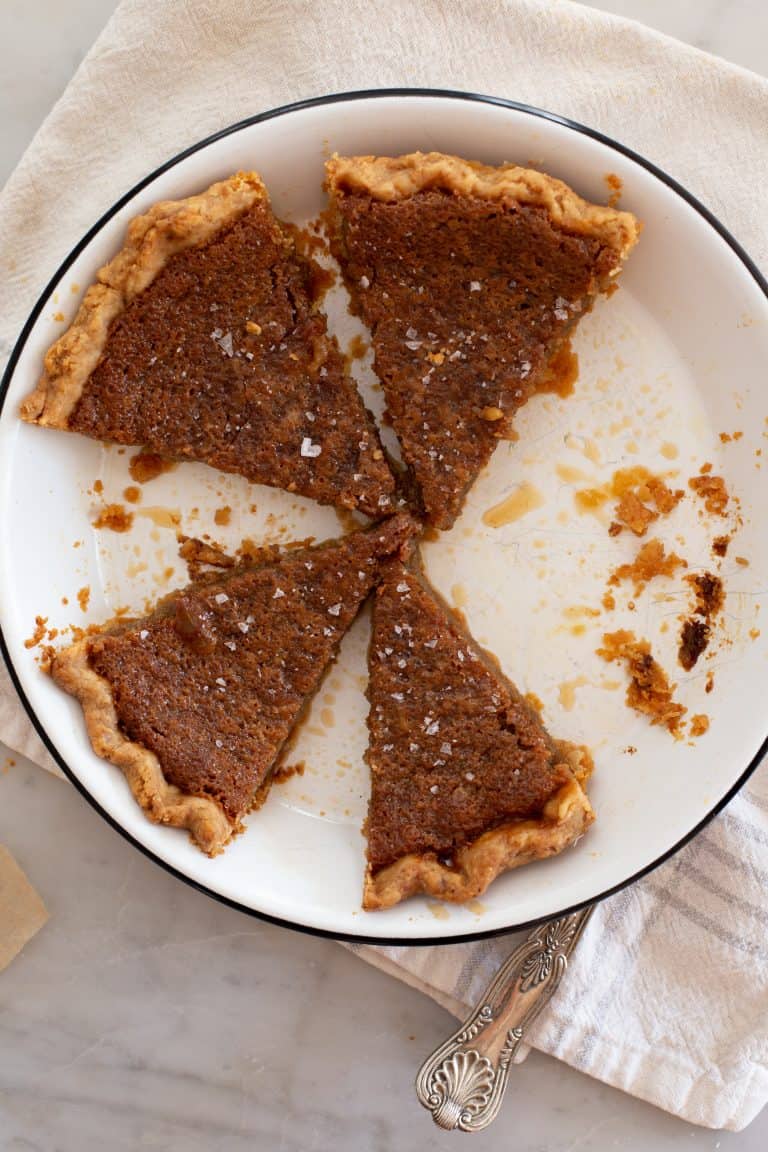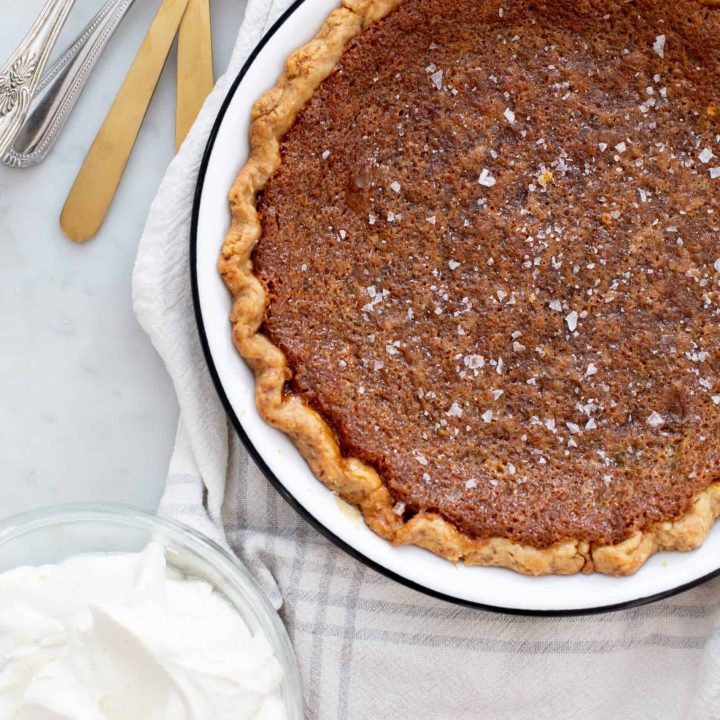 Brown Sugar Pie
Total Time:
2 hours
5 minutes
A simple pie with rich brown sugar flavor and a touch of sea salt.
Ingredients
1 single layer pie crust*
1/2 cup heavy cream (120 g)
1 tablespoon vanilla extract (42 g)
1 3/4 cup brown sugar (280 g)
1 stick butter, melted ( 4 oz)
2 eggs
flakey sea salt for sprinkling
Instructions
For the Crust:
Roll dough on a lightly floured surface to a 12 inch circle. Transfer to a 9 inch pie plate and fold over/crimp/trim edges as desired.
Prick bottom of the crust with a fork and line with parchment paper. Pop entire crust into the freezer while you preheat the oven to 375F.
Fill crust with pie weights or dried beans and bake for 10 minutes.
Remove parchment/weights and bake for 10 additional minutes.
For the filling:
In a large mixing bowl whisk all the filling ingredients together until smooth and creamy, but don't over-mix.
Pour into the par-baked pie shell and bake at 350F for 45-55 minutes or until the center of the pie no longer jiggles with you gently move the pie dish. (If your crust is geting too dark, you can cut a circle out of a sheet of foil and place the "donut" shake over the edge crust.)
Allow to cool before slicing and serving with whipped cream or ice cream.
Notes
My favorite pie crust is here: You only need half a recipe for this pie.