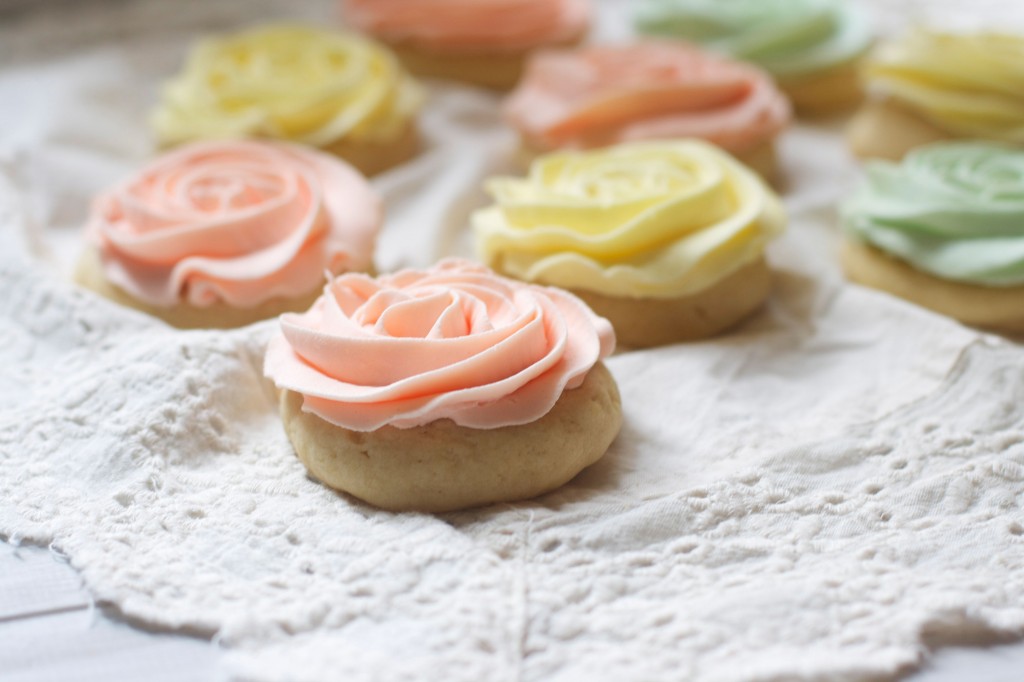 It's finally gonna be spring this week! Though my favorite season is Fall, Spring is a close second. As soon as the temperatures hit the 50s- it seems as if the whole mood of NYC shifts. Since by nature we New Yorkers spend much of our time outside getting from place to place, pleasant weather makes the world of difference. Soon it will be even warmer and the outdoor patios will open, Central Park will become a universal picnic ground, and my kitchen will become a balmy 100 degree workspace. Anyway… :)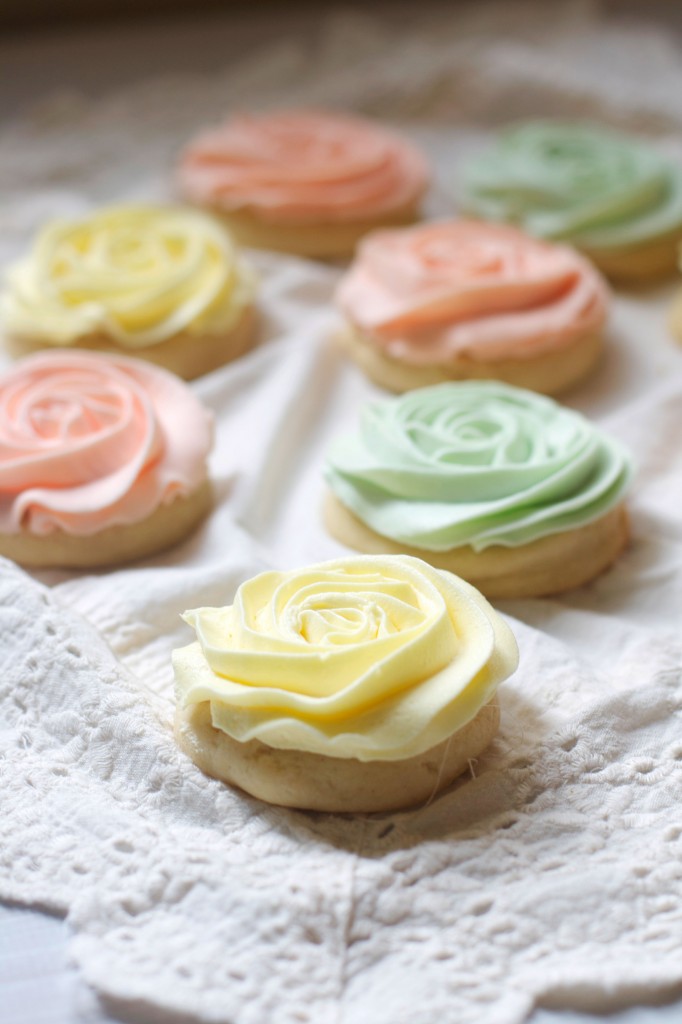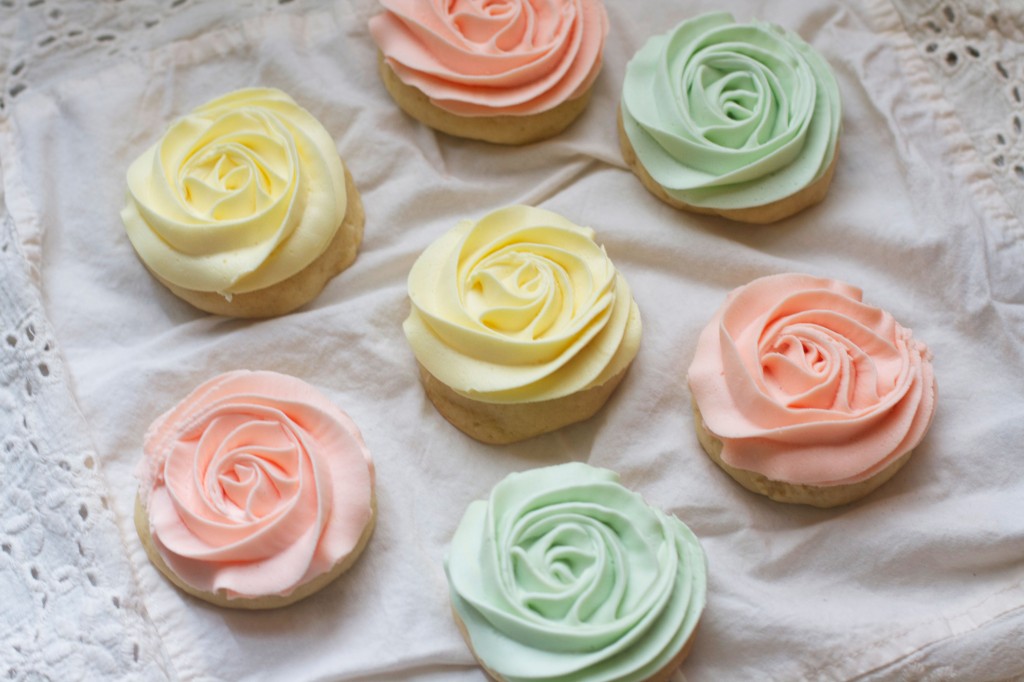 I've made rose cupcakes a few times before and it's amazing how such an easy frosting technique really seems so beautiful and impressive. This soft sugar cookie is topped with sweet vanilla lemon buttercream that adds an extra brightness to the not-too-sweet cookie base.
Does this frosting technique seem tricky? I promise it is easy as can be. I recently taught my mom who was convinced that I had some fancy cake decorating training up my sleeve. (I really don't.) I plan on eventually creating a video tutorial to show this, but in the meantime let me break it down for you.
1-Fit a frosting bag with a large, star tip. (I use either Ateco #844 or Wilton #1M)
2- Fill your bag with frosting- leave a good three inches empty on the top so it doesn't ooze out as you're frosting the cookies.
3- Hold a cookie with one hand and the frosting bag with the other. Start in the center of the cookie- and pipe in a circular motion counter clockwise. (I think for these cookies I went around 3 times.)
4- That's it! Seriously so easy.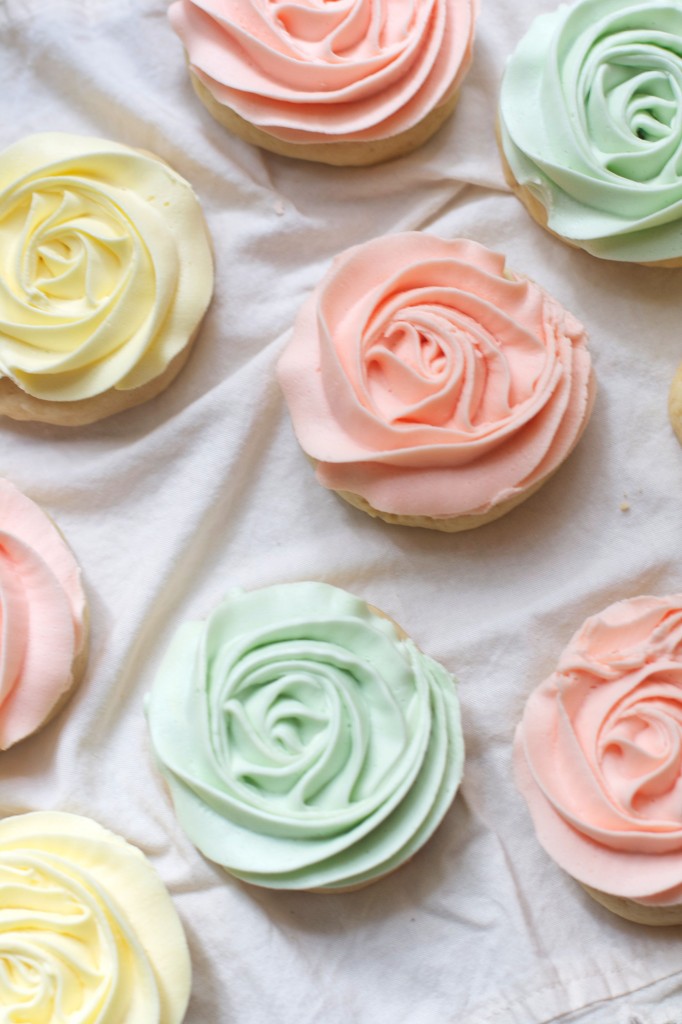 PS-I'm still in Europe. I'll be checking my email periodically, but please be patient as it may take awhile for me to respond to comments/emails. :)
Pastel "Rose" Sugar Cookies
Yield:
2 dozen large cookies
Ingredients
4½ cups all-purpose flour
4½ tsp. baking powder
¾ tsp. salt
1½ cups (3 sticks) unsalted butter, at room temperature
1½ cups sugar
3 large eggs
5 tsp. vanilla extract
For Frosting:
2 sticks unsalted butter, room temperature
3-4 cups powdered sugar
1 teaspoon vanilla extract
1 teaspoon lemon extract (or 2 tsp lemon juice)
milk or cream as needed.
Instructions
To make the cookies, preheat the oven to 350 F. Line baking sheets with parchment paper or silicone baking mats. Set aside.
In a medium bowl combine the flour, baking powder and salt, and whisk together to blend.
In the bowl of an electric mixer, combine the butter and sugar and beat together on medium-high speed until soft and fluffy, about 2-3 minutes. Beat in the eggs one at a time, mixing well after each addition and scraping down the bowl as needed. Blend in the vanilla. With the mixer on low speed, add in the dry ingredients mixing just until incorporated and evenly mixed. Cover and chill the dough for 1 hour.
When you are ready to bake the cookies, scoop a scant quarter cup of dough and roll into a ball. Flatten the ball slightly and place on the prepared baking sheet.
Repeat with the remaining dough, spacing the cookies at least 2-3 inches apart. Bake about 10-12 minutes or just until set. (Don't over bake- the cookies will be very pale and the edges will only be slightly golden if at all.)
Let cool on the baking sheet for several minutes. Transfer to a wire rack to cool completely.
For Frosting:
In a medium sized bowl, whip the butter with an electric mixer until creamy and fluffy. Gradually add 3 cups of the powdered sugar, one cup at a time and mix until thick and well-combined. Add the vanilla and a tablespoon of milk or cream, and mix on medium high until fluffy. If you want to thin your frosting out a bit- add more milk, OR- add more sugar if you want it to be stiffer.
Cookie Recipe from Hostess with the Mostess (via Annie's Eats)