Pumpkin Salted Caramel Layer Cake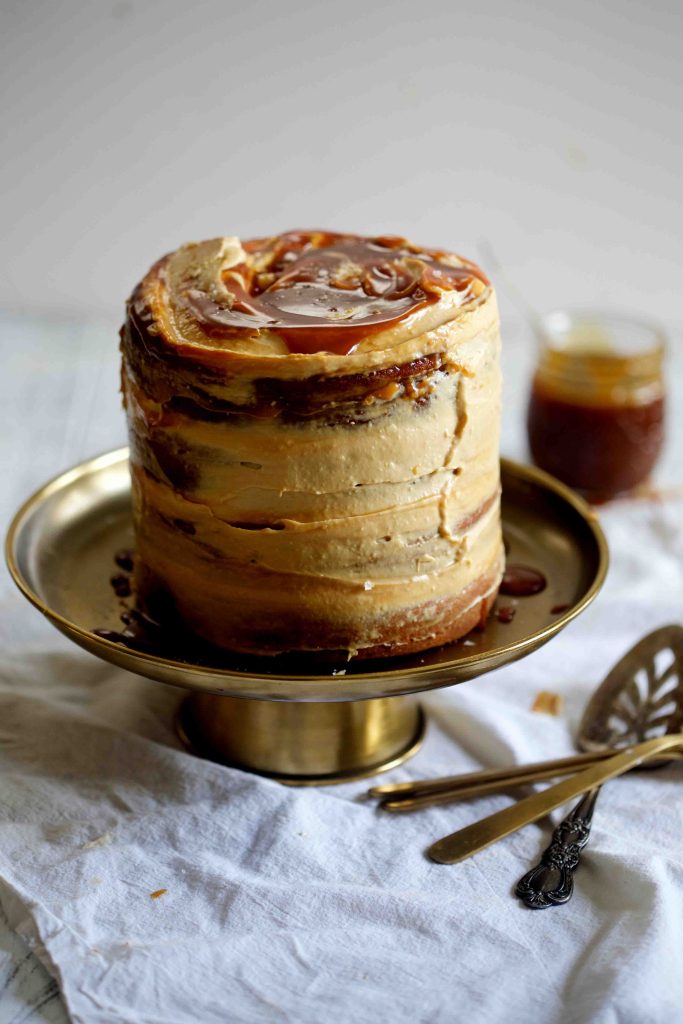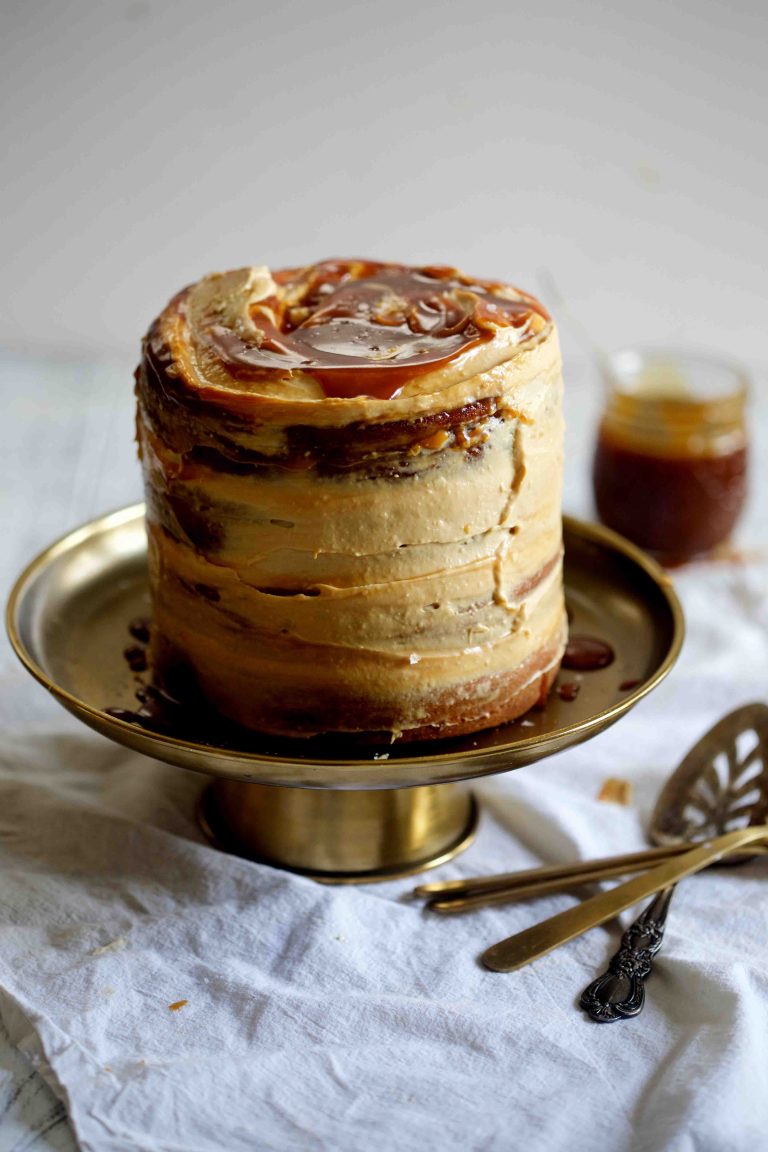 In the mood for a show-stopping fall dessert? This moist pumpkin layer cake is all of that and more. This is the best pumpkin cake I have ever made and I hope you try it too. The cake itself is full of pumpkin flavor, has the perfect texture, and is the perfect treat for pumpkin season.
This cake is make even more special by the frosting. It just has 2 ingredients, Caramel sauce and cream cheese, and together they make the most luxurious and silky frosting I can't get enough of. I recommend my homemade salted caramel sauce and you can make it in advance to speed up the cake assembly process.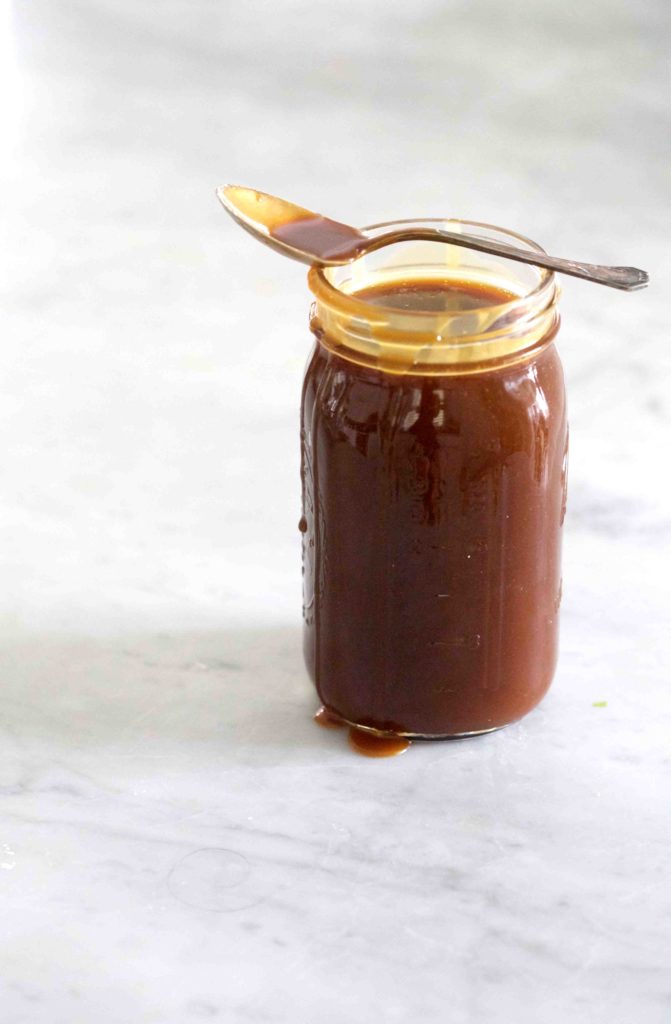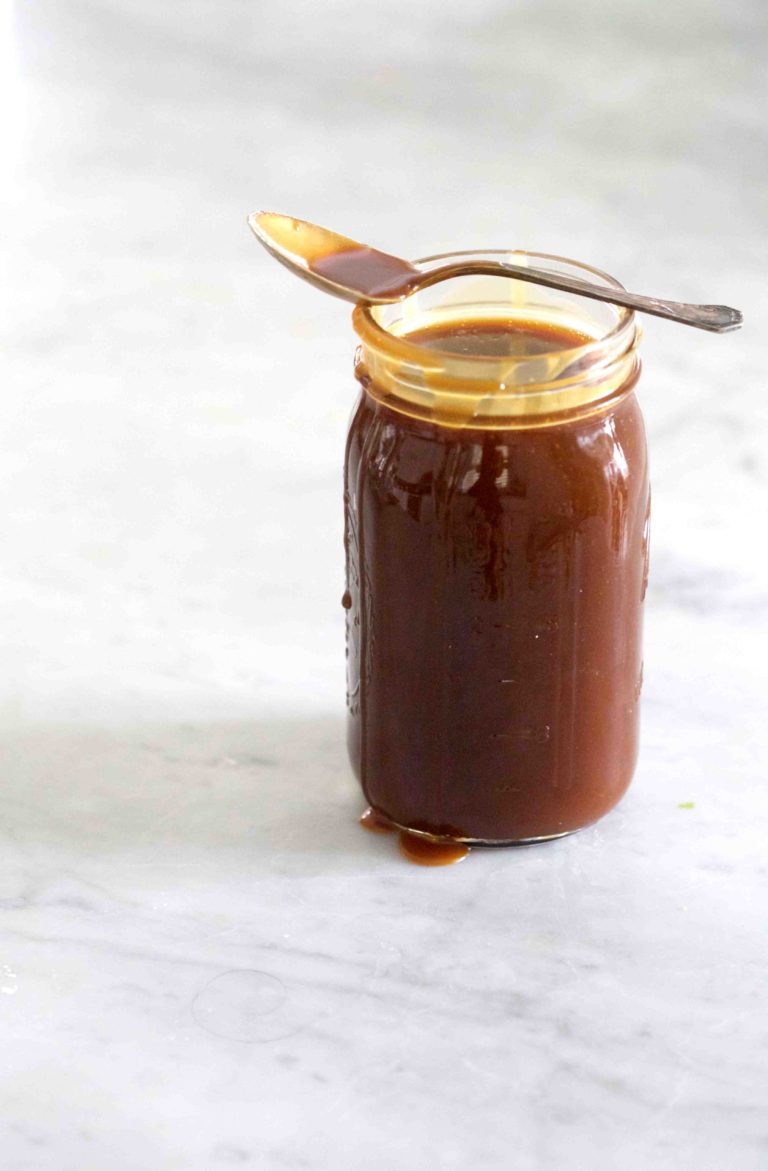 Ingredients needed for Pumpkin Layer Cake:
All purpose flour
Cinnamon
Ground ginger
Freshly grated nutmeg
Ground clovess
Brown sugar
4 large eggs
Vegetable oil
Pumpkin puree
Milk
Caramel Sauce
Cream Cheese
Supplies needed for Pumpkin Layer Cake:
6 inch cake pans
Stand mixer with paddle attachment or electric mixer
Large bowl
Wire rack
Parchment paper for lining pans
Offset spatula for frosting

The Process:
Make frosting first as it needs time to chill. Add warm caramel sauce to the bowl of a mixer and add the cream cheese one cube at a time until a silky and golden Caramel Cream Cheese Frosting has formed. Cool the frosting while you make the cake.
Combine dry ingredients into a medium bowl and set aside. In the bowl of a stand mixer fitted with paddle attachment or a large bowl with a stand mixer- combine the brown sugar, eggs, oil and pumpkin purée. Alternate adding the flour mixture and milk until a smooth batter forms.
Divide batter evenly into prepared cake pans and bake until cake tester comes back clean. Invert cakes and let them cool on a wire rack until room temperature. Add an even layer of frosting to each later, a thin layer around the outside of the cake and dollop the remaining frosting onto the top of the cake. Top with caramel sauce and enjoy!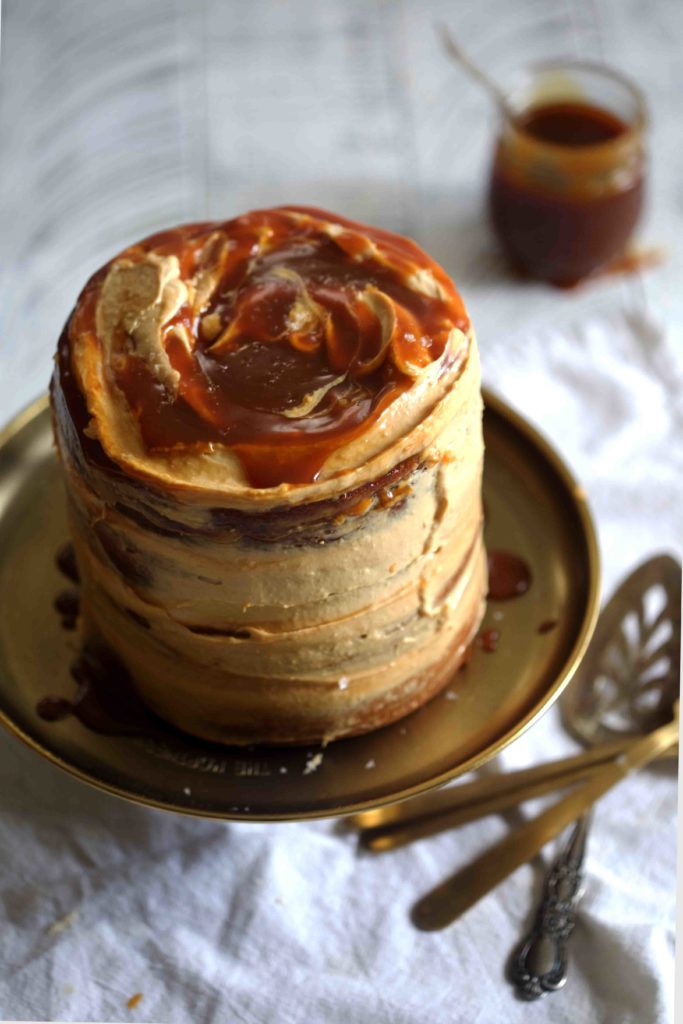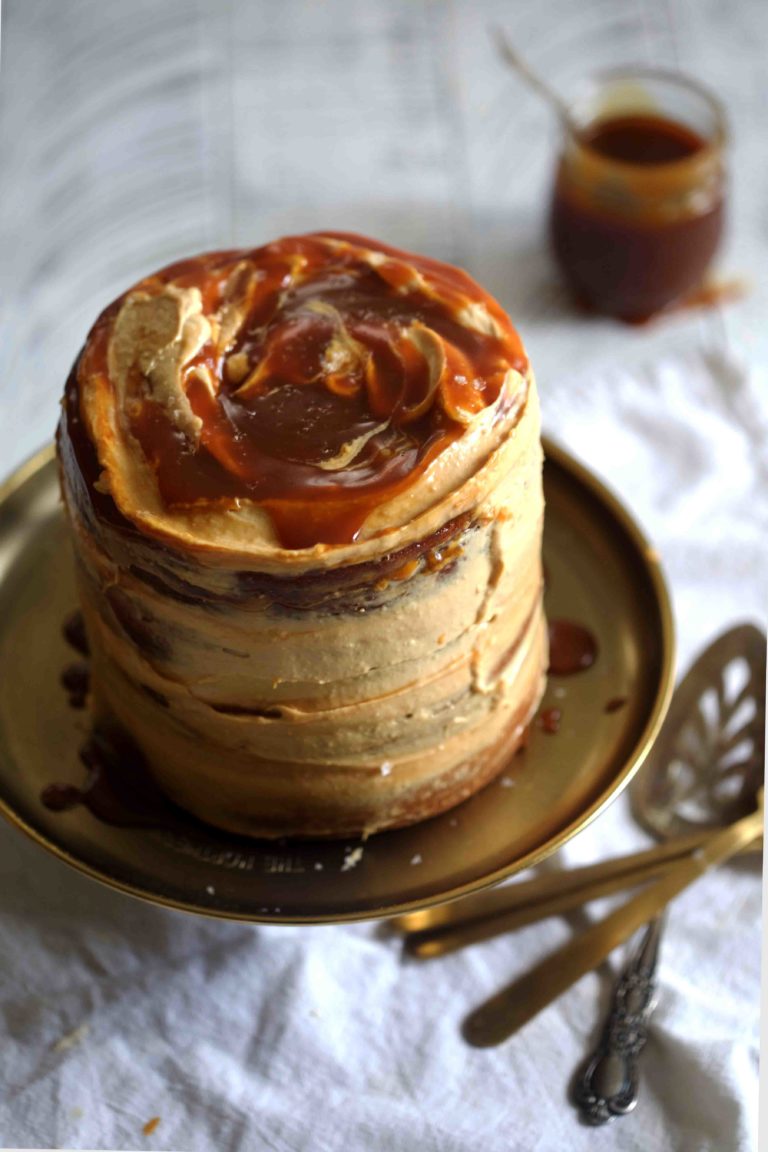 Can I sub pumpkin pie spice for the individual spices listed?
Yes. I would sub 3.5 teaspoons of pumpkin pie spice.
Can I sub pumpkin pie filling for pumpkin puree?
I don't recommend it.
Can I bake this Pumpkin Cake recipe in advance and freeze it until I'm ready to frost?
Yep! This is one of my favorite methods to work ahead. Cool each cake layer and wrap it in plastic wrap. Place wrapped layers in a freezer bag and you and freeze them for up to a month.
I don't want to make a layer cake- can I make this in a different pan?
Yes. You can make this in a 9×13 baking dish, 8 or 9 inch round pans or even a bundt cake. This recipe will also make 24 pumpkin cupcakes. Just note that when you change up the pans, baking times will vary. Always start with less time than you think and check often for doneness by inserting a skewer or knife into the center of the cakes.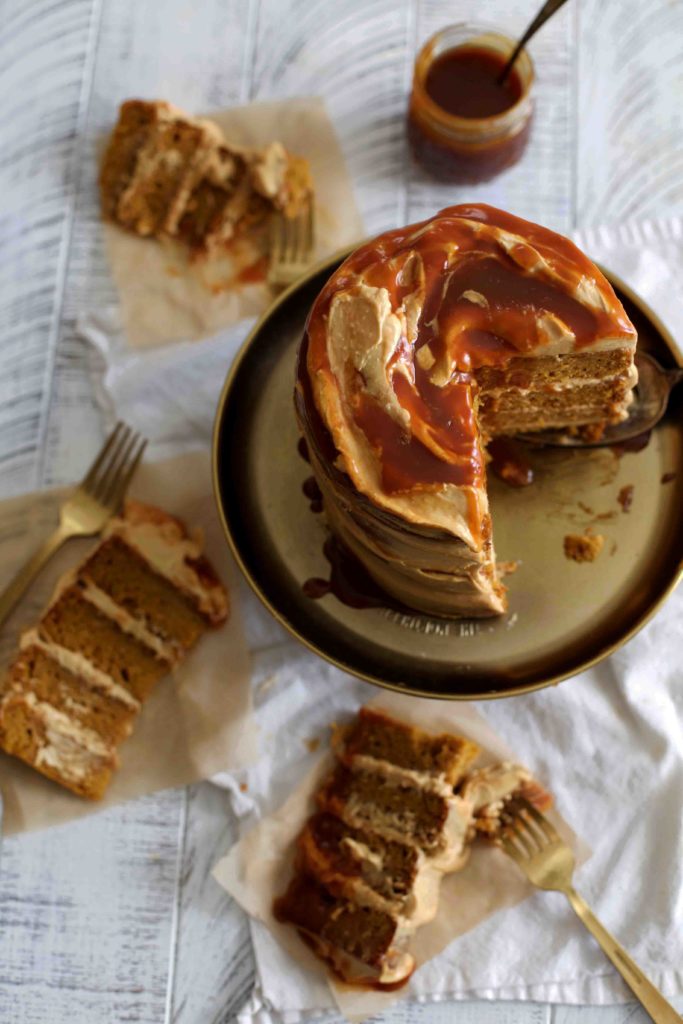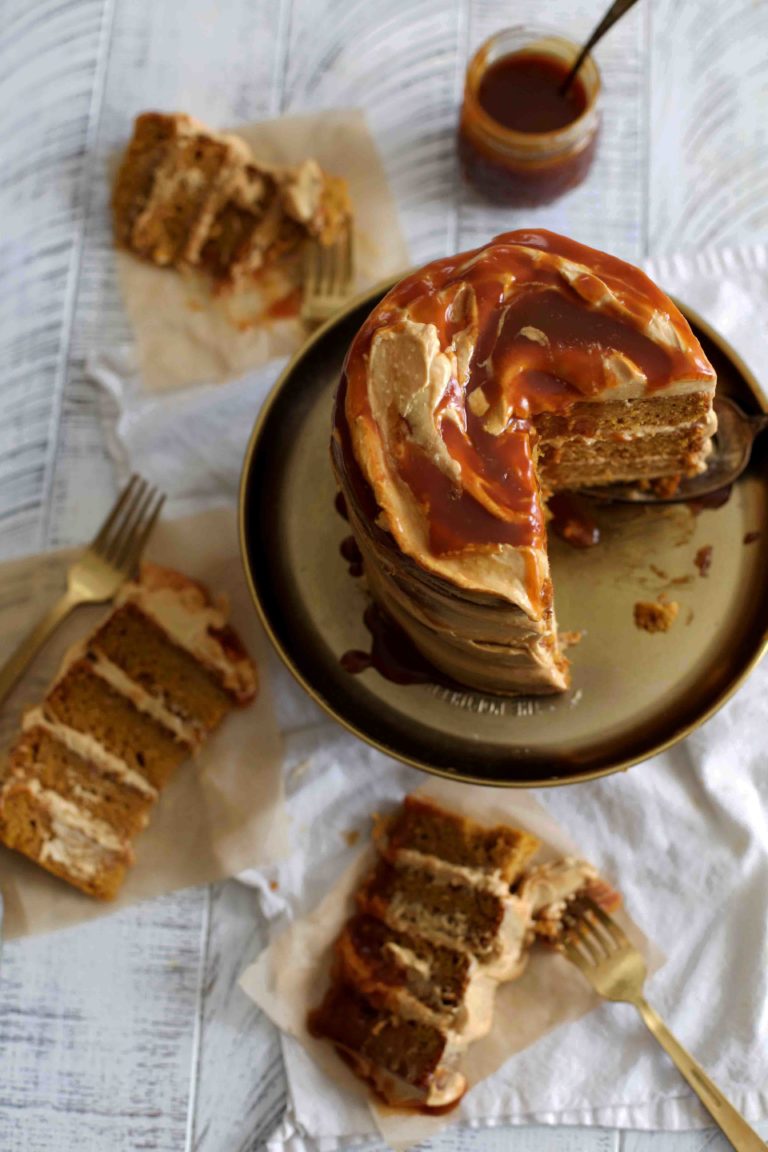 How can I make my cake layers even:
Use a serrated knife to level domed tops or uneven layers, but my favorite method is to whip out my kitchen scale and weigh each layer before baking.
Does this frosting need powdered sugar?
The caramel sauce adds sweetness and when the frosting firms up in the fridge it's the perfect consistency. I don't often make frosting without powdered sugar but this one just works! If you taste your frosting and it isn't as sweet as you'd like, add 1/2 cup of powdered sugar at a time until it has reached your desired sweetness.
Other frosting options:
This cake would also be amazing with Brown Butter Frosting, Cinnamon Cream Cheese Frosting or Maple Cream Cheese frosting.
Other favorite pumpkin recipes: Caramel Glazed Pumpkin Scones, Brown Sugar Pumpkin Pie, Easy One Bowl Pumpkin Bread,
This would also be great as a bundt cake with the frosting on top, similarly to what I did in the Pumpkin Buttermilk Bundt Cake with Brown Butter icing. (It's actually the same cake recipe!)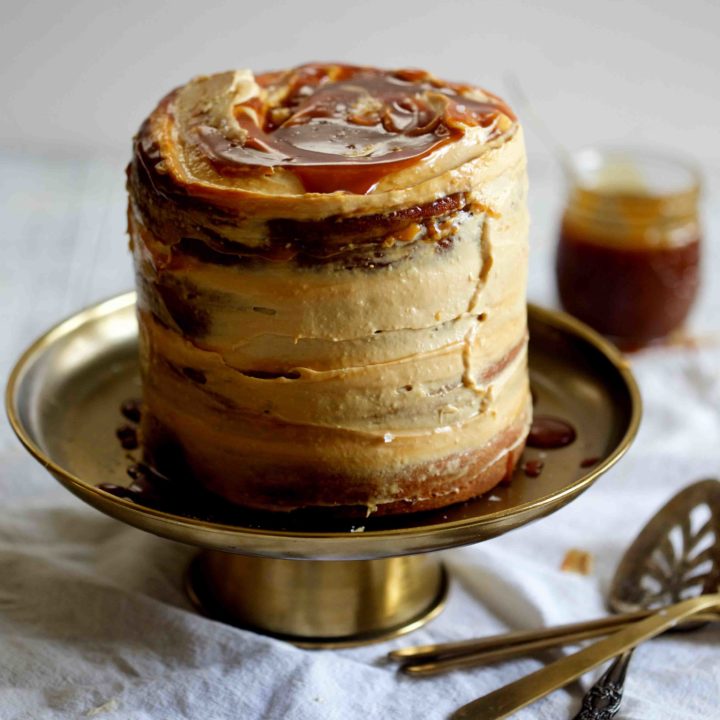 Pumpkin Layer Cake with Salted Caramel Cream Cheese Frosting
Total Time:
1 hour
30 minutes
A perfectly textured pumpkin cake with a cream cheese and salted caramel frosting: perfection!
Ingredients
Frosting:
1 cup of salted caramel sauce (still hot)
1 pound cream cheese, cut into 2-inch cubes (2 8 oz blocks)
1 cup powdered sugar (optional, see note)
Cake:
2 cups all-purpose flour
2¼ teaspoons baking powder
1 teaspoon salt
1 teaspoon cinnamon
1 teaspoon ground ginger
¾ teaspoon baking soda
½ teaspoon freshly grated nutmeg
¼ teaspoon ground cloves
1¼ cups light brown sugar
4 large eggs
¾ cup vegetable oil
One 15-ounce can pumpkin puree
½ cup whole milk
Extra salted caramel sauce for drizzling (optional)
Instructions
Transfer hot caramel to a large bowl and using an electric mixer, beat at low speed until the caramel cools slightly and comes together, about 5 minutes.
With the mixer on, beat in the cream cheese, 1 cube at a time and beating well between additions, until silky.
Taste the frosing. If you'd like to add additional sweetness see note below *
Transfer the frosting to a bowl and refrigerate until very firm. (this took about 90 minutes in the freezer for me, but you can also chill in the fridge for several hours.)
In a medium bowl, whisk the flour with the baking powder, salt, cinnamon, ginger, baking soda, nutmeg and cloves.
In a large bowl, using an electric mixer, beat the brown sugar and eggs at medium-high speed until frothy and fluffy, 3 minutes. Beat in the oil, then the pumpkin puree. Alternately add the dry ingredients and the milk in 3 batches, starting and ending with the flour, mixing until just combined. (Don't overmix!)
Pour the batter into the prepared pans.*
Bake for 40 to 45 minutes at 350F , until a toothpick or knife inserted into the center of the cake comes out clean. Let cool in the pans for about 20 minutes.
Run a knife around the edges to loosen the cakes, then invert them onto a wire rack to cool completely.
Place one layer of cake on a cake plate and layer with the frosting and cake. Drizzle with salted caramel sauce. Repeat with all 3 layers.
Notes
Re: the frosting and sweetness. I have always found this frosting to be perfectly sweet, but some readers have commented it's not sweet enough for them. Taste it and if you'd like, add a little powdered sugar. I'd start with 1/2 cup and go from there.
*I chose to weigh my pans before baking to make sure they were all filled equally, but this is optional!

One batch of my Salted Caramel Sauce should be enough for the frosting and a little extra to drizzle on top!